Geoscience on Film: Roadcuts and rockfalls in mountainous Mizoram
by Doug Prose Wednesday, April 18, 2018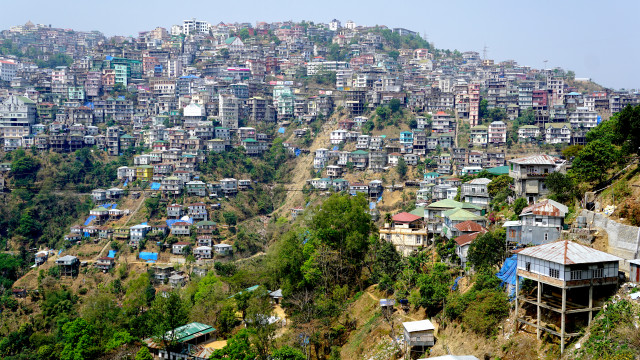 Doug Prose, formerly a geologist with the U.S. Geological Survey, has co-produced documentaries showcasing Earth and the geosciences with his partner and wife, Diane LaMacchia, through their nonprofit Earth Images Foundation since 1992. Recent films include "Earth: The Inside Story" and "Italy's Mystery Mountains," both released in 2014. Their latest documentary, "The Himalaya Connection," began airing on PBS stations in April. Prose has previously written and blogged for EARTH about the pair's experience shooting and preparing "Connection," which involved six separate trips to Bangladesh, Bhutan, India, Mongolia and Nepal from 2011 to 2016. They recently traveled back to the region for their next project. Prose wrote about the trip while there, and filed the following series of posts upon returning home. Read posts in this series, as well as from prior trips, here.
Asia-bound again, after a two-year hiatus. On our last several trips to the Himalayan region, we shot footage for a television documentary about the severe seismic and other geologic hazards that are part and parcel of the collision of the Indian and Eurasian tectonic plates. Diane LaMacchia and I return now, this time to film for a new project — funded by the National Science Foundation — that casts an eye on geologic hazards specifically related to the Burma Arc subduction zone underlying Bangladesh, eastern India and Myanmar.
Arriving in Aizawl on March 30, the capital of India's mountainous Mizoram state, we are confronted with a wall of heat after 24 hours of flying in three cramped airplanes, plus layovers in Singapore and Kolkata. It's the hottest time of year, preceding the monsoon, when the air stagnates and grows opaque from smog. Visibility is less than 2 kilometers and smoke spirals upward from the forested slopes as shephards clear patches for their flocks. But Diane and I are happy to be back on the ground and breathe the open, if smoky, air again.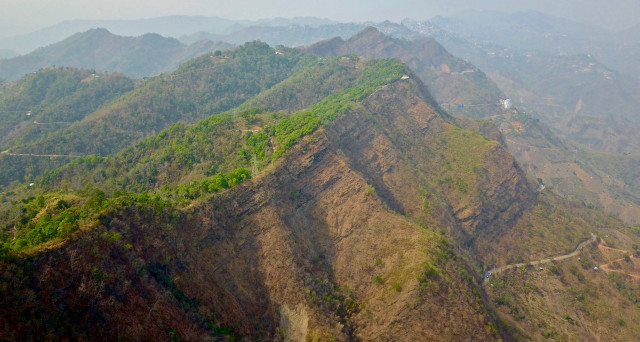 Our first objective here is to film geologic landforms south of Aizawl. The roads everywhere are uncharacteristically devoid of motorized traffic, but heavy with the foot traffic of families dressed in their finest walking to and from church. It's Good Friday, and with 95 percent of the population in the city ascribing to the Christian faith, nearly everyone attends church services for the entire day. This allows us — packed with our cameras and gear into a rented vehicle with our driver Rema — to proceed at a much faster clip than normal on the roads and to venture well beyond the city, driving through picturesque scenery and villages in search of good filming opportunities. But the smoke curtain from the hillside fires allows only a few passable shots of roadside rock outcrops and the mountainous terrain as well as village scenes and examples of multi-story homes built on cement stilts perched on steep, loose hillsides. It wouldn't take much of an earthquake to damage these structures.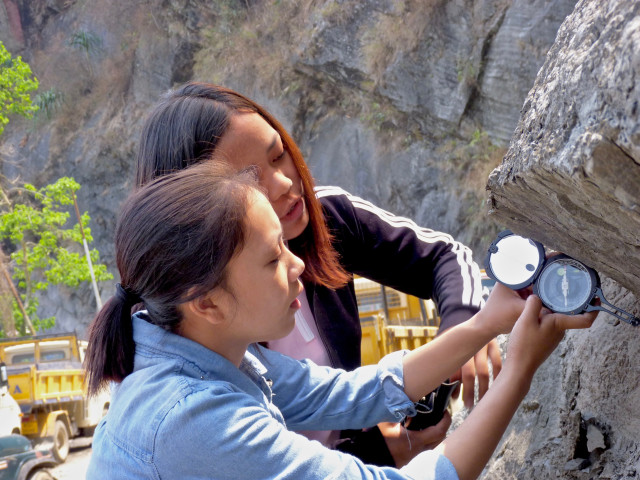 The next morning dawns with a roar outside our hotel window, as Aizawl's residents cram in as many chores as they can before tomorrow, Easter Sunday. Is this the same city we saw yesterday? We meet up with C. Zoramthara, known as "VeeZee," the chair of Mizoram University's Zirtiri Residential Science College geology department, and C. Lalmuankimi, or "Kimi," a new professor at the university and the first woman to join the geology department's faculty. Also joining us are two second-year undergraduate geology students, Juliet Lalrannghah mawii and Angaihi Ramnghaihawmi. VeeZee has been working with an international collaboration of geologists studying the Burma Arc, and he enlisted the rest of the group to help gather new field data while we filmed them.
We're soon heading out into the field, excited about the day's prospects. Stop one brings us to a fresh rockfall that broke loose just two days earlier in a vertical roadcut along the main road at the southern end of Aizawl. Giant rock slabs, up to 4 meters square, crashed onto the road, somehow missing people but crumpling motorbikes as if they were made of paper. We film VeeZee and the team clambering around the rock pile and taking readings with Brunton compasses on the freshly-exposed wall from which the rocks broke and slid down. A lane was cleared to allow traffic to creep by single-file, and as people pass, they smile and wave and beep their horns at us from their cars and bikes. Traveling on from the rockfall, the road often squeezes past vertical roadcuts with no room on either side between the roadbed and looming rock walls. No earthquakes now, please.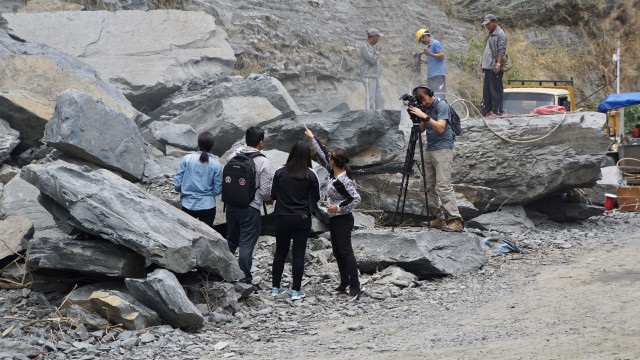 Stop two is a quarry with sheer walls 70 meters high that reveal lithified sediments striated beautifully with graded deposits. Ropes, not in use on this day, hang down the walls for miners who hack at the rock with pick axes while dangling like spiders. Our geologists pick out a spot — accessed by a loose scree slope at the angle of repose — where they can observe and collect measurements of exposed bedding planes in the rock. The first to scramble up are Juliet and Angaihi. I detect capable geologists in the making, as this climb demands confidence and care; a tiny slip could instantly send a person flailing down out of control to the quarry floor. We reach the exposure and work fast to film dramatic action shots of the group taking strike and dip measurements on the precarious incline. Soon, a slide of pebbles and dust spatters noisily down the wall near our perch, spurring us to clear the area right away, so we wrap things up and slide down to safety. Afterward, we drive to a hillside overlook to film a sweeping view of the anticline over which Aizawl is draped — one of many mountain ridges created as compressive tectonic forces associated with the Burma Arc have buckled the landscape here over millions of years. After filming interviews with Kimi and VeeZee in the soft orange afternoon light, it's back to Aizawl.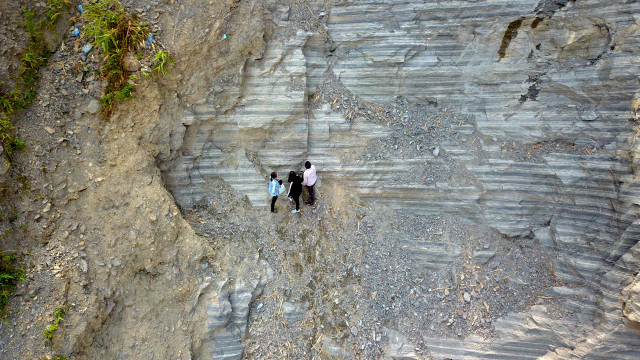 On Easter Sunday, Aizawl is again transformed into a quiet walking city, and we film beautifully-attired people transiting to and from church, footage that will add some social context to the geologic story we're telling in our film. In the afternoon we're off to Kolkata, where we get a few hours' sleep in an airport hotel before boarding a one-hour flight bound for Myanmar — and a vastly different landscape and culture.