"The Himalaya Connection": Telling a story of geoscientific exploration on film
by Doug Prose Monday, May 22, 2017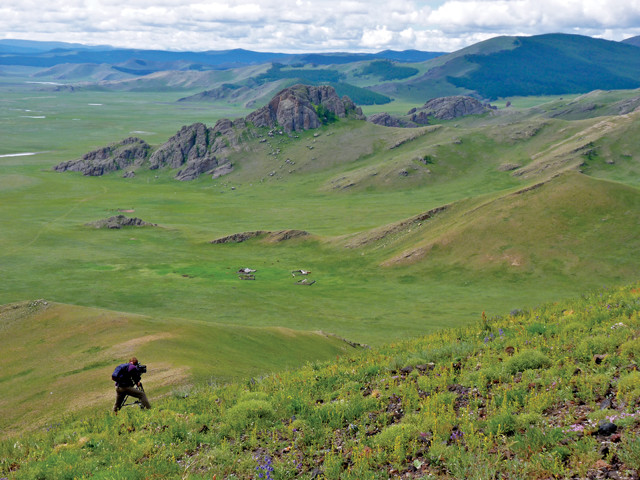 It was 3 a.m. on our first night in the field. In our dome tent, I was startled awake by a distant rumbling sound, accompanied by a growing trembling of the ground. As a Californian who lives 4 kilometers from the Hayward Fault, and who has ridden out many earthquakes, this felt like the onset of seismic shaking. On this occasion, however, I was camping with a geologic expedition in central Mongolia, which is also earthquake country. Three magnitude-8 or higher quakes, "megaquakes," have struck here in the past century. But this was no earthquake. As the rumble grew louder I began to make out neighs and snorts: A herd of horses was galloping right for our camp?! How would the speeding horses see through the darkness and rain that night to avoid the dozen tents pitched, exposed and defenseless, on the wide-open meadow? I flashed on the thought that ours was the same terror experienced by the poor souls in the path of a cavalry charge led by Genghis Khan, Mongolia's 12th-century ruler. We were going to be trampled! Somehow, the horses sidestepped the tents, and after my heart stopped pounding I fell asleep again. In the morning, we confirmed that the trembling hadn't been an earthquake, nor was it dreamed. The horses were grazing along the river about 100 meters away, and the herders were having tea with our guides around a fire. "Toto," I said to myself, "I have a feeling we're not in Kansas anymore."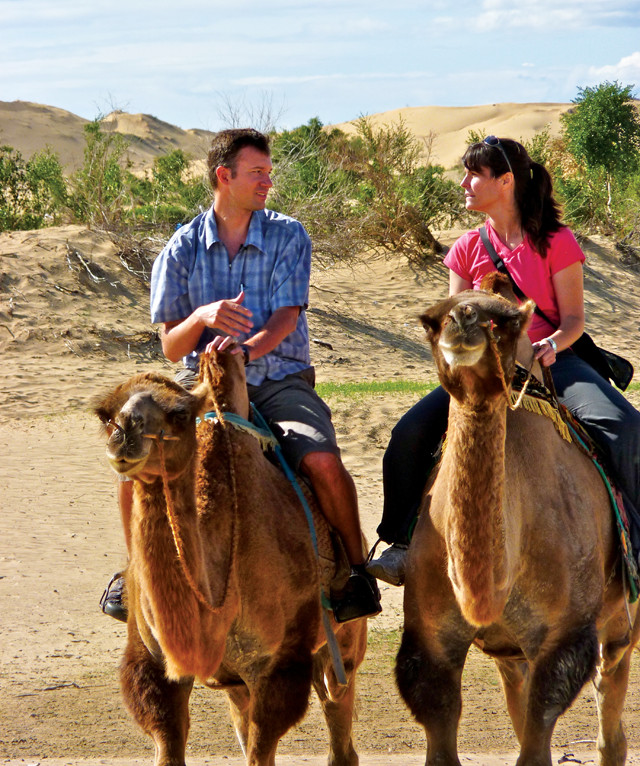 The reference from "The Wizard of Oz" came to mind because of something I'd heard the day before while interviewing the leader of this Mongolian expedition, Karl Wegmann, a geologist from North Carolina State University. He'd noted that the geologic setting we were in had a fundamental similarity to Kansas.
Producer Diane LaMacchia and I were traveling with Karl and his group of scientists, students and local support crews to shoot footage of the expedition as it traversed remote central Mongolia on a quest to better understand this land's many geologic mysteries. The funding we had at the time from the National Science Foundation covered filming and production for a short video about the research project. We had no idea that this trip, taken in 2011, would be the first of six to Asia to shoot footage for what would become a full-length television documentary, "The Himalaya Connection," to begin airing on PBS in North America later this year. Nor did we imagine then that the documentary's story would center on the great Himalayan Mountains — a geologic feature that offers daily benefits to 45 percent of the world's people — and on the earth scientists who, through their research, are working to protect many thousands of those people from the region's natural hazards. What follows are a few highlights of our long production journey, and some of the things we learned along the way.
Mongolia: Not Quite the Kansas of Asia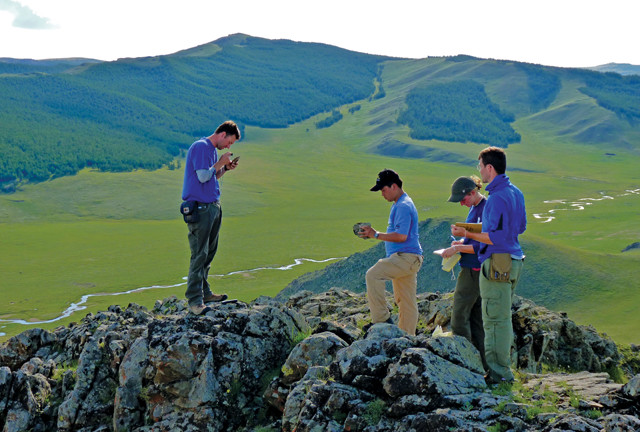 ass=""caption">Like Kansas, Mongolia is in the center of a continental land mass, far from active tectonic plate boundaries. Unlike Kansas, the elevation of which averages just 400 meters above sea level and where the terrain is mostly flat, central Mongolia rides high above sea level, with valley floors at 2,500 meters and mountains rising to more than 4,000 meters. Also unlike Kansas, and most other midcontinent locations, the crust below Mongolia hosts large earthquakes and young volcanoes. "Something very active geologically is happening here," said geologist Rick Carlson of the Carnegie Institution of Washington's Department of Terrestrial Magnetism, as we interviewed him on the flank of one such volcano. "This doesn't fit plate tectonic theory."
This conundrum has given rise to several scientific questions. What is the origin of the stress in the crust that is capable of setting off megaquakes here? And what geologic forces lifted Mongolia high above "normal" midcontinent elevations? Some theories credited the collision of the Indo-Australian and Eurasian tectonic plates as both the source of the stress and the uplift, even though it is 2,000 kilometers to the south, farther than the distance from Kansas to New York. As we filmed across Mongolia over several weeks, Diane and I thought it would be great to film that far-off collision, if we could only obtain the needed funding.
Himalayan Dreams — and Dread — in Nepal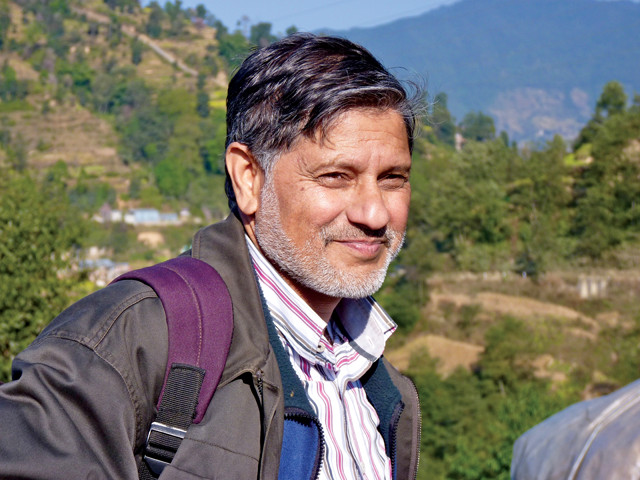 It took a little while, but funding came through to continue our film project. In the fall of 2012, we found ourselves trekking a high-altitude Himalayan trail in Nepal. I had a camera in one hand and a tripod in the other, and I stopped often to film and soak it all in. I had dreamed of visiting the Himalayas of Nepal since I was a child.
We worked atop the Main Himalayan Thrust Fault, ground zero for the colliding tectonic plates. Unimaginable stress was building in the crust below our feet, where the Indo-Australian Plate relentlessly plows to the north, stuffing itself under the Eurasian Plate. This stress occasionally gives way, with the thrust fault rupturing in some of Earth's largest recorded earthquakes, and in the process, possibly transferring enough energy 2,000 kilometers northward through the rocky crust to trigger faults in Mongolia. But we couldn't feel this stress — without sound or vibration, the crust revealed nothing of its potential. All I felt at the time was the pure joy of living my Himalayan dream at last.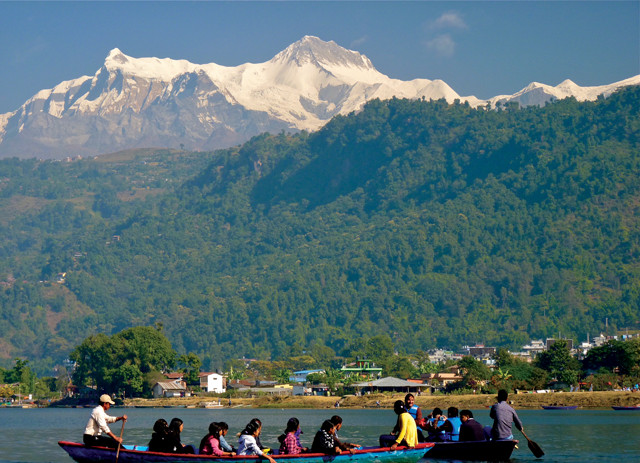 I'd ridden on a breaking tectonic plate before. On Oct. 17, 1989, I was editing a film at the U.S. Geological Survey in Palo Alto, Calif., when the floor turned to Jell-O. Rock-sample cabinets stacked to the ceiling flew open, shooting dislodged samples at me. Gneiss marked with catalog numbers piled up and blocked my escape through the door, so I just stood there, clutching the editing machines as they tried to dance off the table, and watched the window bow in and out as if made of rubber. Miraculously, the glass held, but when I finally got a chance to evacuate, I had to dash light-footed over the chards of many shattered panes in the rest of the building. Before the magnitude-7.1 Loma Prieta earthquake, I thought temblors were exciting and interesting. I had experienced many earthquakes of magnitude 2 and 3, and a few of magnitude 4. Ever since Loma Prieta, however, I dread them. And I can relate to the lingering fear that Nepalis now carry with them since the magnitude-7.8 Gorkha earthquake struck on April 25, 2015.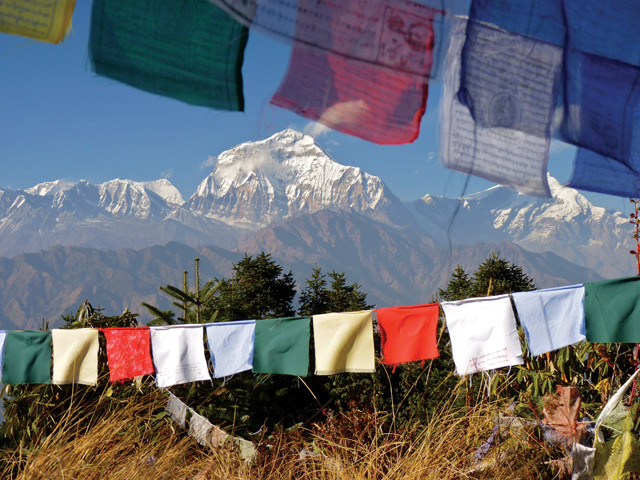 While in Nepal on our 2012 trip, we also filmed with Bishal Upreti, a prominent Nepali geologist at Tribhuvan University. Bishal is a kind person deeply in love with the Himalaya. In a film interview, he detailed the range's many superlatives: Earth's highest peaks; Earth's largest block of uplifted terrain, when combined with the Tibetan Plateau; the creator of the Indian monsoon; and the source of freshwater for almost half the people alive today. Midway through our interview, he suddenly interrupted himself with a wave of his hand and asked if he could quickly say something nongeologic. Bishal looked up at the mountains, smiled, and said, "When you are in the Himalaya, and when you go to those serene places below those snow peaks, it is the dream of a lifetime. It's so wonderful to be there; unless you are there, you will never realize what you are missing!" I was amazed. Even Nepalis, most of whom do not live in the shadow of the great peaks, dream of going to them. Our documentary begins with Bishal's thoughts and dreams of the Himalaya.
Later in the interview, Bishal expressed acute concern for the people of Nepal. He and his colleagues had accumulated data that led them to predict that the next big Himalayan earthquake could rupture the Main Himalaya Thrust Fault in central Nepal at any time. Bishal has long been educating the people of Nepal about earthquake hazards through the media and public lectures, and he has urged officials to act on behalf of public safety. These were brave actions, as people are often loath to hear or heed such warnings about dangers from natural and uncontrollable forces. Thankfully, the efforts bore some fruit. The majority of buildings in Nepal were not strong enough to withstand strong earthquake shaking until Bishal and his colleagues convinced officials to enact new building codes, which helped keep some new buildings standing, and the people inside them alive, during the Gorkha quake.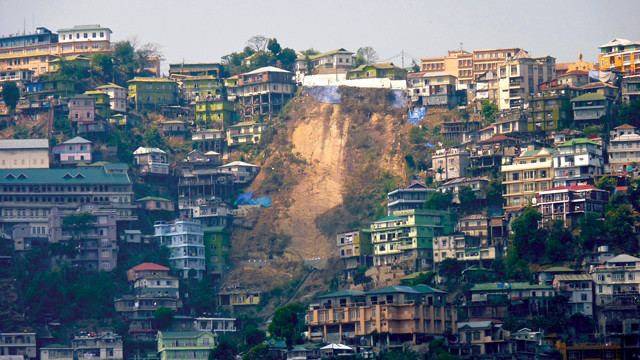 It was during this Himalayan trip, in 2012, that Diane and I began talking about creating, in addition to the short film, a television documentary centered on this extraordinary mountain range. In this expanded documentary, Mongolia's uplifted terrain and earthquakes would feature as far-flung artifacts of the tremendous geologic powerhouse created by the collision of the Indian and Asian plates. But, as usual, we faced the hurdle of raising funds to turn the vision into reality. It was like gazing up at the steep, hand-laid stone steps we encountered on the first day of our Himalayan trek — more than 3,000 of them. It'd take time, but we were confident we could get up the steps eventually with a lot of effort. We felt the same way with acquiring the significant level of funding needed for our envisioned television documentary, although it would take a lot more time than a steep climb through the mountains.
Delta Dangers in Bangladesh and Northeast India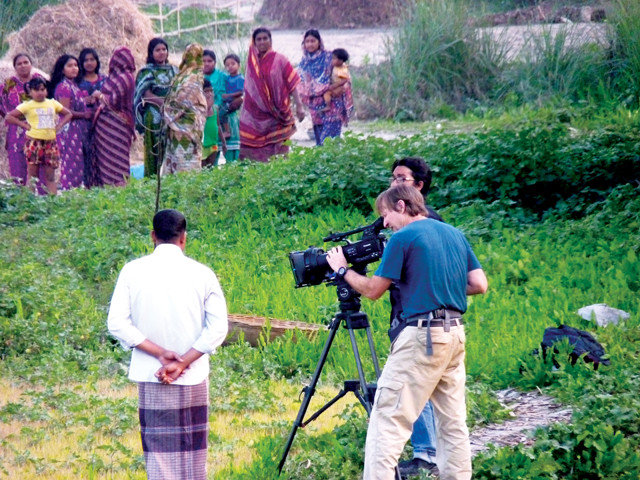 Less than a year later, we were back in the region for an unrelated (or so we thought) film trip to Bangladesh, where we met up with a group of geologists and students from Bangladeshi and American universities. When landing in Dhaka, one descends to a billiard-table flat landscape, a plain of sediments eroded from the Himalaya range by mighty rivers like the Ganges and Brahmaputra. It's not a place where a geologist would expect to find major earthquake faults. But history documents two megaquakes here in the last 500 years. When we visited in 2013, geologists had yet to put a rock hammer to a major fault in Bangladesh; they still haven't. While some smaller faults crop out at the surface, most, including all the most important ones, are blind, buried deep under Himalayan muds. The hunt was turning to the deployment of seismometers, GPS antennae and drill rigs.
arthimage src="BANGLA_Humayun.jpg" caption="Fayaz Kabir (left), Mike Steckler (center) and Humayun Akhter (right) work on a GPS monument in Bangladesh, while trying to locate major faults and determine how active they are. Credit: Diane LaMacchia." >}}
The last major quake struck just south of the delta in 1762, meaning tens of millions of people living on the delta today are potentially in harm's way from seismic shaking and have limited experience with, or perhaps even knowledge of, the danger lurking below. Humayun Akhter, a geologist at Dhaka University, has been tirelessly chipping away at this lack of knowledge among his fellow Bangladeshis in hopes of mitigating their extreme vulnerability.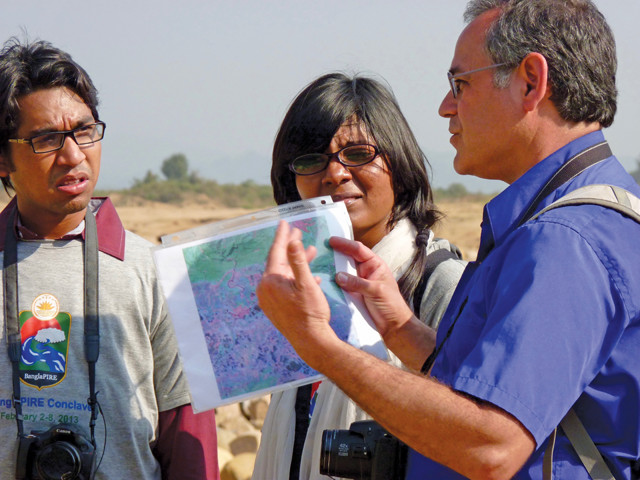 We had the pleasure of meeting Humayun and filming him at work in the field. "Our cities are not built in a planned way, but this cannot be changed in two years or so. So we have to cope with this system and we have to educate our people how to cope with earthquakes," he told us. I don't think I've ever met a person as even-tempered, patient and practical. These are attributes one needs to regularly stand before powerful officials, as Humayun does, recommending that they develop and enforce earthquake-resistant building codes, and allocate money to prepare residents of the most densely populated country on Earth for a deadly but largely unknown threat. Against huge odds, Humayun and his colleagues have made real progress.
arthimage src="AIZAWL_Victor.jpg" caption="Victor Ralte records a strike and dip in the field. Credit: Diane LaMacchia." >}}
We filmed Humayun's group as they tried to locate major faults and determine how active they were, and we saw that they knew they were on to something extremely important. But it would be a while before the scientists felt they had enough evidence to publicly announce a major discovery. Meanwhile, we were only funded to produce a short video about the research project. At the same time, our vision of producing a television documentary that explored the Indo-Eurasian plate collision was expanding to include not only the Himalayas (and Mongolia), but also the Ganges-Brahmaputra river delta, home to tens of millions of people who might be in danger. This was a story we were very eager to tell.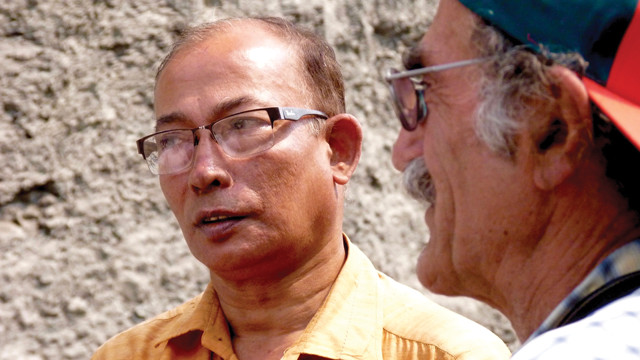 To our delight, we obtained additional funding relatively quickly and, in April 2015, were off into the field again, filming with Humayun, Mike Steckler and Leonardo Seeber, both of Columbia University's Lamont-Doherty Earth Observatory, and a young geologist from Mizoram University, Victor Ralte. We filmed in and around the vibrant city of Aizawl in northeastern India. We got to know Victor, who bore the serious demeanor of a scientist but also often displayed a warm, fun side. He especially loved talking about his new baby, his fifth child, whom he'd welcomed into the world just a few weeks earlier. Victor participated in a regional GPS campaign operated by the Indian government, and the data it provided became a lynchpin in the scientists' gelling understanding of the hidden geologic structure below. A journal article was near publication, but Victor would not get to see that key paper. To everyone's shock and dismay he suddenly passed away four months later from a sudden bout of pancreatitis.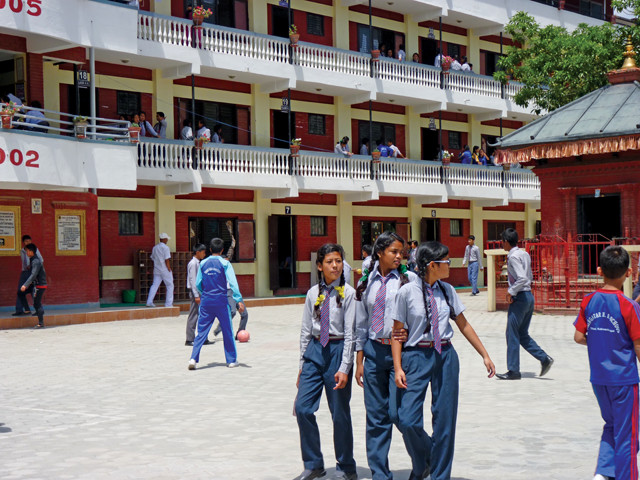 Two weeks after this trip to India, the Gorkha quake struck Nepal. The Indo-Eurasian collision zone had ruptured again. While it wasn't technically a megaquake, at magnitude 7.8, the Gorkha quake and its large aftershocks were plenty strong enough to cause widespread loss of life and destruction. The predictions of Bishal Upreti and his colleagues proved accurate, and their efforts were acknowledged around the world. The earthquake kick-started many seismically aware building projects and preparedness efforts in Nepal.
After Gorkha in Nepal and Bhutan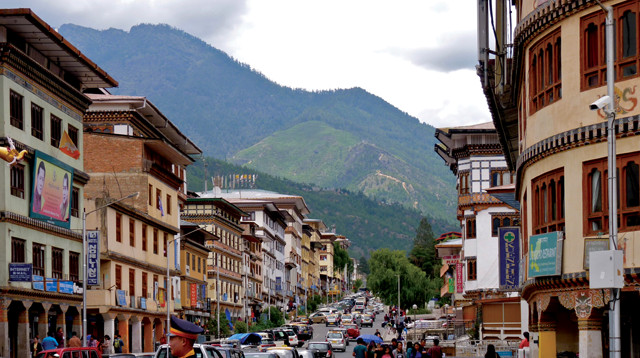 In the aftermath of the quake, we obtained additional financial support to incorporate the lessons learned from the Gorkha earthquake into outreach materials to accompany our documentary project. In 2016, we returned to Nepal to film the conditions on the ground a year after the quake struck. Among numerous scenes, we shot footage of thickets of steel rebar poking from new construction sites all over Kathmandu Valley, as well as the Tilingatar Higher Secondary School, which survived thanks to being retrofitted before the earthquake.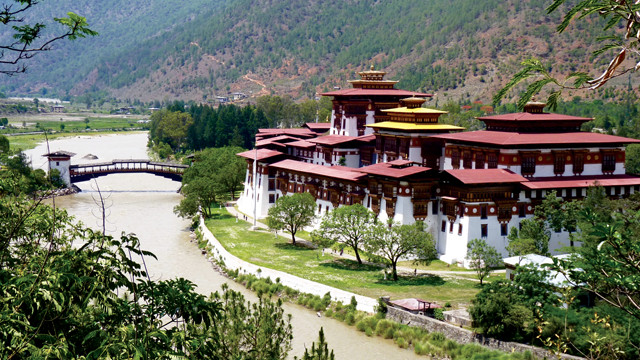 While in the region, we also took a short flight, skimming past Mount Everest, to film in neighboring Bhutan. Like Nepal, Bhutan's entire length straddles the Main Himalayan Thrust Fault. That stretch of the fault has not produced a large earthquake since the 1500s, leaving a very worrisome seismic gap. Building codes calling for a measure of earthquake resistance were enacted in the late 1990s in the capital, Thimphu, and new buildings going up looked to be solidly built in the beautiful city. But what about beyond Thimphu? Most houses in the country are constructed in the traditional rammed-earth style, in which outer walls are made of soils pounded and packed by hand between wooden forms. The houses are big, typically three stories. Engineers are concerned that these structures offer little defense against horizontal ground shaking. Will upgraded building methods, codes and retrofitting take hold in Bhutan before their thrust fault slips again?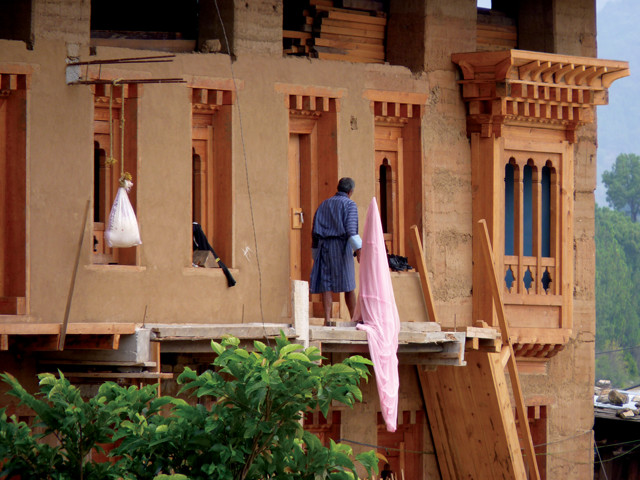 With our trip to Nepal and Bhutan a success, we were in great shape regarding our story and footage needs. Diane plunged into scripting and editing, and we worked with a sense of urgency to assemble our final product and get the story out. That's when the study by some of our film's "characters," Mike Steckler, Humayun Akhter, Leonardo Seeber and others, was published in Nature Geoscience in mid-2016. What they found was incredible, and not great news for the roughly 140 million people in the region who were sitting on, or within 100 kilometers of, a buried and locked megathrust fault capable of generating a megaquake, perhaps very soon — or perhaps not for hundreds of years. So important was this discovery that we decided to give it center stage in our documentary, although it meant a great deal of rewriting and re-editing. Meanwhile, the publication jolted the media in the region. News pieces with diverse interpretations of the paper's conclusions appeared. For instance, a television news story in the state of Assam, in northeast India, reported that the researchers predicted that a huge earthquake was going to strike on a specific day, July 17, just six days after the Nature Geoscience article was published. This caused widespread fear. People could not sleep for days, and many packed their bags for an emergency. In another example, a newspaper piece in India reported that the megaquake could result in the deaths of tens of millions of people. As filmmakers, we wanted to produce a video right away to help the scientists tell the correct story. Our solution was to quickly produce a short video, "Giant Earthquakes in Bangladesh and India?," and give it to the scientists, who immediately began screening it in India and Bangladesh. It has been translated into Bengali and Mizo, and can be viewed on YouTube at: http://bit.ly/2pbYIXy.
Finalizing Filming in Tectonic Tibet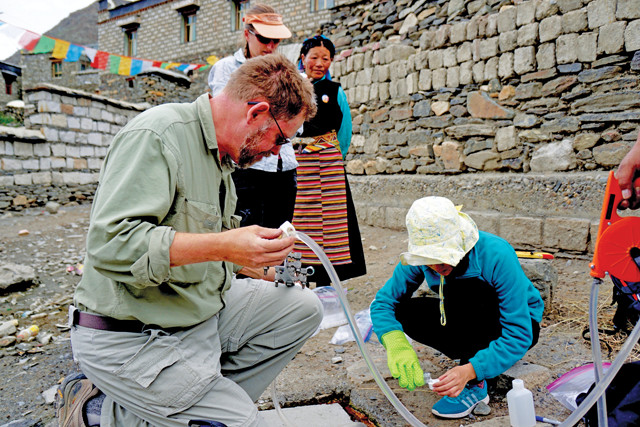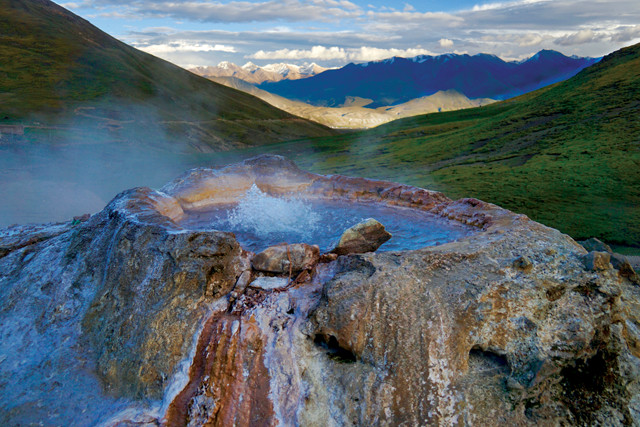 Shortly after producing the film, we went to Tibet to film geophysicist Simon Klemperer of Stanford University and produce a short video about his research. Simon intended to visit dozens of Tibetan hot springs to collect gas and water samples, with the aim of locating the northern limit of the Indo-Australian Plate below the Eurasian Plate. No one knows where the end of the plate is, but it's somewhere under Tibet. Tibet's geology is rooted in the ongoing plate collision and rise of the Himalayas, and it is subject to damaging earthquakes. This seemed like a fantastic opportunity to enhance our documentary's story both scientifically and aesthetically. The film trip went forward in October 2016, wrapping up just as season-ending winter snows began falling. The footage turned out beautifully — Tibet was in.
By now, our film project's timeline had stretched on long enough for results to begin trickling in from Karl Wegmann's research in Mongolia. The data his group collected were fascinating, both confirming and contradicting certain elements of theories about Mongolia's connection with the distant Indo-Australian-Eurasian plate collision.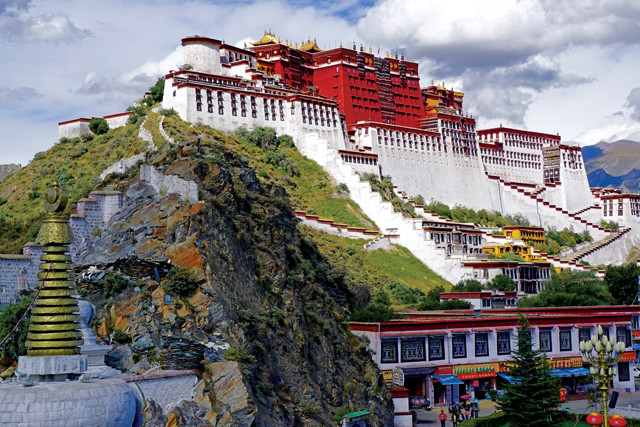 There are many more amazing geologic surprises centered on the mighty Himalayas beyond what I've shared here and that we are very excited to present in our film. We are also thrilled to feature some of the geoscientists who have been working to better understand the nature of the powerful tectonic collision of plates lying below a large portion of Earth's human population. The scientists' determined efforts are not only uncovering some of Earth's wondrous inner workings in this region, but are also illuminating the extreme dangers these processes pose, so that as few people as possible are injured or killed in the next massive earthquake.