Where on Earth? - October 2017
by The American Geosciences Institute Friday, September 29, 2017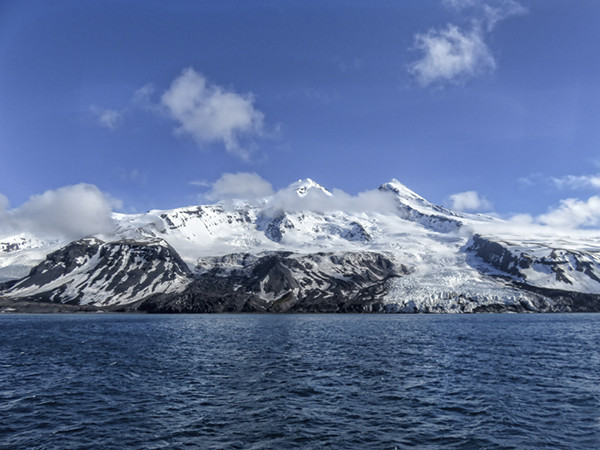 Clues for October 2017:
The name of this 40-kilometer-long stratovolcano — the northernmost active terrestrial volcano in the world — means "Bear Mountain" in Dutch, after the polar bears seen there by Dutch whalers in the early 17th century.

Six flank vent eruptions occurred between 1732 and 1985, producing lava flows and scoria cones. During the unexpected 1970 eruption, staff from the Olonkinbyen weather station, 30 kilometers away, were evacuated to the Norwegian mainland.

The volcano — which is the highest mountain in the Arctic and lies on the northern end of an island 550 kilometers north of Iceland — is capped by glacial ice that calves into the sea at five outlets.
Name the volcano and its location.
Scroll down for the answer
Answer: Beerenberg Volcano on Jan Mayen Island, Norway, is the highest-latitude active volcano on land in the world, and the highest mountain in the Arctic. Photo is by Grace Winer. October 2017 Winners: Vivien Gornitz (New York, N.Y.) Venkat R. Peechara (Arcadia, Calif.) Lisa A. Rossbacher (McKinleyville, Calif.) Simmi Sinha (Boulder, Colo.) Jennifer Young (Edinburgh, Scotland, U.K.)
Visit the 'Where on Earth?' archive.
EARTH also welcomes your photos to consider for the contest. Learn more about submitting photos.