Where on Earth? - November 2018
by The American Geosciences Institute Wednesday, October 31, 2018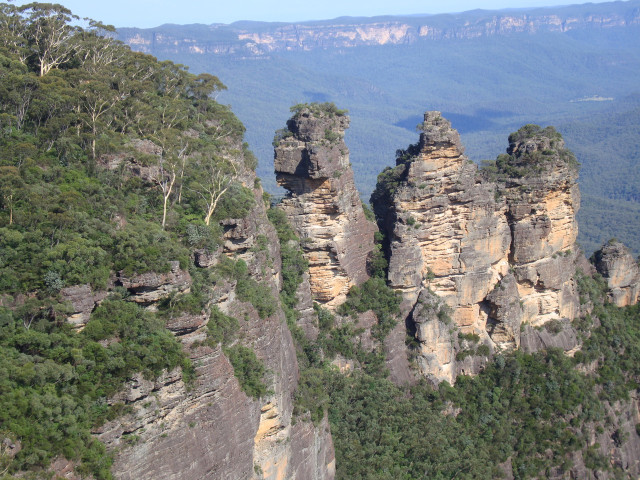 Clues for November 2018:
This formation, a triplet of sandstone pinnacles, can be seen from a cable car that offers expansive views of a national park and a 10,000-square-kilometer UNESCO World Heritage site. The park features a rare, endemic species of pine tree that has existed since the time of Pangea and was thought extinct until living specimens were discovered here in 1994.

Deep valleys and steep cliffs up to 1,200 meters tall in this area — which is about 100 kilometers inland from the largest city in this Southern Hemisphere country — are remnants of a Paleozoic quartzite plateau that was uplifted and deeply incised. Spires like these three were further sculpted by wind and rain.

The heritage site, national park and mountain range in which the pinnacles lie all share a name that references the misty azure haze that usually blankets the region. The haze is caused by airborne droplets of oil emitted by eucalyptus trees.
Name the geologic feature, its host mountain range & country.
Scroll down for the answer
Answer: These Paleozoic sandstone pinnacles, named the Three Sisters, lie about 100 kilometers west of Sydney, Australia, in the Blue Mountains — so-called for the blue haze that blankets them, which is caused by fine droplets of oil emitted by eucalyptus trees. Photo by Jordan Makower.
November 2018 Winners: Rick Allison (Loveland, Colo.) Paul Gifford (Tomball, Texas) Lionel Jackson (Coquitlam, British Columbia, Canada) Mojisola KunleDare (Bear, Del.) David A. Owen (Hendersonville, N.C.)
Return to the Where on Earth? archive.
EARTH also welcomes your photos to consider for the contest. Learn more about submitting photos.