Where on Earth? - November 2016
by The American Geosciences Institute Monday, October 24, 2016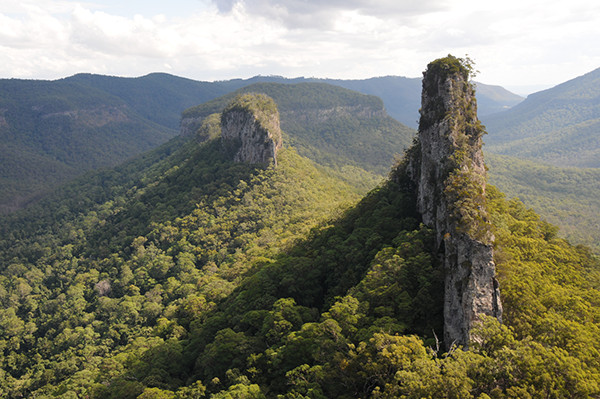 Clues for November 2016:
This nautically named area features rock formations that have been named for various parts of a ship's architecture.

The predominant feature in the area is a ridge formed of trachyte, a gray, fine-grained, alkali feldspar volcanic rock. The ridge, a remnant of a volcano that was last active 24 million years ago, branches off a main range in a nearby national park of the same name.

The area lies near the shared border of two of the six states of this island nation — much of the early, nonaboriginal population of which arrived on the type of ship for which the area is named.
Name the area and its host state and country.
Scroll down for the answer
Answer: The Steamers in Queensland, Australia — a ridge formed of trachyte, a gray, fine-grained alkali feldspar volcanic rock — includes features that reminded early settlers of a steamship. The photo, taken from a lookout called the Stern, shows (from right to left) the Mast, the Funnel and the Bow. Photo by Jeff Kirtland. November Winners: John J. Hebberger Jr. (Jackson, Wyo.) Art Johnson (Kenner, La.) Amanda Leas (Portland, Ore.) Donna McMillen (Lihue, Hawaii) Brendan Sibre (Falls Church, Va.) Visit the Where on Earth? archive.
EARTH also welcomes your photos to consider for the contest. Learn more about submitting photos here.