Where on Earth? - May 2018
by The American Geosciences Institute Monday, April 30, 2018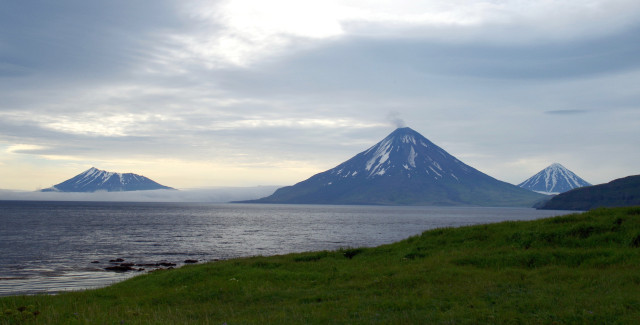 Clues for May 2018:
The name of this group of eight volcanic islands — which is part of a 2,300-kilometer-long chain of islands in the northern Pacific — was translated from the Russian name "Ostrova Chetyre Soposhnye."

The names of the three Holocene-aged volcanoes pictured were first recorded as Chagulax, Chuginadax and Ulyagan in 1834 by a Russian Orthodox priest.

When the island group was visited by the U.S. Coast and Geodetic Survey in the 1890s, the center volcano (seen with steam rising from its peak), which is the tallest and most volcanically active in the group, was renamed for the sitting president.
Name the island group & its host state.
Scroll down for the answer
Answer: The Islands of Four Mountains actually comprise eight islands amid Alaska's 2,000-kilometer-long Aleutian Island chain. The name of the island group refers to four prominent volcanoes, known in English as Carlisle, Cleveland, Herbert and Tana. Photo by K.P. Nicolaysen.
May 2018 Winners: D.J. Edwards (Lostwithiel, Cornwall, U.K.) Bob Herndon (Ooltewah, Tenn.) Sheila Mackintosh-Sims (Glen Ellen, Calif.) Rodney A. Sheets (Columbus, Ohio) David Ziegler (Hannibal, Mo.)
Visit the 'Where on Earth?' archive.
EARTH also welcomes your photos to consider for the contest. Learn more about submitting photos.