Where on Earth? - May 2017
by The American Geosciences Institute Friday, April 28, 2017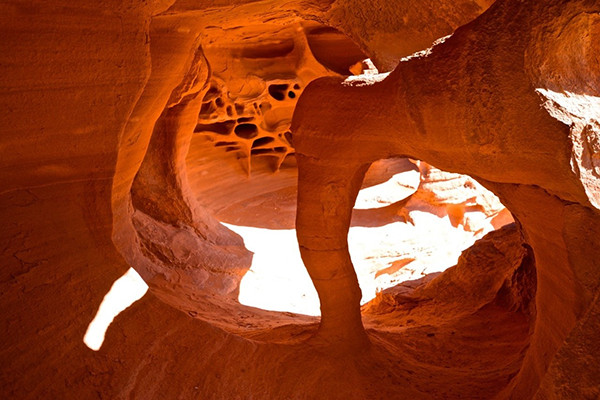 Clues for May 2017:
This arch, inside a wind-eroded cave, is a popular shot for photographers, who must squeeze in to take the picture.

The state park in which the arch and cave are located, founded in 1934, also contains 2,000-year-old petroglyphs — showing, among other things, hunters using atlatls — and hosts an annual competition in which participants compete using the ancient weapons.

The park lies in bright red Aztec Sandstone, deposited in the Jurassic, and the windswept cross-bedding of the former dunes can still be discerned in outcrops today.
Name the arch or cave & its host state park.
Scroll down for the answer
Answer: Windstone Arch, inside Fire Cave at Valley of Fire State Park in Nevada, is a popular spot for shutterbugs, who must squeeze into the diminutive cave to take photos. The rock from which the cave and arch were carved is bright red Aztec Sandstone. Photo is by Bachir Badaoui. May 2017 Winners: Melissa Berke (South Bend, Ind.) Sandra Cannon (Valley Center, Calif.) Marco Negovschi (Newhall, Calif.) Robert D. Smith (Chester, Calif.) James Westland (Tobermory, Isle of Mull, Scotland) Visit the 'Where on Earth?' archive.
EARTH also welcomes your photos to consider for the contest. Learn more about submitting photos.