Where on Earth? - March 2017
by The American Geosciences Institute Tuesday, February 28, 2017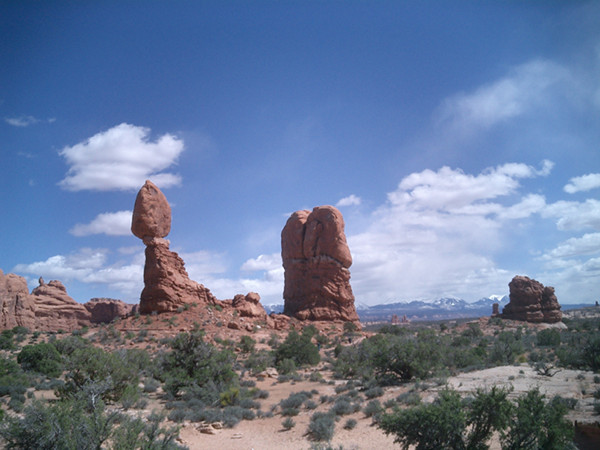 Clues for March 2017:
The boulder perched atop this 39-meter-tall rock formation, which may be the most famous of many similarly named rock formations in the United States, is estimated to weigh 3,577 tons.

The formation is easily visible from the main road through one of America's most popular national parks, founded in 1929, which hosts more than 2,000 documented rock arches ranging from 1 meter to almost 100 meters across.

The rock formations in the park arose through weathering and erosion of sandstone layers, which were upwarped into anticlines by underlying salt beds hundreds of meters thick, and acted on by water, ice and extreme temperatures over the last 65 million years.
Name the rock formation & its host national park.
Scroll down for the answer
Answer: Although many similarly named formations exist in the U.S., Balanced Rock in Arches National Park is perhaps the most recognizable. Hewn by weathering and erosion, the 39-meter-tall sandstone feature is easily visible from the park's main road. Photo is by Jordan Makower.
March 2017 Winners: Bob Biek (Salt Lake City, Utah) Nel Graham (Pasadena, Calif.) Anne MacDonald (Lake Oswego, Ore.) Gary L. McGavin (Redlands, Calif.) Anita Robinson (Vancouver, Wash.) Visit the 'Where on Earth?' archive.
EARTH also welcomes your photos to consider for the contest. Learn more about submitting photos.