Where on Earth? - March 2015
by The American Geosciences Institute Sunday, March 1, 2015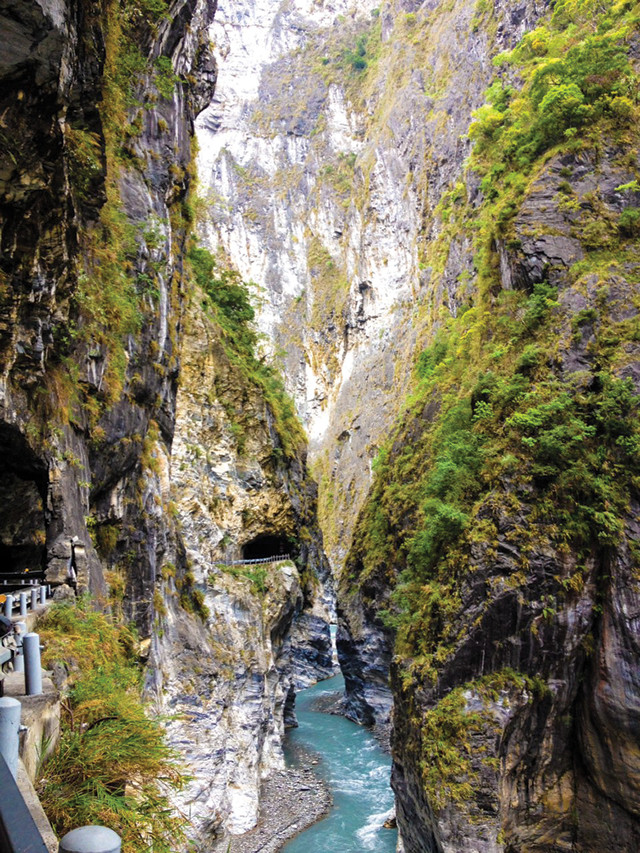 Clues for March 2015:
This narrow, 19-kilometer-long gorge is the namesake feature of the national park that surrounds it and is located near the east coast of a lush, tectonically active island — to which multiple nations have laid claim — roughly 150 kilometers off mainland Asia.

Layers of marble (and other metamorphosed rocks that originated as seafloor sediments) comprise most of the bedrock in and near the gorge and are thought to have been uplifted and tilted into mountains beginning about 70 million years ago in a collisional tectonic setting.

Popular tourist activities include a trip through the "Tunnel of Nine Turns" (seen here) to view the most dramatic portion of the gorge, and rafting along the river, which continues to incise the canyon.
Name the gorge and its host island.
Scroll down for the answer
Answer: Scenic, 19-kilometer-long Taroko Gorge is located within Taroko National Park in eastern Taiwan. The gorge continues to be cut through a thick stack of marble and other metamorphosed marine rocks, which are thought to have been uplifted and tilted beginning about 70 million years ago. Photo is by Guru Simrat Khalsa. March Winners: Antonio Arribas (Ann Arbor, Mich.) Gille Giroux (North Bay, Ontario, Canada) David Goldak (Wichita, Kan.) Rhea Graham (Placitas, N.M.) M.C. Horn (Eagle, Idaho)
Visit the Where on Earth? archive.
EARTH also welcomes your photos to consider for the contest. Learn more about submitting photos here.