Where on Earth? - June 2018
by The American Geosciences Institute Thursday, May 31, 2018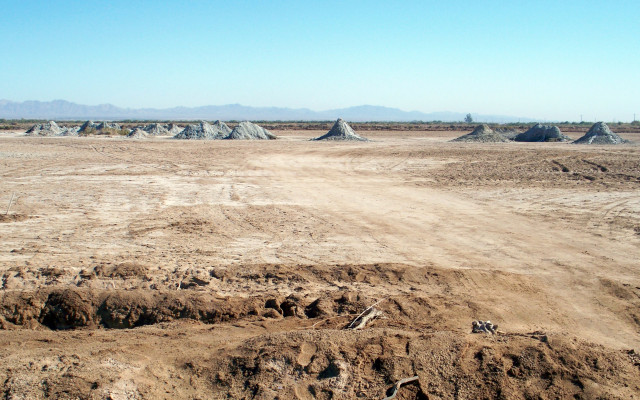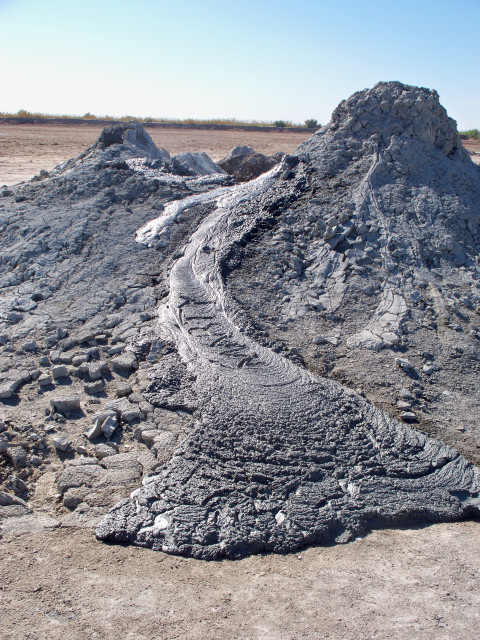 Clues for June 2018:
These mud volcanoes sit within an active pull-apart basin bounded on both sides by major northwest-southeast trending strike-slip faults. The basin contains, and shares a name with, a saline body of water that lies almost 72 meters below sea level and is home to more than 400 species of birds.

The mud volcanoes are formed by carbon dioxide bubbling up through a geothermal seep field that is heated by a magma chamber more than a kilometer below the surface, and is named for the intersection of two local roads.

In 1853, evidence that a much larger ancient sea once existed here — including wave-cut benches, sandy shorelines and mussel shells deposited high in the hills — was first described by geologist William Blake, who was looking for a western railroad route.
Name the seep field and the body of water.
Scroll down for the answer
Answer: These mud volcanoes southeast of the Salton Sea in Southern California formed when carbon dioxide bubbled up through the Davis-Schrimpf Seep Field, which is heated by a magma chamber more than a kilometer below the surface. Photos by Albert L. Lamarre.
June 2018 Winners: Gerhard Kunze (Akron, Ohio) Gary L. McGavin (Redlands, Calif.) Chris Robinson (Vancouver, Wash.) J. Brad Stephenson (Oak Ridge, Tenn.) William Underwood (Bethany, Okla.)
Visit the 'Where on Earth?' archive.
EARTH also welcomes your photos to consider for the contest. Learn more about submitting photos.