Where on Earth? - June 2017
by The American Geosciences Institute Wednesday, May 31, 2017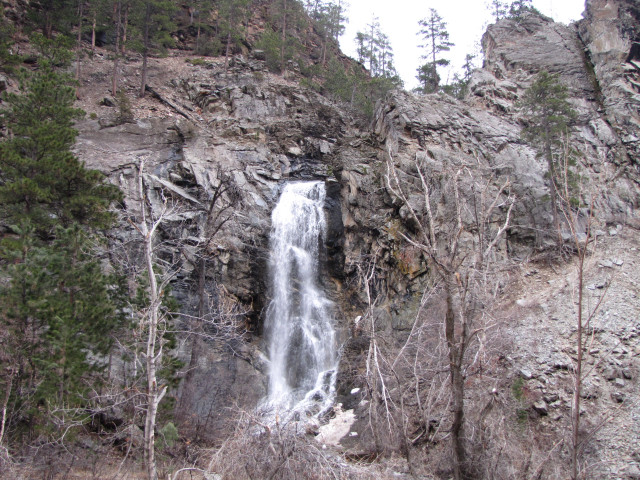 Clues for June 2017:
This 18-meter-tall waterfall shares the name of a matrimonial garment with several other falls in the U.S., including one at Niagara Falls, and is a popular roadside attraction for people driving along the adjacent scenic byway.

The waterfall tumbles over an outcrop of phonolite — which intruded during the Paleogene into the surrounding Cambrian- to Ordovician-aged sandstones and shales — and plunges into a creek and canyon named for the method that local Native Americans traditionally used to catch fish.

The waterfall is located near the northern edge of a national forest and roughly 10 kilometers south of a town originally founded during the local gold rush, which now shares its name with the creek and canyon.
Name the waterfall & its host state.
Scroll down for the answer
Answer: Eighteen-meter-tall Bridal Veil Falls in Spearfish Canyon, near Black Hills National Forest in South Dakota, is one of roughly two dozen similarly named U.S. waterfalls, the most famous of which is found in Yosemite National Park. Photo is by Lynn McCue. June 2017 Winners: R.J. Gauthier-Warinner (Interlochen, Mich.) Matt Hurlburt (Bel Air, Md.) James Phipps (Cosmopolis, Wash.) J. Brad Stephenson (Oak Ridge, Tenn.) Betsey Thomson (Pennsboro, W.Va.)
Visit the 'Where on Earth?' archive.
EARTH also welcomes your photos to consider for the contest. Learn more about submitting photos.