Where on Earth? - July 2015
by The American Geosciences Institute Wednesday, July 1, 2015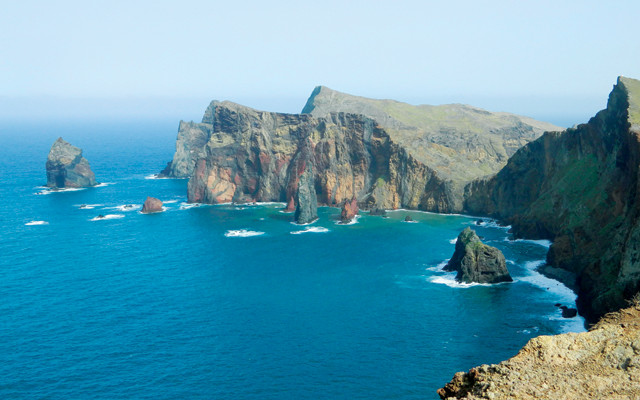 Clues for July 2015:
The peninsula seen here terminates at the easternmost point of a volcanic island, the largest of four in a small Atlantic archipelago. The portion of the island that is above water formed from lava that erupted in the Pliocene and Pleistocene.

A roughly 7-kilometer-loop hike offers visitors to the peninsula spectacular views of colorful layers of basalt and pyroclastic deposits, as well as numerous cross-cutting volcanic dykes and small pinnacle islands called "leixões" that attest to the ocean's prolific erosion of the island.

Although its rugged terrain — featuring arresting cliffs and mountains topping out at 1,860 meters — is a big attraction, the island also draws tourists because of its inviting temperate climate, renowned gardens and the eponymously named wine produced on the island.
Name the island and the peninsula.
Scroll down for the answer
Answer: Ponta de São Lourenço is the easternmost point of the Portuguese island of Madeira — famed for its renowned gardens and eponymous wine — which lies off the north African coast in the Atlantic. The rock of the peninsula is from Pliocene and Pleistocene volcanic eruptions. Photo is by Alan Reid. July Winners: Bettina Bradley (Moses Lake, Wash.) Ellen Herron (Chapel Hill, N.C.) Gerhard Kunze (Akron, Ohio) Vickie Robinson (Portland, Ore.) Rodney Sheets (Columbus, Ohio)
Visit the Where on Earth? archive.
EARTH also welcomes your photos to consider for the contest. Learn more about submitting photos here.