Where on Earth? - January 2019
by The American Geosciences Institute Wednesday, December 26, 2018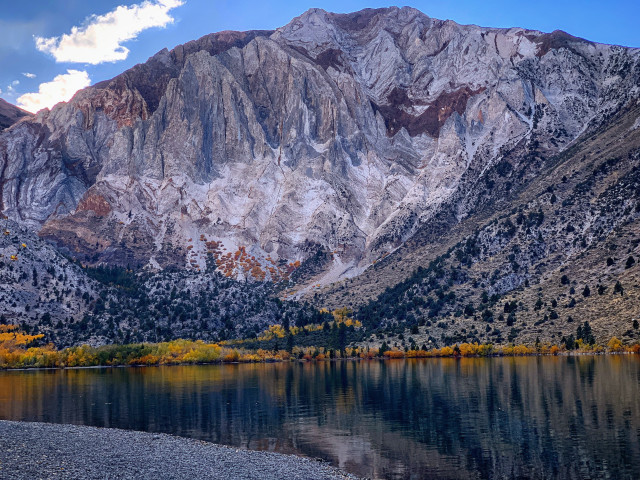 Clues for January 2019:
This Eastern Sierra Nevada lake, the creek that feeds it and the basin it lies in, share a name that references a gang of outlaws who escaped from a Carson City, Nev., prison and hid out here in 1871.

The cliff towering above the lake displays complex folding and faulting of Lower Paleozoic metasedimentary rocks, including a faulted syncline (middle left in photo) that bears the same name as the cliff.

The rocks are part of the Mount Morrison Pendant, which consists of Cambrian to Permian sedimentary layers that were altered by intrusion of granitic plutons during the Mesozoic. The pendant takes its name from the largest mountain surrounding the lake (not pictured), which was named for a posse member killed in a shootout while apprehending the outlaw gang.
Name the lake and cliff, and their host state.
Scroll down for the answer
Answer: Check back later for the answer to and winners of the January Where on Earth? in EARTH.
Return to the Where on Earth? archive.
EARTH also welcomes your photos to consider for the contest. Learn more about submitting photos.
---
© 2008-2021. All rights reserved. Any copying, redistribution or retransmission of any of the contents of this service without the expressed written permission of the American Geosciences Institute is expressly prohibited. Click here for all copyright requests.