Where on Earth? - January 2016
by The American Geosciences Institute Monday, December 28, 2015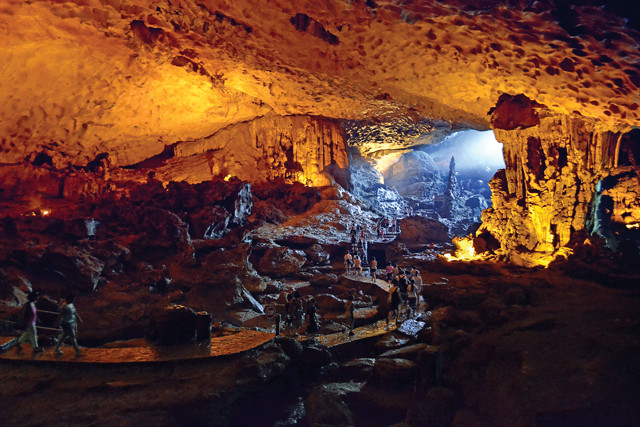 Clues for January 2016:
This magnificent cave system is located on one of nearly 2,000 limestone islands that rise — some as striking pillars with bases narrowed by wave erosion — from a bay that was added to the list of UNESCO World Heritage Sites in 1994.

Of the three chambers in the cave, known in English as the "Cave of Surprises," the largest — seen here — reaches a height of 30 meters and features stalactites, stalagmites and numerous other features characteristic of karst drainage systems.

The cave, which is illuminated artificially and lined with a man-made walkway, draws a lot of tourists, as does the entire bay, which is a popular site for kayaking, scuba diving and slow cruises aboard boats called junks.
Name the cave system and its location.
Scroll down for the answer
Answer: Sung Sot Cave, known in English as the "Cave of Surprises," is located on Vietnam's Bo Hon Island in Ha Long Bay. The limestone island is one of nearly 2,000 that rise from the bay, a popular tourist destination. Photo is by Matthew Teh.
January Winners: Edith Chasen-Cerreta (Woodhaven, N.Y.) Damhnait Gleeson (Naas, County Kildare, Ireland) John J. Hebberger Jr. (Jackson, Wyo.) Pritish Mukherjee (Ahmadi, Kuwait) Heather Paladini (Rosevill, Calif.)
Visit the Where on Earth? archive.
EARTH also welcomes your photos to consider for the contest. Learn more about submitting photos here.