Where on Earth? - February 2019
by The American Geosciences Institute Thursday, January 31, 2019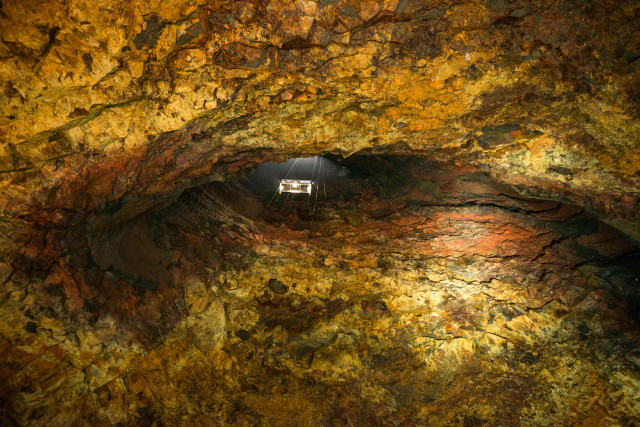 Clues for February 2019:
The name of this North Atlantic volcano translates roughly to "Three Peaks Crater." It last erupted about 3,500 years ago in a Strombolian-type eruption fed by dikes, which produced a large lava tube, a portion of which now forms a 120-meter-deep cave.

Two surface vents formed above the main dike, which breached and eroded an older, buried cinder cone and excavated the tephra from it in an instance of "basaltic cannibalism." The large excavated area around the dike led to slumping and the formation of the lava-tube cave.

One of the surface vents of the lava tube is just large enough to allow the passage of a open-air elevator that descends on cables to carry tourists to the floor of the cave, which has been half-filled with large fallen roof blocks.
Name the volcano & its host country.
Submit your February 2019 answer now! Scroll down for the answer
Answer: Check back later for the answer to and winners of the February Where on Earth? in EARTH.
Return to the Where on Earth? archive.
EARTH also welcomes your photos to consider for the contest. Learn more about submitting photos.
---
© 2008-2021. All rights reserved. Any copying, redistribution or retransmission of any of the contents of this service without the expressed written permission of the American Geosciences Institute is expressly prohibited. Click here for all copyright requests.