Where on Earth? - February 2017
by The American Geosciences Institute Monday, January 30, 2017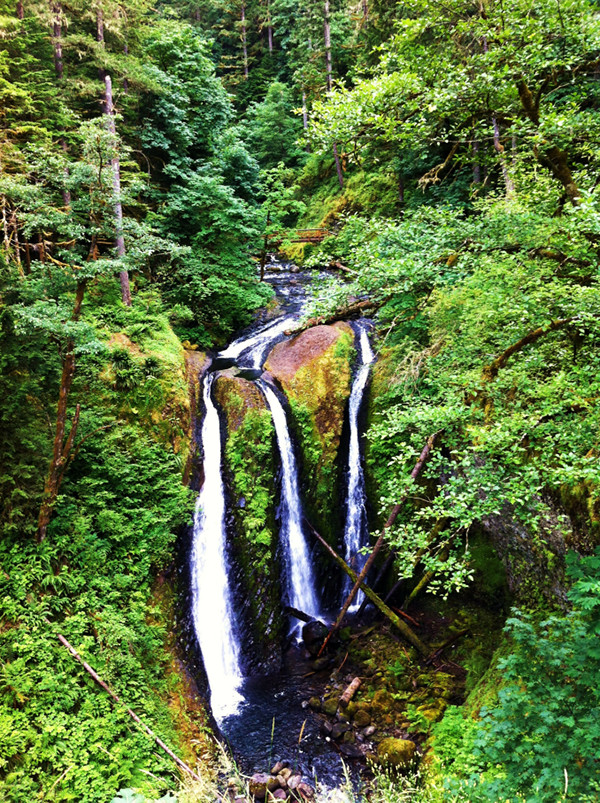 Clues for February 2017:
This 73-meter-tall waterfall is on a tributary of a major river that has been down-cutting through the largest flood basalt deposit in North America, forming a famously photogenic gorge that was also carved by catastrophic outburst floods during the Late Pleistocene.

The tributary drains a volcanic field — with an uninteresting-sounding name — that consists of more than 80 vents resulting from eruptions that began between 2.6 million and 2.4 million years ago. The youngest volcanic feature in the field, Beacon Rock, is the remnant neck of a volcano that erupted about 57,000 years ago.

The name of the falls, the spelling of which has changed over time, originally meant "most beautiful" in the Yakama language.
Name the waterfall and its host state.
Scroll down for the answer
Answer: Although the clues to our February puzzle described Wahkeena Falls, along Oregon's Wahkeena Falls Loop Trail, the waterfall shown in the photo was actually nearby Triple Falls. Both answers were accepted as correct and we apologize for the mistake. Photo by Katy Hagert.
February 2017 Winners: Jennifer Burrell (Kent, Ohio) Dennis Clark (Indianola, Wash.) Philip Evans (Leavenworth, Wash.) Al Hrynyshyn (Junction City, Ore.) Bill Siesser (Nashville, Tenn.) Visit the Where on Earth? archive.
EARTH also welcomes your photos to consider for the contest. Learn more about submitting photos here.