Where on Earth? - December 2015
by The American Geosciences Institute Tuesday, December 1, 2015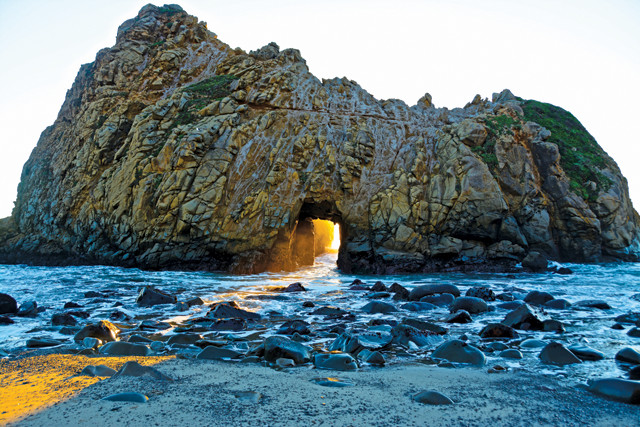 Clues for December 2015:
On clear winter evenings at low tide, sunsets beam through the roughly 7-meter-by-7-meter portal eroded through this rock feature by wave action. The sunsets draw photographers to the adjacent state park beach, where manganese-bearing garnet grains give the sands a purple hue.

Just a few kilometers east of the coast, high granitic peaks rise along a series of thrust faults, making for one of the most abrupt elevation changes on the continent's coastline. Hills to the west of the state park entrance are in the Franciscan Complex, a chaotically mixed assemblage formed when rock and sediments were scraped off a subducting plate, accreted to the continent and later faulted and folded. A heavily traveled "premier" highway between the peaks and the coast is prone to landslides.

The park is named, in part, for one member of a family of homesteaders in a region whose name in Spanish means "the big south."
Name the rock feature and the state park.
Scroll down for the answer
Answer: Along with beach sands tinted purple by manganese-rich garnets, sunsets beaming through Keyhole Rock's 7-meter-by-7meter portal draw many photographers and tourists to this spot off California's state Route 1 (also known as the Pacific Coast Highway) in Pfeiffer Big Sur State Park. Photo is by Bachir Badaoui.
December Winners: Gregg Beukelman (Salt Lake City, Utah) Gina Bochicchio (San Diego, Calif.) Sandi Cannon (Cathedral City, Calif.) Al Hrynyshyn (Junction City, Ore.) Debra Syme (Cochrane, Alberta, Canada)
Visit the Where on Earth? archive.
EARTH also welcomes your photos to consider for the contest. Learn more about submitting photos here.