Where on Earth? - August 2017
by The American Geosciences Institute Monday, July 31, 2017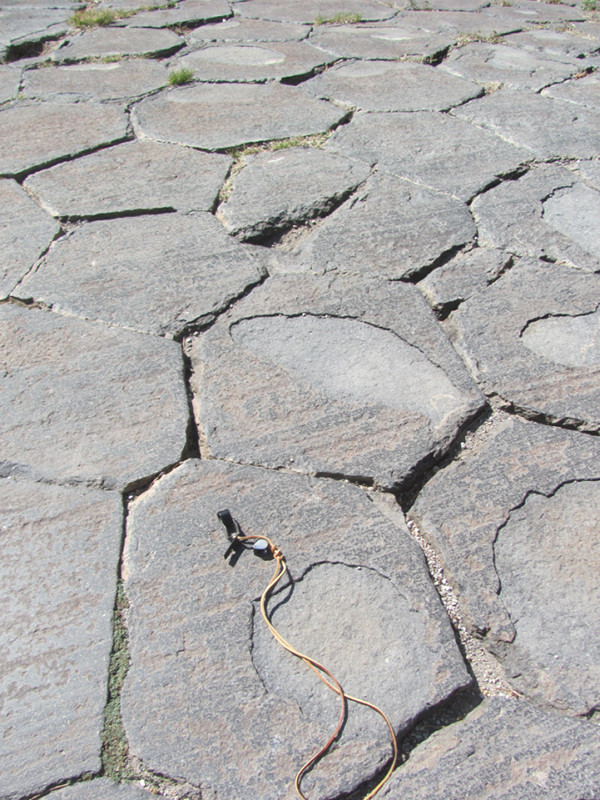 Clues for August 2017:
This natural rock tilework is the exposed ends of columnarly jointed basalt that began forming after lava, thought to have erupted roughly 100,000 years ago, ponded into a lava lake and cooled.

Glaciers subsequently ripped up, reshaped and polished parts of the basalt lake, leaving behind the current formation, where these glacially striated, polygonal tiles — each with three to seven sides — as well as basalt towers up to about 18 meters tall can be seen.

The site, designated as a national monument in 1911, sits just off a trail named after a well-known naturalist and early glaciologist, and a few kilometers west of a mountain named for a large, furry ice-age mammal.
Name the national monument and its host state.
Scroll down for the answer
Answer: Columnarly jointed basalt with glacially smoothed surfaces can be seen at Devils Postpile, near the John Muir Trail west of Mammoth Mountain on the east side of the Sierra Nevada Range in California. It erupted as lava roughly 100,000 years ago and was designated a national monument in 1911. Photos are by Albert L. Lamarre (left) and the National Park Service (right). August 2017 Winners: Edith Allison (Rockville, Md.) Nicholas Klotz (Flagstaff, Ariz.) Dale Kunitomi (Camarillo, Calif.) Marcia Matthieu (Gilbert, Ariz.) Eric Saenger (Prosper, Texas)
Visit the 'Where on Earth?' archive.
EARTH also welcomes your photos to consider for the contest. Learn more about submitting photos.