Where on Earth? - April 2018
by The American Geosciences Institute Friday, March 30, 2018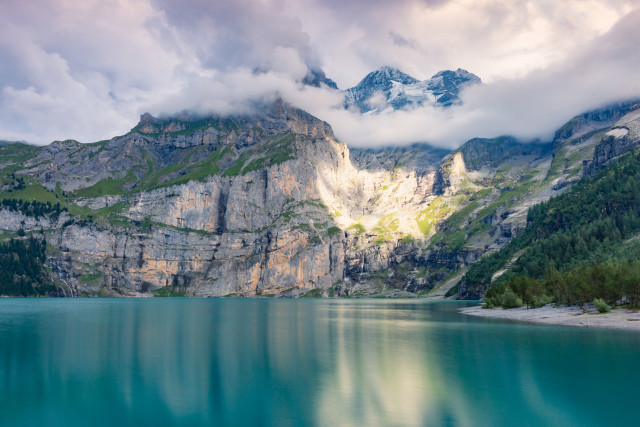 Clues for April 2018:
This 1.1-square-kilometer Alpine lake lies at an elevation of 1,578 meters and is part of the host mountain range's first UNESCO World Heritage site, designated in 2001. Although accessible only via gondola and foot, it is a popular destination for ice fishing and skating as it remains frozen five months of the year.

The 50-meter-deep lake is fed by glacial streams, but has no surface drainage. Lakewater percolates down through the permeable rock avalanche deposit damming the lake, which was recently shown to have been produced by two separate landslides that occurred roughly 2,300 years ago, and were likely triggered by a seismic event.

The lake is about 50 kilometers south-southeast of its host country's capital city, and lies in a region famous for producing a popular type of holey cheese.
Name the lake and its host country.
Scroll down for the answer
Answer: Lake Oeschinen (or Oeschinensee in German) has been part of the Swiss Alps Jungfrau-Aletsch UNESCO World Heritage Site since 2007. Photo by Matteo Rolfi.
April 2018 Winners: Heike Alberts (Oshkosh, Wis.) Claude E. Bolze (Sapulpa, Okla.) Rena M. Bonem (Waco, Texas) Edith Chasen-Cerreta (Woodhaven, N.Y.) Trina Dey (Irving, Texas)
Visit the 'Where on Earth?' archive.
EARTH also welcomes your photos to consider for the contest. Learn more about submitting photos.