Where on Earth? - April 2017
by The American Geosciences Institute Thursday, March 30, 2017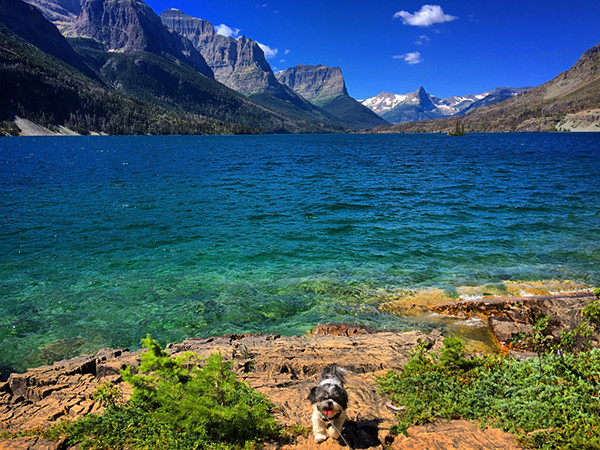 Clues for April 2017:
The larger, 16-kilometer-long basin of this glacially fed lake lies within a national park. A second, lower basin lies on the Blackfeet Indian reservation.

An overthrust fault, along which, 65 million to 70 million years ago, Proterozoic Belt Series rocks were thrust up and over Cretaceous mudstones and sandstones for distances of up to 80 kilometers, crops out nearby. The weathered buff and gray rock, upon which the dog stands, is the Altyn Limestone, the lowermost unit of the Belt Series rocks overlying the fault.

The lake, at an altitude of 1,367 meters, is the second largest in its host park and parallels a famous road with a solar-themed name. The lake and the road were featured in the opening scenes of the 1980 movie "The Shining."
Name the lake and its host national park.
Scroll down for the answer
Answer: Sixteen-kilometer-long Saint Mary Lake parallels Going-to-the-Sun Road in the eastern part of Glacier National Park in Montana. A second basin, Lower Saint Mary Lake, lies 2 kilometers to the northeast on the Blackfeet Indian Reservation. Photo is by Ethan Weber.
April 2017 Winners: Ryan Austin (Toronto, Ontario, Canada) Elizabeth Cleland (McLean, Va.) William Gilliland (Topeka, Kan.) Victoria Khoo (Madison, Wis.) Hal Pranger (Centennial, Colo.) Visit the 'Where on Earth?' archive.
EARTH also welcomes your photos to consider for the contest. Learn more about submitting photos.