Where on Earth? - September 2015
by The American Geosciences Institute Sunday, August 30, 2015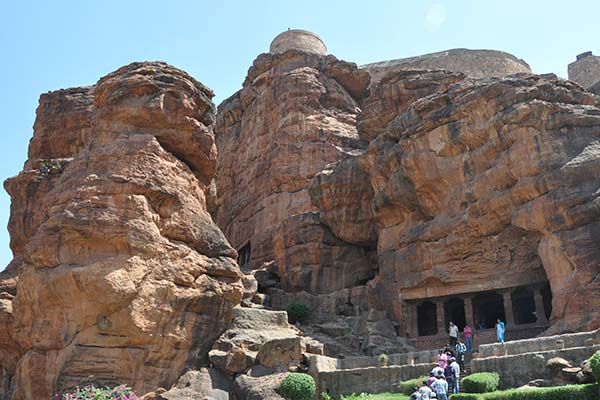 Clues for September 2015:
This cave, along with three others, was carved in the sixth and seventh centuries into fine-grained, horizontally stratified red sandstone dating to the latter Proterozoic, when it was deposited in an intracratonic basin.

All of the caves, which feature ornate carvings and a distinctive architecture, including verandas, halls and sancta — all lined with large, intricate pillars — are dedicated to either of two gods or to a spiritual leader.

Today, the caves and other nearby temples comprise a tourist site in a southwestern state of the world's second-most-populous country. But from the sixth through the eighth centuries, the area was the ruling seat of a dynasty that controlled most of what is now the southern portion of the modern country.
Name the caves and their location.
Scroll down for the answer
Answer: Carved during the sixth and seventh centuries into the dramatic red sandstones of Karnataka, India, three of the four main caves of the Badami Cave Temple complex are devoted to Hindu deities, while the last celebrates leaders of Jainism. Badami long served as the seat of power of the Chalukya Dynasty, which ruled much of India from the sixth through the 12th centuries. Photos are by Pramod Hanamgond.
September Winners: Rebecca Gonzales-Clayton (Reno, Nev.) Justin Gosses (Houston, Texas) James Irwin (Madison, Wis.) Alexander Nereson (Santa Cruz, Calif.) Jim Sukup (Indianapolis, Ind.)
Visit the Where on Earth? archive.
EARTH also welcomes your photos to consider for the contest. Learn more about submitting photos here.