Water use soared as workers flocked to North Dakota's oilfields
by Lucas Joel Tuesday, September 20, 2016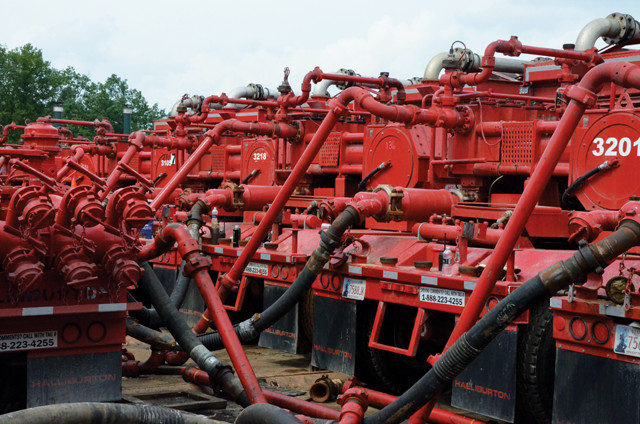 Amid North Dakota's oil boom, about 24,000 temporary oilfield workers moved to Williams County — in the state's Bakken oil shale region — between 2010 and 2012, almost doubling the area's population. In a new study, researchers found that those workers have been responsible for the region's skyrocketing water use almost as much as hydraulic fracturing by the oil industry itself.
Hydraulic fracturing, or "fracking," involves pumping water mixed with other constituents, including chemicals and proppant, at high pressure into the underlying shales, which fractures the rock to release oil and gas. The researchers found that, in 2008, about 770 million gallons of water went toward fracking operations at 401 wells in North Dakota; by 2012, water use had more than quintupled to roughly 4.27 billion gallons at 1,801 wells.
The researchers also estimated that each person in the Bakken region uses between 80 and 160 gallons of water per day. "If each new temporary worker used 80 gallons a day, their total would be more than half the water used for hydraulic fracturing alone," said Corrie Clark, an environmental systems engineer at Argonne National Laboratory and co-author of the new study in Environmental Science & Technology, in a press release. "If they used 160 gallons a day, it would exceed the total amount of water used for hydraulic fracturing," Clark said. Whether at the high end or low end, water use by new temporary workers accounted "for a big share of the region's increased water use," she said.
The team worked off data from 2008 to 2012. "The exact figures have no doubt changed somewhat from our last year of data," lead author Robert Horner, who was also at Argonne during the study, told EARTH. But "I think the overall picture of water use in the Bakken is currently very similar to what the paper describes," he said.
The water demand is met by supplies from fresh groundwater and surface water sources; the researchers cited a review that found that, as of April 2015, none of the oil producers in the Bakken were recycling wastewater for continued production due to economic infeasibility. They wrote, however, that the environmental consequences of such high water usage — both for fracking as well as by oilfield workers — are still unclear: "More data collection and further study in the Bakken and elsewhere are needed to better understand, quantify and minimize water impacts of unconventional oil and gas development in the future."