Venturing into Argentina
by Callan Bentley Tuesday, August 22, 2017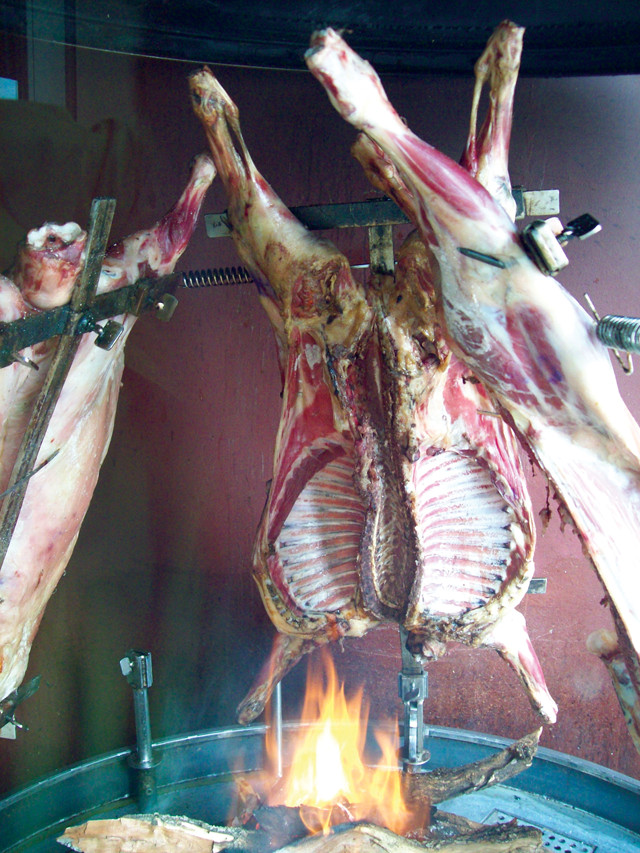 We chose to spend most of our time on the Chilean side of Patagonia, although you could just as easily decide to spend your entire trip on the Argentine side. But if you follow an itinerary similar to ours (see main story), it's still worth a jaunt into Argentina. The town of El Calafate, an inexpensive five-hour bus ride from Puerto Natales, Chile, is a great place to sample wines from the Mendoza region and try the local delicacy, crucified lamb. The sheep is affixed to a steel cross and roasted slowly over a campfire. The resulting image is graphic, but the meat is tender and savory. El Calafate is also the gateway to Glaciers National Park. This park is home to many wondrous sights, but prime among them is the Perito Moreno Glacier, Argentina's top tourist attraction.
The glacier has a huge snow catchment area that gets funneled into a relatively small outlet. This means that its terminus has stayed in pretty much the same place over the years. While most glaciers around the world are retreating, Perito Moreno can be found right where it was 10 years ago.
The resulting setting is a dream of accessibility: You can drive right to the glacier and view it from the opposite hillside on a well-constructed series of elevated walkways and platforms. You can drive yourself, hire a taxi or sign up for a day-long tour including other area sights. From this close vantage point, you can watch Perito Moreno calve icebergs that fall into a lake at a dependable and dramatic rate. Each icefall is accompanied by a cannon-like boom, which draws cheers from the crowd. As you watch the waves expand out across the lake, you will hear a sound like breaking glass as the icebergs grind against one another. The spectacle is one of nature's greatest shows. I found it very difficult to break away from it.
El Calafate has a modern airport with daily flights to major Argentinean cities, including Buenos Aires, as well as to Puerto Natales, Chile.