Venezuela, Central Africa are Earth's lightning hot spots
by Kate S. Zalzal Tuesday, April 18, 2017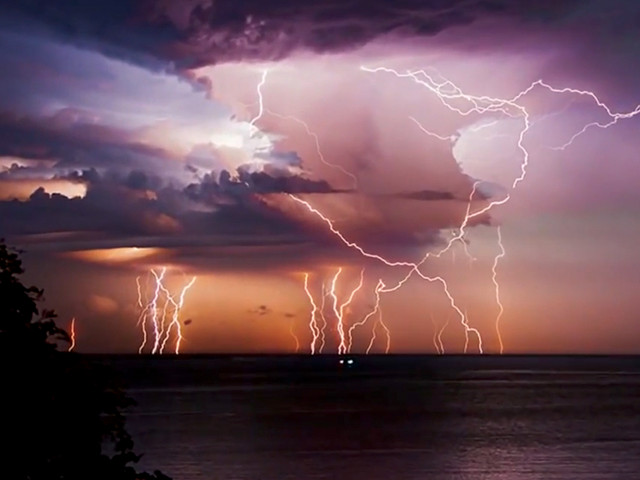 People who live around Venezuela's Lake Maracaibo call it a "lighthouse." The lake's "never- ending storm" has been written about for centuries, and the incessant lightning there has even helped guide Caribbean sailors. Data from NASA's Tropical Rainfall Measuring Mission (TRMM) has now confirmed that Lake Maracaibo is Earth's top lightning hot spot.
Researchers led by Rachel Albrecht, a meteorologist at the University of São Paolo in Brazil and the University of Maryland, used data obtained between 1998 and 2013 from a lightning imaging sensor aboard the TRMM satellite to derive lightning flash-rate density maps and rank the planet's top 500 lightning hot spots.
Their results, published in the Bulletin of the American Meteorology Society, show that these concentrations of lightning, generally driven by convective updrafts, occur more frequently over land than over oceans and usually during summer afternoons. But there is a wide range of variation.
At Lake Maracaibo, for example, lightning occurs mostly over the lake at night and most frequently during spring and autumn. The lake's unique geography — surrounded by steep mountain walls and located adjacent to the warm Gulf of Venezuela — sets up convergent land-lake winds that trigger deep convection and lead to lightning storms 297 days per year on average.
Africa's Lake Victoria, the largest tropical lake in the world, also experiences nighttime convection and high lightning flash rates. Of the top 500 hot spots in the world, Central Africa is home to 283 of them, including the second-ranked hot spot: Kahuzi-Biéga National Park in the Democratic Republic of the Congo. A region in the Everglades, near Orangetree, Fla., takes the top U.S. spot for lightning frequency, placing 122nd globally.