VA quake felt far and wide, here's why
by Kathryn Hansen Thursday, January 5, 2012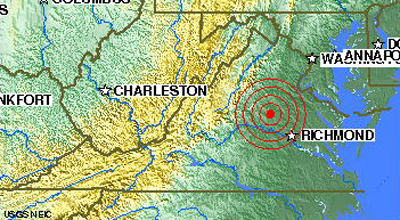 A significant earthquake today shook residents in Virginia, but the event could be felt far and wide along the East Coast.
The magnitude-5.8 event at 1:51 p.m. EDT was centered 61 kilometers northwest of Richmond, Va., and 135 kilometers southwest of Washington, D.C., according to the U.S. Geological Survey (USGS). The temblor's shallow depth — just 6 kilometers deep — and the structure of rocks that compose the Central Virginia Seismic Zone, caused the event to be felt strongly from North Carolina to Boston and Cape Cod. In fact, by 5 p.m., USGS was nearing in on 10,000 reports on its "Did you feel it?" website, from Atlanta to Wisconsin.
Although less frequent in occurrence, earthquakes east of the Rockies can be felt over areas up to 10 times larger than earthquakes of a similar magnitude on the West Coast, according to USGS. 
The difference in scope is because the rock out East is colder and denser, which is more efficient for the transmission of seismic waves, says Callan Bentley, an assistant professor of geology at Northern Virginia Community College. Additionally, numerous fractures in West Coast crust slow the transmission of seismic energy. 
The largest earthquake to cause damage in the Central Virginia seismic zone was a magnitude-4.8 event in 1875, according to USGS. Preliminary news reports indicate damage is minor, including ceiling tiles falling at Ronald Reagan National Airport in Virginia, pinnacles breaking off a central tower at the National Cathedral in Washington, D.C., and a water main break in the Pentagon. Friends and employees at EARTH indicate minor damage at homes throughout the Washington, D.C., metro region, including broken picture frames that fell off walls, collapsed bookcases and broken wine bottles. The full extent of damage from today's quake remains to be seen as experts continue to make assessments.