Utah gravity slide was one for the record books
by Timothy Oleson Tuesday, December 9, 2014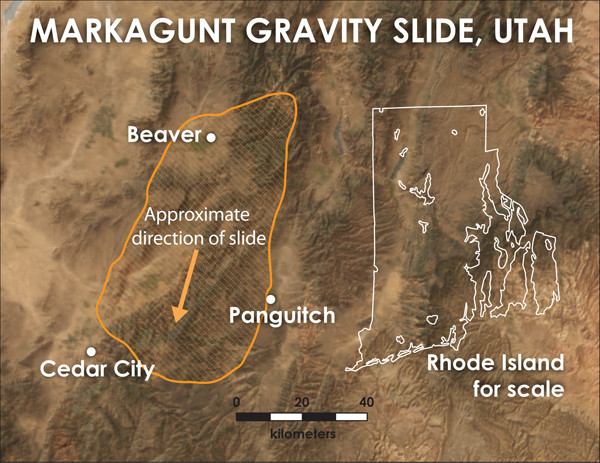 When Washington state's Mount St. Helens erupted in 1980, the volcano's northern flank gave way, sending about 2.5 cubic kilometers of material down its slopes and into nearby valleys in what was the largest debris avalanche in recorded history. But roughly 22 million years earlier, one of the largest-known volcanic landslides the world has ever seen occurred in southwestern Utah, according to a study in Geology. That one, estimate the study's authors, released between 1,700 and 2,000 cubic kilometers of ash, tuff and sandstone — nearly 1,000 times as much as Mount St. Helens — over a 3,400-square-kilometer area.
David Hacker of Kent State University in Ohio and colleagues pieced together field and petrographic evidence from the Tushar Mountains, Markagunt Plateau and Red Hills areas of Utah, all of which are within the Marysvale Volcanic Field. The consistent picture offered by this evidence, they noted, suggested that allochthonous rocks once thought to have been displaced and transported by multiple slides at different times, had actually all been part of one enormous 90-kilometer-long landslide, dubbed the Markagunt gravity slide.
Hacker and his colleagues speculated that the slide was caused by a combination of ongoing eruptions increasingly piling lava onto an unstable clay-rich sedimentary layer, as well as subsurface magma emplacement that domed and tilted the overlying strata until the weak layer gave way. The ensuing event, "along with the comparable Heart Mountain gravity slide in northwest Wyoming, constitutes a class of catastrophic collapse hazard not widely recognized within modern volcanic fields," the researchers wrote.