The ups and downs of an island
by Timothy Oleson Wednesday, March 16, 2016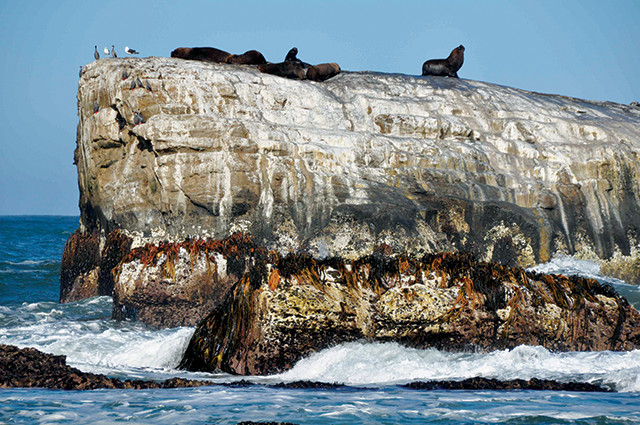 In 1835, Captain Robert FitzRoy and the crew of the HMS Beagle — who were exploring and studying the Chilean coast with Charles Darwin in tow — arrived at Isla Santa Mariá near the city of Concepción six weeks after a magnitude-8.5 earthquake jolted the region. Along with scenes of dried seaweed and dead mussels lining the island's shores well above the high-tide line, comparison of a bathymetric survey of a shallow bay adjacent to Santa Mariá to one conducted the previous year suggested to FitzRoy that the earthquake had thrust the island 2.4 to 3 meters out of the water.
Jump ahead to 2010, and Isla Santa Mariá was again uplifted nearly 2 meters by the magnitude-8.8 Maule earthquake, according to a recent study reporting the results of depth-sounding surveys of the same bay, as well as GPS measurements from the island, collected shortly before and after the earthquake. In addition to the modern data, Robert Wesson of the U.S. Geological Survey in Denver, Colo., and colleagues studied additional bathymetric surveys conducted in 1804 and 1886 along with those from the Beagle. Their analysis suggested the 1835 quake caused 2.3 meters of uplift, not far off of FitzRoy's estimate.
From 1886 to 2010, the island subsided about 1.4 meters, in broad agreement with models of how elastic strain builds up and is later released along subduction zones. However, no appreciable subsidence occurred for the half-century between 1835 and 1886, the team reported in Nature Geoscience. The finding "confounds a simple accounting of the accumulation and release of elastic strain," the researchers wrote, and suggests these processes can vary not only by location on a subduction zone but also with time, contrary to conventional notions that rates of strain buildup on megathrust faults tend to be stable over time. The work also suggests that 10 to 20 percent of the uplift observed at Isla Santa Mariá after the 1835 and 2010 quakes may be permanent, implying that crustal rebound after earthquakes is not entirely elastic.