Underwater Roman marble traced to Greece, Italy and Turkey
by Mary Caperton Morton Friday, May 20, 2016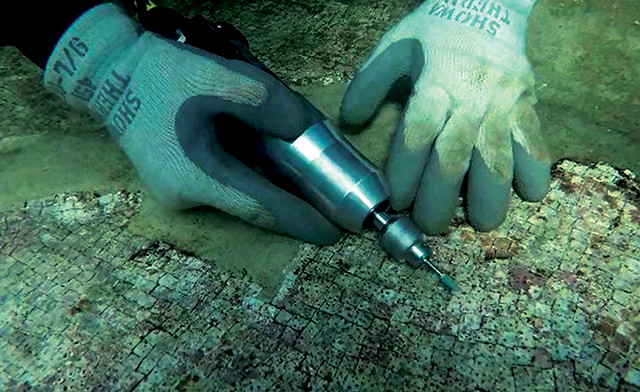 From the first century B.C. to the third century A.D., the city of Baiae, located on the west coast of Italy, near Naples, was the preferred summer home of Roman emperors, including Augustus and Nero. The once-grand city now lies under more than 5 meters of water due to coastal subsidence, and is preserved as the Underwater Archaeological Park of Baiae. Researchers have now traced the opulent city's white marble floors to some of the most famous quarries in Italy, Greece and Turkey.
Scientists led by Michela Ricca of the University of Calabria in Italy took 50 samples from different marble floors and entryways throughout the submerged city. The samples were then studied using microscopy, X-ray diffraction, mass spectrometry and isotopic analyses. The unique characteristics of each sample, such as manganese content, crystal size, and carbon and oxygen isotopes, were then compared to known samples of white marble from ancient quarries.
The results, published in the journal Applied Surface Science, identified the origins of 45 out of 50 samples from quarries in Italy (Carrara), Greece (Thassos, Paros and Pentelikon), and Turkey (Proconnesos, Docimium and Aphrodisias).
"The variety and quality of the marble identified highlight the importance held by [Baiae] in the past seeing as it yielded the best ornamental marble of that time period," said co-author Mónica Alvarez de Buergo, a researcher at the Geosciences Institute, a joint center of the Spanish Research Council and Complutense University of Madrid in Spain, in a statement. "This helps to determine the trade routes that were used at that point in time during the Roman Empire."