Tsunami kills hundreds in Indonesia
by Carolyn Gramling Thursday, January 5, 2012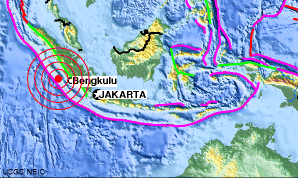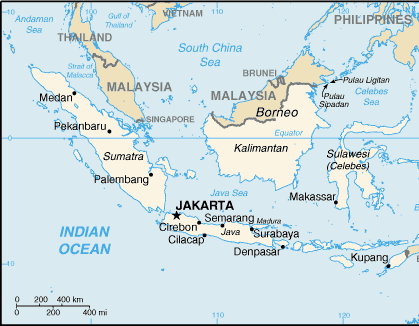 Updated on Oct. 28, 2010:
The death toll has continued to rise from the natural disasters that struck Indonesia Monday and Tuesday. Currently, officials are reporting 343 people dead with 338 still missing from the earthquake and tsunami. Meanwhile, the eruption of Mount Merapi has killed 33 so far; after a brief lull, the eruption began again on Thursday.
Original story posted on Oct. 26, 2010:
A powerful magnitude-7.7 earthquake on Monday off the coast of Indonesia's Mentawai Islands triggered a 3-meter-high tsunami that killed at least 31 people, with about 160 more missing. The tsunami swept across the narrow strait that separates the islands from the Indonesian island of Sumatra. Indonesian officials were continuing to search for survivors at sea Tuesday.
The quake killed at least 100 people and left 500 missing; it was felt on Sumatra and as far away as Singapore. The earthquake occurred along the Sunda megathrust, according to the U.S. Geological Survey's Earthquake Hazards Program. The Sunda megathrust is a fault extending for 5,500 kilometers from Myanmar, down along the southwestern side of Sumatra and then to the south of Java and Bali before terminating near Australia. The region is tectonically complicated, involving the collision of the overriding Sunda and Burma plates and the subducting Indo-Australian Plate.
This earthquake occurred due to the collision of the Australian and Sunda tectonic plates, and is the most recent in a series of ruptures that have occurred at this plate boundary over the last few years, including a magnitude-8.5 quake and a magnitude-7.9 quake in September 2007. 
Large ruptures have occurred elsewhere along the Sunda megathrust in recent years, including the magnitude-9.1 earthquake that ruptured in December 2004, 800 kilometers north of the latest quake. That quake spawned a tsunami that spread across the Indian ocean, leaving a death toll in the hundreds of thousands.
Meanwhile, Indonesia's most active volcano, Mount Merapi, was also rumbling on Tuesday, prompting evacuations of nearby villages. Mount Merapi is located in south-central Java, southeast of Sumatra. Early Tuesday morning, the volcano sent gusts of hot ash 50 meters into the air, and an avalanche of rocks tumbled down the volcano's slopes.