Travels in Geology: Unearthing the ghosts of Ghost Ranch, New Mexico
by Mary Caperton Morton Thursday, June 7, 2018
For centuries, Ghost Ranch, N.M., was known as "Rancho de los Brujos" or Ranch of the Witches. Both monikers suit this stunning place well, as all sorts of creatures have left their bones behind here in the 400-meter-high cliffs layered with red, yellow and white Mesozoic rocks.
Once the haunt of horse thieves and cattle rustlers, and home of Georgia O'Keefe — not to mention dinosaurs and sea creatures in an earlier age — Ghost Ranch, an hour north of Santa Fe, is a treat for geology, paleontology, archaeology, history and art buffs alike.
Hiking a Mesozoic Layer Cake
Driving north from Santa Fe on Highway 84 is like driving through a museum's worth of Georgia O'Keefe paintings. O'Keefe spent 50 years living at Ghost Ranch and in nearby Abiquiu, immortalizing the surrounding landscapes in paintings such as "The Black Place" and "The White Place."
Such straightforward titles fit the clearly defined layers of black, white, gray, red, yellow and pink rocks lining the Chama River Valley, which runs along the far eastern edge of the Colorado Plateau; the layers here are as distinctly drawn as diagrams in a textbook.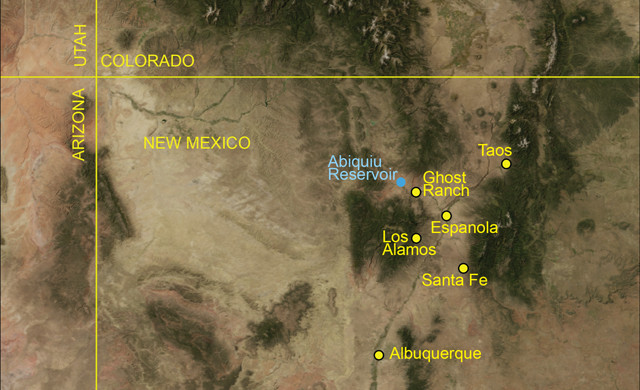 Visiting Ghost Ranch is far better than paging through a textbook, of course, because you can actually hike through the Mesozoic layer cake and witness firsthand the rocks and fossils left behind from the Age of Dinosaurs. The towering layers of rock span a period of 130 million years and preserve evidence of a constantly evolving landscape of river systems, vast deserts, saline lakes, broad mudflats and ocean shorelines.
The exquisitely stratified layers can be seen from Highway 84, but to get a better look, pull into Ghost Ranch (now a privately owned education and retreat center that welcomes the public), stop by the visitor center to sign the trail log and head out on one of three spectacular hikes: Chimney Rock, Kitchen Mesa or Box Canyon.
At just under five kilometers round-trip, the Chimney Rock trail is the shortest option. The relatively easy path starts behind Ghost Ranch's cluster of museums and ascends through time on a gradually rising ridge to reach an overlook of Chimney Rock.
The lower part of the trail crosses badlands formed from the soft, multicolored fine-grained shale and siltstone known as the Painted Desert Member of the Petrified Forest Formation. These rocks, also more famously exposed at the Painted Desert in northern Arizona, are eroded from the red, green and purple Chinle Formation, which formed in river valleys in the Late Triassic between 225 million and 220 million years ago.
As you hike toward Chimney Rock, the trail passes through layers of orange and yellow Entrada sandstone, laid down during the Early Jurassic. These sandstone deposits are the remnants of a vast dune field that covered much of northern New Mexico, southwestern Colorado, southeastern Utah and northeastern Arizona about 160 million years ago. If you look closely, you might be able to see cross-bedded layers sweeping downward and to the north, evidence of the strong winds that continuously swept over the ancient desert.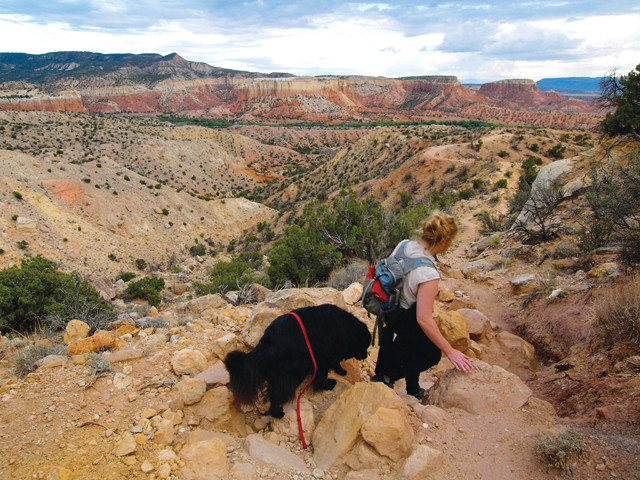 Researchers have found that the dune fields were flooded about 159 million years ago by a runaway lobe from the nascent Western Interior Seaway, which, by the Cretaceous, covered much of what is now the middle of North America. Some geologists interpret the sharp, even transition capping the Entrada layers as evidence that the invasion of the interior seaway occurred relatively quickly, without reworking of the Entrada sand dunes. For 14,000 years after this catastrophic flooding event, limestone and gypsum precipitated out of the salty water and were deposited in annual layers called varves.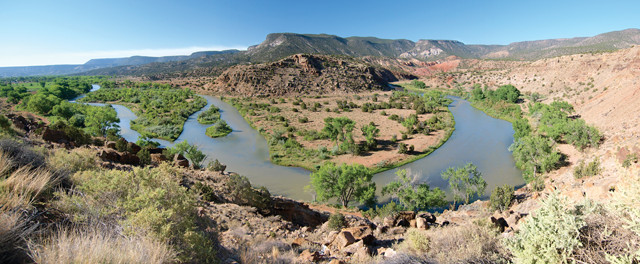 This dramatic change in the Middle Jurassic landscape is preserved along the Chimney Rock trail in the Todilto Formation, the darker lip capping the yellow Entrada layers. Here, the Todilto Formation is dark gray, made up of organic matter that has only partially decayed. If you pick up one of the soft rocks along the trail and break it open, you'll smell the rich aroma left by algae, aquatic plants and other marine creatures.
Eventually, in the Mid- to Late Jurassic, the saline lake dried out and became an arid coastal plain, where rocks of the Summerville Formation, a thick section of maroon mudstone and poorly cemented pinkish sandstone, were deposited. The Summerville Formation is topped by Bluff Sandstone, another deposit of wind-blown sand. Cross-bedding in this layer dips toward the east, suggesting that North America had drifted north by the Late Jurassic, placing the Ghost Ranch region into the path of prevailing westerly winds.
Finally, the Jurassic layers at Ghost Ranch give way to the Early Cretaceous, about 125 million years ago, when shoreline and marine deposits were laid down by braided streams flowing along a coastal plain on the western margin of the Western Interior Seaway. As the shoreline moved back and forth across the area, ripple marks and the pockmarks of burrowing animals were left behind in tan and yellow layers of shale, mudstone and sandstone.
The trail ends at a spectacular overlook of Chimney Rock and the colorful valley below. The 150-meter-tall Chimney Rock is hewn from Entrada sandstone and capped by the Todilto Formation, juxtaposing ancient deserts and inland seas. To the north you can see Echo Amphitheater, a naturally carved acoustical dome just a short drive up Highway 84 that offers campsites beneath towering yellow cliffs.
Ghost Ranch boasts two other stunning hikes: Kitchen Mesa and Box Canyon. The hike up Kitchen Mesa is longer and more strenuous, requiring some scrambling through a narrow passageway in the Entrada cliffs. But once on top, you'll be rewarded with a stroll over the crunchy white gypsum capping the mesa. This gypsum layer is the Tongue Arroyo Member of the Todilto Formation. It was deposited when the saltwater of the young Western Interior Seaway was sufficiently concentrated by evaporation.
The views from Kitchen Mesa are among the most stunning at Ghost Ranch. To the southwest, across the Chama River Valley, you'll see the Abiquiu Reservoir, which supplies water to much of north-central New Mexico and is one of the state's few places for recreational boating, fishing and swimming. Behind the reservoir lie the Jemez Mountains and Cerro Pedernal — a flat-topped mesa made famous by O'Keefe, who painted the distinctive peak so many times she declared, "It's my mountain. God has given it to me."
If you're visiting Ghost Ranch in winter, consider hiking to Box Canyon, a dead-end canyon surrounded by 60-meter-tall Entrada cliffs that are seasonally covered by impressive columns of ice seeping from the canyon walls. This hike is level and follows a lovely year-round stream — a rarity in New Mexico — though icy conditions can make the hike slow going.
Finding Fossils in O'Keefe Country
Ghost Ranch is not only geologically attractive, but also productive — a plethora of fossils have been unearthed from the ranch's four major quarries.
Paleontology at Ghost Ranch began in 1928 with a series of excavations at the Canjilon Quarry led by University of California at Berkeley paleontologist Charles Camp. Over a six-year period, Camp and colleagues uncovered dozens of highly articulated phytosaur and aetosaur skeletons in the Late Triassic Chinle Formation.
Phytosaurs were 6-meter-long crocodile-like reptiles, with a long, narrow head and nostrils just in front of the eyes, that lived in rivers and lakes. Three-meter-long aetosaurs, armored reptiles also with crocodile-like bodies but with pig-like snouts, also lived near water.
In the nearby Snyder Quarry, the phytosaur and aetosaur fossils are unique because most of the bones are blackened, suggesting that the reptiles were killed by a wildfire and buried soon afterward by rapid sedimentation.
Ghost Ranch is perhaps most famous for its Whitaker Quarry, which has yielded a remarkable assemblage of Coelophysis bauri fossils since it was first excavated in 1947. The 2- to 3-meter-long Coelophysis was a primitive carnivorous, bipedal dinosaur from the Late Triassic.
The fossil record at the Whitaker Quarry is exceptional in that as many as a quarter of the skeletons are found articulated, with the bones roughly assembled, and specimens range from juveniles to fully grown adults, with both males and females represented. Coelophysis fossils from Ghost Ranch are on display in museums all over the world, and in 1981, the dinosaur was declared New Mexico's state fossil.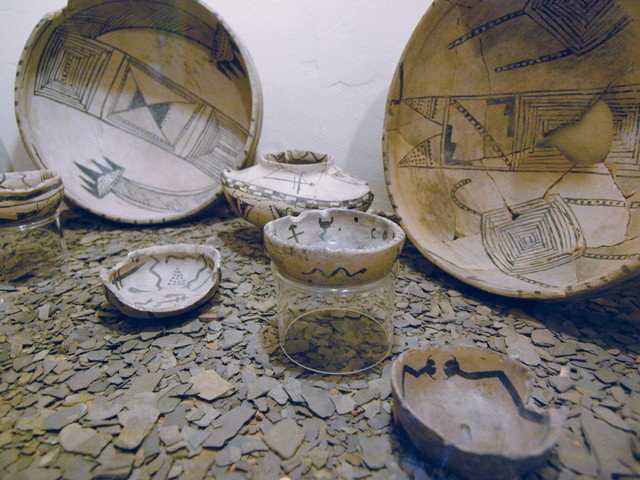 Excavation at Ghost Ranch is ongoing in the Hayden Quarry, where the oldest dinosaur fossils in North America — dated to the Early Triassic, 214 million years ago — have been found. Ongoing research at the quarry is also yielding one of the most diverse assemblages of Triassic fauna yet discovered on the continent, providing new insight into the period when dinosaurs emerged. Digs led by the American Museum of Natural History in New York City, the Field Museum of Natural History in Chicago and the University of California at Berkeley have uncovered dozens of different species of dinosaurs, amphibians, reptiles and fish.
To learn more about Ghost Ranch's rich history of paleontology and to see some of the fossils, visit the ranch's Ruth Hall Museum of Paleontology or get hands-on by signing up for one of Ghost Ranch's paleontology workshops (see sidebar, p. 47).
Something for Everybody: Archaeologists and Artists
Long after dinosaurs ceased to roam the deserts and river valleys that sculpted the modern-day landscape at Ghost Ranch, many different people lived here among the red, white and yellow rocks. At different times, this region was occupied by the Ute, Navajo, Apache and Pueblo tribes, and later by Spanish missionaries and Anglo ranchers.
Ghost Ranch's Florence Hawley Ellis Museum of Anthropology displays artifacts from more than 10,000 years of human history, including pottery, baskets and arrowheads, as well as 16th century relics from the Spaniards, who established the first capital of Nuevo Mexico at the nearby San Juan Pueblo.
If you have only a passing interest in rocks and your real passion is for paint on canvas, Ghost Ranch should still fall high on your list of places to visit. From the moment Georgia O'Keefe laid eyes on Ghost Ranch in 1934, it was love.
O'Keefe began spending summers at the ranch, renting a place from the then owner, Arthur Pack, co-founder of the American Nature Association. In 1940, she bought a house from Pack on seven acres of land that she called Rancho de los Burros. For the next 50 years, until her death in Santa Fe at the age of 98, O'Keefe split most of her time between Ghost Ranch in the summer and the nearby town of Abiquiu in the winter.
Ghost Ranch offers a number of options to visitors interested in O'Keefe's time there. These include a landscape tour by Jeep to some of her most recognizable painted vistas and a hiking tour of the areas where she lived and worked. Be sure to also stop at the Georgia O'Keefe Museum in Santa Fe, where many of the painter's original Southwest and Ghost Ranch landscapes are on display.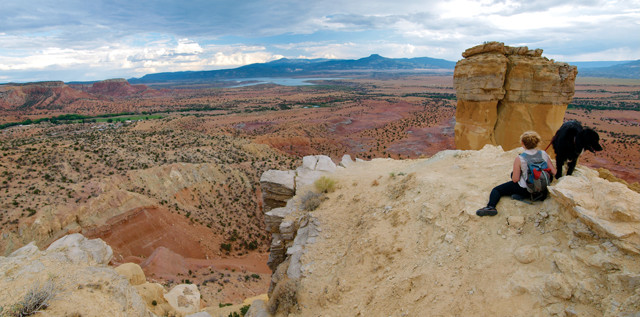 With its endlessly rocky terrain and wide-open vistas, New Mexico has no shortage of beautiful and geologically interesting places, but Ghost Ranch might well be the Land of Enchantment's crown jewel. Whether you see this colorful country through the eyes of a geologist, paleontologist or painter, the place is a sight to behold.