Travels in Geology: Tumbler Ridge: Finding dinosaurs — and their predecessors and descendants — in northeastern British Columbia
by John Geary Tuesday, October 18, 2016
Not many globally recognized geoparks get their start courtesy of an 8-year-old. Yet that's exactly how the Tumbler Ridge Global Geopark was born.
In the summer of 2000, 8-year-old Daniel Helm and 11-year-old Mark Turner were playing near their home in Tumbler Ridge, British Columbia — a small municipality of less than 3,000 people covering nearly 1,600 square kilometers (an area about the size of Houston) in the foothills of the Canadian Rockies on the eastern side of the continental divide. They were tubing down a creek in the woods when they fell out of their inner tube and had to walk back up the creek bank. As they trudged up the hill, they stumbled upon a series of large footprints unlike anything they'd ever seen. They wondered if it might be dinosaur footprints and ran home to get Daniel's father, a physician named Charles Helm, to show him their find.
Today, visitors from all over the world come to Tumbler Ridge to see what Daniel and Mark found, and quite a bit more — as, once the site was properly examined, it turned out to be an exceptional source of fossils from the Precambrian through the Pleistocene.
Authenticating the Discovery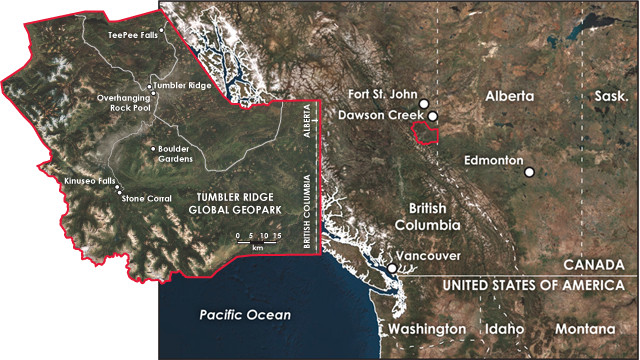 When the two boys tried to convince Daniel's father that the footprints belonged to a dinosaur, he was skeptical. But he knew they weren't your ordinary footprints either, so he contacted the Royal Tyrrell Museum of Paleontology in Drumheller, Alberta, to ask for help. "The kids took it from there," Helm says. They told the museum paleontologists what they had found, and eventually University of Alberta paleontologist Philip Currie, a former curator of the Royal Tyrrell who would eventually become involved with the site, put them in touch with Richard McCrea, Canada's leading dinosaur footprint researcher, who came out to the site in 2001.
McCrea found that the boys' discovery was indeed a dinosaur trackway, and it set off a chain of events that culminated in Tumbler Ridge reinventing itself as a tourist destination and home of the new Tumbler Ridge Geopark. In the early 2000s, the coal mines, the community's main source of employment, were closing. The residents' realization that they were sitting on a veritable dinosaur gold mine couldn't have come at a better time.
"We hadn't been very good about developing a diversified economy; we'd always thought we'd be able to rely on the coal mines," says Helm, who is past president of the Tumbler Ridge Global Geopark board. We were "wondering if we were going to become a ghost town like some other northern British Columbia communities, but then this happened … it was very serendipitous."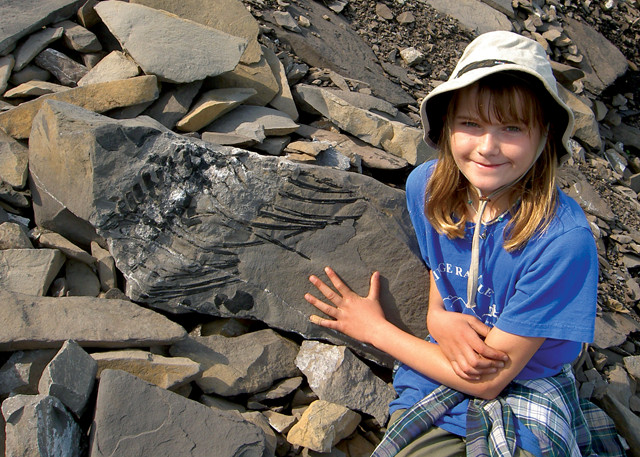 Once they realized what they had, Helm, Currie, McCrea and several other researchers began to develop the site as a resource and an attraction, which included applying for a Global Geopark designation from UNESCO. It took them just under two years — a relatively short time frame for this sort of designation — to obtain approval, and the area was granted geopark status in 2014.
Establishing a Geopark
The UNESCO Global Geopark in Tumbler Ridge is one of only 120 geoparks in the world, and only one of two in North America. The other North American park is Stonehammer, established in 2010 in Saint John, New Brunswick, Canada.
Geoparks are areas recognized by the Global Geoparks Network as those with significant geological heritage that is linked to interesting local archaeology, wildlife, history, folklore and culture. Promotion of tourism in a geopark focuses on highlighting the geographical character of a place.
In the case of Tumbler Ridge, along with all the paleontological treasures — the dinosaur trackways, the fossils and the museum exhibits — there are several remarkable geological features in and around the town, including waterfalls, caves, rock formations and a network of hiking trails that allow people to enjoy them.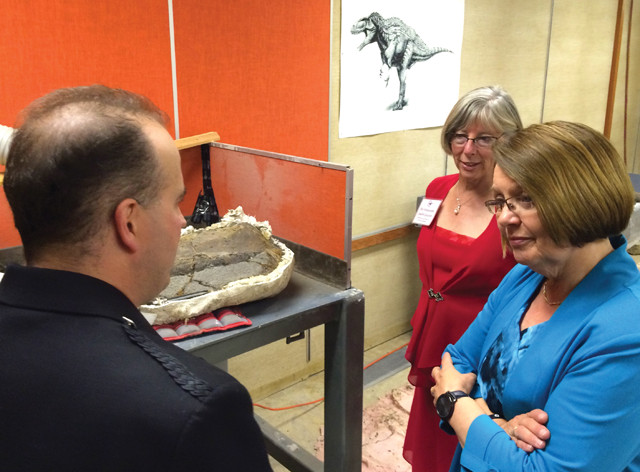 But part of what's so exciting about Tumbler Ridge is that, despite its remote location, cutting-edge research is now being conducted there.
In 2002, McCrea and his wife, paleontologist Lisa Buckley, moved to Tumbler Ridge and established the Peace Region Paleontology Research Center (PRPRC), he as the museum director and curator of paleontology, she as the collections manager.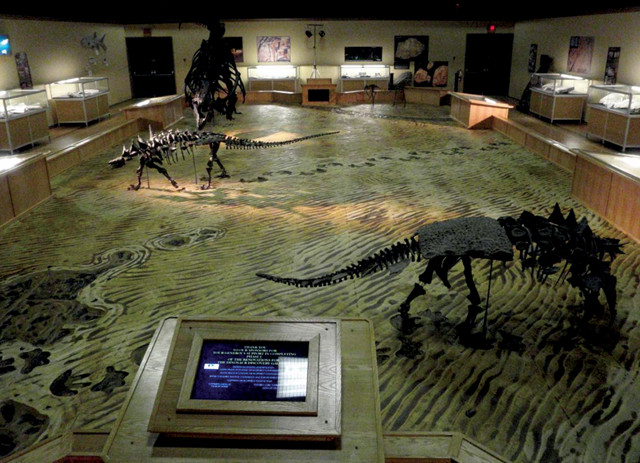 The center's presence means research continues throughout the region each summer, leading to further scientific discoveries. "We just can't stop discovering cool paleontological things here, every summer," Helm says.
Experiencing the Fossils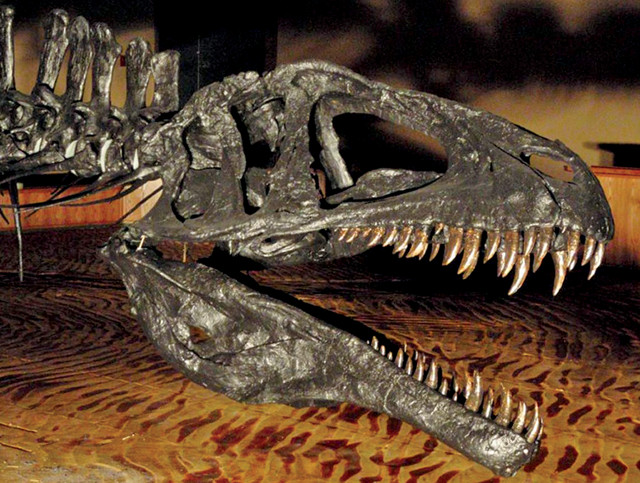 To make the most of the experience, visitors should tour the community's two museums first to learn about the history of the area and what it is you'll be looking for when you explore the trails outside.
One museum, housed in the town's community center, exhibits information about human history in the region, First Nations (tribal) history, archaeology and mining. A second museum, the Dinosaur Discovery Gallery, focuses on paleontology and is housed in the former gymnasium of an old schoolhouse. The gallery consists of a central area containing replicas of dinosaur trackways and the kinds of dinosaurs that lived in the area, mainly ankylosaurs, theropods and ornithopods. There are also a few examples of sauropod tracks, although those are not yet on display. Walking around the perimeter allows you to see many spectacular fossils from different geological periods.
The time span represented at the gallery sets it apart from more well-known museums, like Tyrrell, for example.
"Tyrrell has some incredible displays of dinosaurs from the Badlands, but it's all from one small slice of geological time," Helm says. "We have a huge age range of rocks. We go from Precambrian to Cretaceous, and there's a bit of [Pleistocene] ice age stuff on top of it."
In addition to the Cretaceous-aged dinosaurs, the museum hosts fossils of Precambrian trilobites and corals, Triassic-aged marine reptiles like ichthyosaurs, myxosaurs and thalattosaurs, fish-like sharks and coelacanths, and mammoth tusks and bison skulls from the Pleistocene. The museum also conducts educational camps for children and leads guided tours into the park, although you don't need to be part of a guided tour to hike the trails. "Going with a guide, though, will provide you with more insight than you might get from just the interpretive signage," Helm says.
Because of the work done by the PRPRC, the exhibits in the discovery center tend to be very dynamic; new material is added on a regular basis as new finds are made.
After visiting the museum, head outside. Rocky Mountain foothills wilderness surrounds Tumbler Ridge Geopark, adding to the appeal of a visit there.
The geopark contains about 50 geosites, which are accessible in a variety of ways. Some of them you can simply drive to, but the majority of them involve hiking through forests, canyons, alpine areas and past the numerous waterfalls that dominate much of the area's landscape — which is why some call it the "waterfall capital of the north."
Most of the 30 trails that lead to the geosites are not technically difficult and range in distance from 1.5 to 13 kilometers. Many have useful interpretive signs as well.
The geopark area contains three dinosaur bone sites, plus other isolated bones. The first bone site was excavated in the early 2000s and yielded about 200 bones. The second was excavated for three seasons, from 2013 to 2015, and yielded British Columbia's first near-complete dinosaur skeleton, a hadrosaur, and six dinosaur femurs. Scientists suspect this is part of a larger bonebed, but they need more funding before they can formally excavate it. The third was just discovered recently.
The geopark is also home to the only known tyrannosaur trackways in the world, though unfortunately the tracks are not accessible to the public yet as they are still being studied.
"Those are three parallel trackways. We are creating replicas of them for the Dinosaur Discovery Gallery," Helm says.
One of the experiences offered to visitors is a highly recommended guided night hike to see sets of dinosaur footprints. Both theropod and ankylosaur tracks can be viewed, along with examples of dinosaur skin impressions. "Many of the footprints at the sites are shallow, and you may not see much during the day," Helm says. "But by going there with a lantern, you can control the angle of the light and see the prints to their best advantage."
Diverse Geological Features
For those looking for more geology, there are 10 major geographic areas people can visit within the trail system — which spans nearly 100 kilometers. They offer different types of experiences, from mixed forests to canyons to waterfalls to alpine lakes. Two places worth visiting are Babcock Falls and Boulder Gardens. Accessing Boulder Gardens — a domed sandstone peak overlying softer shale, where sandstone spalls off, creating a talus pile known as the gardens — requires a 4-kilometer round-trip hike that includes a bit of scrambling over rocks.
If you like waterfalls, Flatbed Falls is another area you'll want to visit. The falls are easily accessed from the highway via a 10- to 15-minute walk and provide opportunities for swimming and jumping off the rocks into Flatbed Creek.
Another excellent, fairly easy hike of about 6 kilometers round trip takes you to Teepee Falls, which provides you with a view of one of many of the tributaries of the Murray River as it drops 18 meters into a garden of boulders and sandstone. Another beautiful hike takes you 10 kilometers round trip to Windfall Lake where you'll see an unusually shaped lake that looks like a tree or shrub. Along the way, you'll pass through limestone terrain with small caves and a fossil fish collection site. This hike is considered more challenging due to an elevation gain of 370 meters.
For the more adventurous, there is the hike to see the Stone Corral. Identified in 1999 and subsequently added to the area's Monkman Provincial Park (which falls within the geopark), it's an example of a glacial tarn surrounded by vertical limestone cliffs. Along the hike, you will see small caves and other limestone formations, plants, fossils, and some amazing views. It has a considerable elevation gain, so it can be strenuous in spots and it may not be suitable for smaller children.
The main cave in the Stone Corral area is Corral Cave. It's 23 meters deep and an easy walk-in cave. A smaller cave, Porcupine Cave, which joins two sinkholes, is also accessible.
If you're in Monkman Park, make sure to visit Kinuseo Falls — it's higher than Niagara Falls. No matter how many times you see it, it's almost guaranteed to take your breath away.
For those who don't mind a little bushwhacking and are keen to see remote waterfalls, there is a brochure that provides GPS coordinates for 10 waterfalls that have no trail access.
Although they do not follow a trail, many of these hikes begin at trailheads, but access varies. Before going, download a PDF from the Tumbler Ridge visitor guide (www.visittumblerridge.ca/Tumbler-Ridge/Sites-Attractions/Geopark) for descriptions of and directions for each hike.
If you're not interested in hiking, other tour options exist as well, including a jet-boat tour that takes you up to a waterfall. You can also take a helicopter tour to see many of the sites very quickly. The manager at the geopark visitor center can help you select options that would work best for you, helping to plan your activities to make the most of your trip.
You can get a quick overview of the geopark in one day — but it will be much more rewarding if you can spend three or four days to explore the museums and some of the trails in a more leisurely fashion. It's worth it to see so many fossils, discovered serendipitously by a couple of kids who wound up saving a community.