Travels in Geology: Precipitous peaks and dunes in Colorado
by Nicole Branan Thursday, January 5, 2012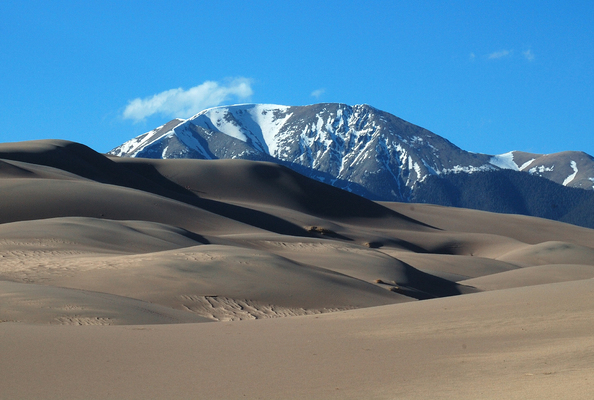 Majestic snow-capped "fourteeners," alpine meadows carpeted in wildflowers, pristine mountain lakes. These are the images most people associate with Colorado. One of the best places to experience this rugged wilderness is Rocky Mountain National Park in the northern part of the state.
But charming mountain terrain is not the only attraction the Centennial State has to offer the geo-traveler. One of Colorado's lesser-known geologic marvels is a vast field of sand dunes — the tallest in North America — in the southwestern part of the state, about 80 kilometers north of the border with New Mexico. Spread over an area of nearly 80 square kilometers, 5 billion cubic meters of sand form a stunning labyrinth of towering hills and deep troughs that lies at the heart of Colorado's Great Sand Dunes National Park and Preserve. The dunes look no different than the ones you find in the Sahara Desert, but the looming Sangre de Cristo Mountains — the Rockies' southernmost subrange — remind you that you are not in North Africa.
---
© 2008-2021. All rights reserved. Any copying, redistribution or retransmission of any of the contents of this service without the expressed written permission of the American Geosciences Institute is expressly prohibited. Click here for all copyright requests.