Travels in Geology: Patagonia: The ends of the earth
by Callan Bentley Tuesday, August 22, 2017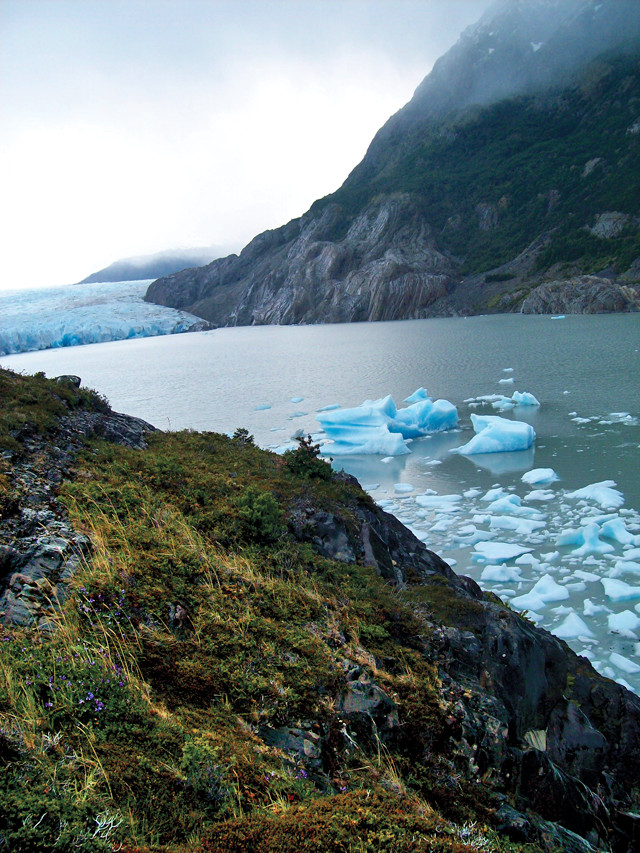 Certain place names conjure up a sense of remoteness that verges on the mythical: Timbuktu, Outer Mongolia, the Yukon. For me, prime among these legendary areas is Patagonia, a region of South America that encompasses much of the southern half of Argentina and Chile. But the exact borders are fuzzy: Where Patagonia starts and ends may lie more in the mindset of the traveler than in any physical landmark. You'll know it when you get there.
Fifteen years ago, I was inspired to go to Patagonia by Bruce Chatwin's 1977 classic "In Patagonia." The book is a blend of history, mythology and travelogue written in a clever, erudite voice. It was beguiling, and set the idea in my head that this was a place I wanted to visit. This past winter, I finally had the opportunity to see Patagonia firsthand, and I reread Chatwin while I was there. I am convinced that his book is more useful than any travel guide. We chose to focus our trip primarily on the Chilean parts of Patagonia.
My second time through the book began in Puerto Montt, Chile, where my girlfriend and I boarded a ferry bound for the wilds. This area is south of the area significantly affected by February's major earthquake. Our introduction to Patagonia was three days of cruising south through the Chiloé Archipelago. This collection of Pacific islands spans half the length of Chile. It reminded me of Alaska's Inside Passage (see "Summer Roadtrip: Ferrying Through the Inside Passage," Geotimes, August 2006). With the exception of one 12-hour stretch to round the Skyring Peninsula, the voyage is in calm water, protected from oceanic swells by the battery of islands. Throughout the entire 1,500-kilometer journey, the ferry stops at only one tiny town, Puerto Eden (with a population of only 150), so you had better bring anything you want on the boat with you.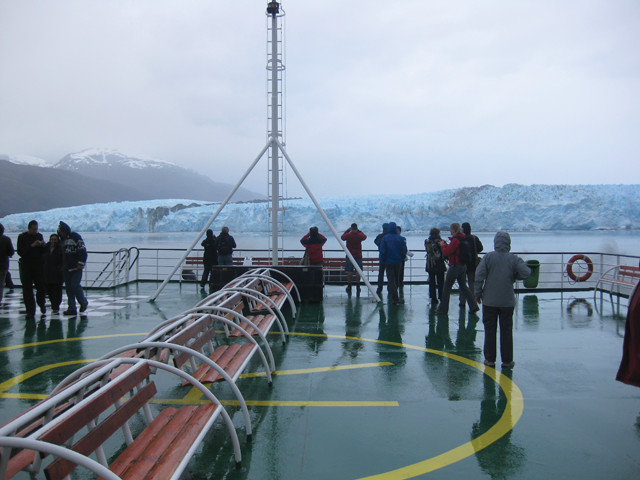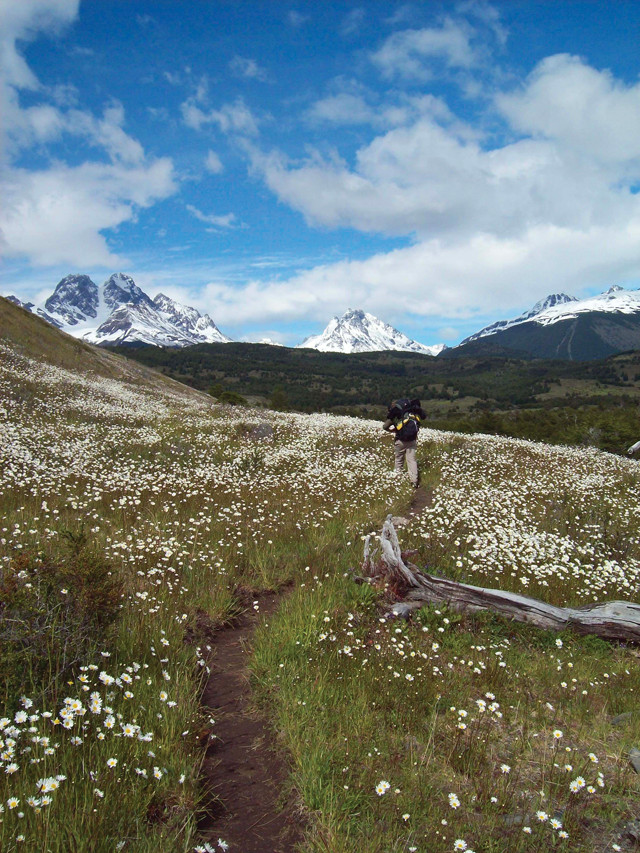 On the boat, we stayed in berths in a four-bunk stateroom, and spent our days reading and bird-watching. Many other passengers passed the time in the ferry's pub, drinking pisco sours made with 14,000-year-old glacial ice. As the scenery drifted by, the ferry was surrounded by sea birds, including penguins, skuas and hundreds of albatrosses. If the weather is clear, you can gaze east to see famous Andean volcanoes like Chaitén, which erupted in May 2008. The ferry also makes a detour up a fjord so passengers can witness the remote Brüggen Glacier (also known as Pío XI), the largest in South America. This massive tongue of ice calves off icebergs, and displays an obvious medial moraine; the stripe of filthy ice is in stark contrast to the rest of the glacier's electric blue color.
The ferry ends at the waterfront in Puerto Natales, the gateway to Torres del Paine National Park. Alternately sunny and misty, but always windy, Puerto Natales is your last chance to stock up on gear and provisions before heading north into the park. Puerto Natales is a charming little town, full of good places to eat and fun stuff to do. The nearby "Cave of the Mylodon" is a good half-day trip for less adventurous travelers with an interest in paleontology. Mylodon is the genus name for a group of giant ground sloths, common South American megafauna before the Pleistocene extinctions more than 10,000 years ago. Puerto Natales has adopted the Mylodon as its mascot: The town features a prominent statue of the beast, and every street sign bears its silhouette.
There are lots of options for getting around Torres del Paine. Backpackers can enjoy everything from weeks-long trips to the three-day "W" trek (named for the shape the route makes on a map). More leisurely visitors can stay in one of the park's posh lodges, going for day trips via road, trail or catamaran. The park is well equipped to handle tourists in many places at any level of adventure, and it is full of sweeping grandeur.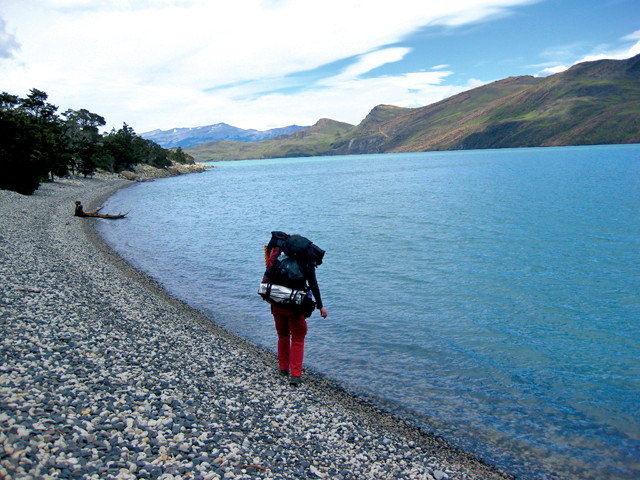 We were heading into Torres del Paine on foot for a week, so when we arrived in Puerto Natales, we planned our menu and bought food, purchased fuel for our camping stove, and then packed our backpacks. The hostel we stayed in let us leave our non-backpacking luggage with them while we were trekking. Finally, we arranged for bus tickets into the park. The drive takes about two hours through dry mountain valleys, including ponds filled with pink flamingos. Torres del Paine is an incredible place. The topography reminds me of Glacier National Park in Montana, although Torres del Paine actually still retains most of its glaciers. The park's name comes from its rugged landscape: Torres is Spanish for "towers" and refers to several massive columns of granite in the eastern part of the park. Paine (pronounced "pie-nay") is from the pre-Spanish native language and is apparently a reference to the bright blue color of some of the area's lakes.
We spent our week in Torres del Paine hiking around the Paine Massif, a block of mountains set off to the east of the main Andes mountain range and on the northern part of the park. The massif consists of Cretaceous-aged turbidites deposited between 90 million and 70 million years ago: Sand and mud sloughed off the young Andes and into an adjacent marine basin. Twelve million years ago, magma intruded these sedimentary rocks and crystallized to make large bodies of pink granite. The contrast between the granite and its black host rocks is particularly pronounced in the western part of the park at a series of peaks called the Cuernos ("horns") del Paine.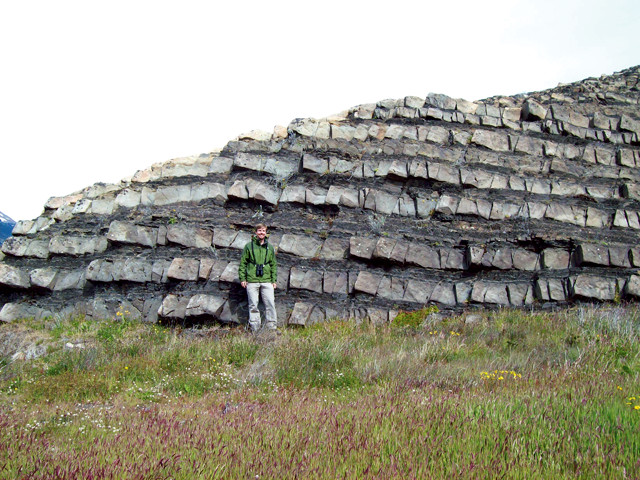 Of course, no one travels to Patagonia just for the turbidites — not even me. They go for the landscape, which includes colossal glaciers and enormous glacial valleys and moraines. The South Patagonian Ice Field is the fourth largest icesheet in the world (after Antarctica, Greenland and the Elias-Kluane ice field in Alaska and Canada). Extending outward from the ice field like tentacles from an octopus are numerous valley glaciers. The erosive power of these streams of ice has gouged the landscape like a carpenter's chisel, leaving raw, impossibly steep mountains. Some of these peaks are targets for rock climbers, but for most, they are merely an awe-inspiring backdrop to lower-elevation activities.
At the top of most visitors' lists is the Grey Glacier. It is a majestic monster: Flowing for 28 kilometers, it stuns you with its size and bulk. The Cuernos del Paine guard the French Valley, another crowd-pleaser, where small glaciers drop chunks of ice hundreds of meters off their edges, making a thunderous descent. The shores of Pehoé Lake and Lake Nordenskjöld are also beautiful, containing suspended glacial silt that colors their waters a turquoise blue. Though the north side of the park had fewer of these tourist magnets, I found it to be more magical precisely because it had fewer tourists.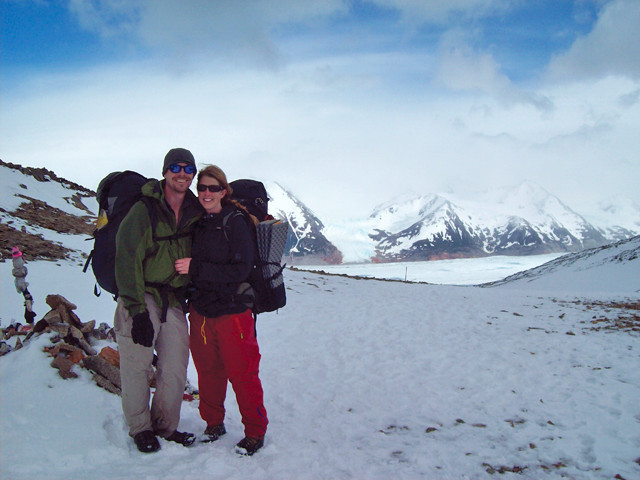 We spent about five or six hours hiking each day, with plenty of resting time along the route. We split our nights between campgrounds and sleeping under the roof of the refugios that the park operates. The refugios, simple cabins with a cleaning staff and a kitchen, cost about $40 per night to lodge in, but when it's raining out, that seems like a fine investment. Sharing the trail with us were other hikers, mostly non-Chileans. The majority of visitors were finding their own way, but there were guided groups. If you don't speak Spanish or are unfamiliar with backpacking, a guide might be a good option.
The best time to visit Patagonia is in the austral summer (winter in the Northern Hemisphere). While your friends back home suffer the shortest day of the year, you can enjoy the summer solstice instead, surrounded by peaks and glaciers — but be prepared for temperatures just a bit above freezing. The weather forecast is also "variable" every day, with alternating sun, rain and snow, none of which lasts for long. Patagonia is much like Alaska, except everyone speaks Spanish. Well, and the wildlife is a little different: There are fewer mosquitoes, and instead of caribou, you will encounter the guanaco, a camel-like mammal related to llamas and alpacas. The food's a little different too. You won't find crucified lamb in Alaska (see sidebar)!
My vacation to Patagonia was one of the best trips I've ever taken. Patagonia is pure: It's Nature doing her thing, raw geology acting out the processes you read about in textbooks. Anyone who appreciates the outdoors will love it.