Travels in Geology: The Midwest's Little Egypt
by Katherine Unger Thursday, September 22, 2016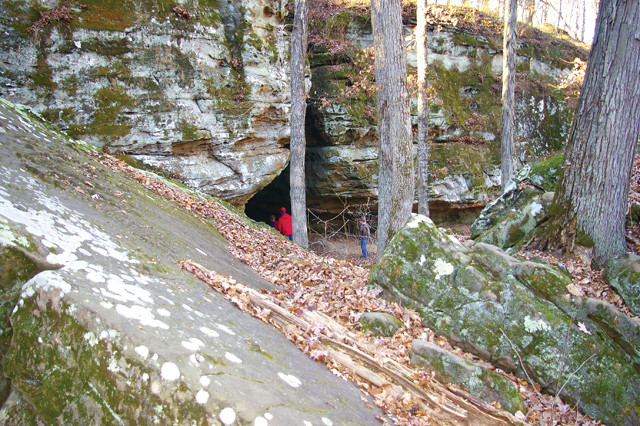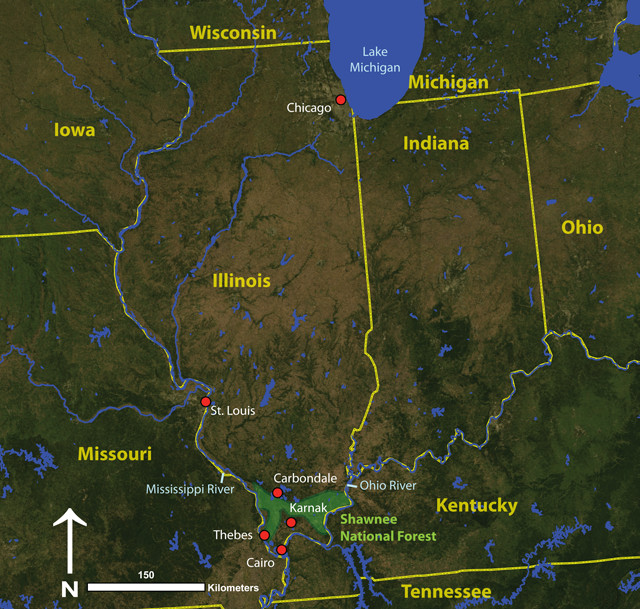 Lots of people may be delaying the family vacation this year, waiting for rosier economic times. Road trips, however, might still be in the budget. And when it comes to choosing a destination, geology enthusiasts should give serious consideration to the Shawnee National Forest in southern Illinois. The forest is an easy half-day's journey or less from a number of cities, including Chicago, St. Louis, Nashville, Memphis, Louisville, Indianapolis and Cincinnati — perfect for a weekend getaway or perhaps a longer backpacking expedition.
Cradled by two rivers — the Ohio and the Mississippi — the Shawnee National Forest covers 1,100 square kilometers of land. Early settlers called the region "Little Egypt" after noting the similarity of the riparian areas to the Nile Delta; they even christened the town at the rivers' confluence after the Egyptian capital, Cairo. Other local names also recall Egypt. You can visit the old railroad towns of Karnak or Thebes or cheer for the Southern Illinois University (SIU) Salukis (a dog breed granted royal standing in ancient Egypt).
This part of the state wears its geology on its sleeve. Even a short drive along the highway provides access to enough scenery to show travelers that southern Illinois does not resemble the flat-as-a-pancake fields of central and northern Illinois. The reason is relatively simple: glaciers. During the Pleistocene glaciations, between 100,000 and 10,000 years ago, glaciers extended southward on the North American continent, scouring the land flat — but they only reached as far south as this part of Illinois. A modern-day line of demarcation is Illinois Route 13, an east-west road that passes through some of the larger towns of the region. One of these is Carbondale, a lively college town home to SIU and a good base for exploring the Shawnee hills. A few minutes south of town, there is a dramatic change: Suddenly the road rolls, rocky bluffs are visible in the distance and the forest thickens.
Hikers, horseback riders, rock climbers and mountain bikers flock to Shawnee year-round, drawn by its rugged trails, scenery and ample camping opportunities. Some hardy athletes gather here once a year, attempting to see it all by foot. Each April, the area hosts the River to River Relay, a foot race that draws nearly 2,000 runners in teams of eight. Each participant runs three legs, covering a total of almost 130 kilometers of farms, forests, streams and sometimes-vicious hills during the day-long event.
For those wanting to explore the area at a more leisurely pace, arguably the best time to visit is late spring and early fall, when the weather is a bit cooler than the dead of summer and the bugs aren't out in full force. One accessible entrance point is Giant City State Park. About 15 kilometers south of Carbondale, Giant City is composed of massive sandstone deposits left behind after an inland sea — really a finger of the Gulf of Mexico — receded roughly 200 million years ago. A 1.6-kilometer-long trail flanked by cliffs makes hikers feel small, as though walking along the streets of giants. Visitors can observe evidence of human habitation from as far back as 10,000 years ago, with black soot from ancient fires still visible along shelter bluffs worn into the cliff's walls. A separate trail takes hikers to a stone wall or "stone fort" thought to be used for ceremonial purposes and built by Native Americans some time between A.D. 600 and 900.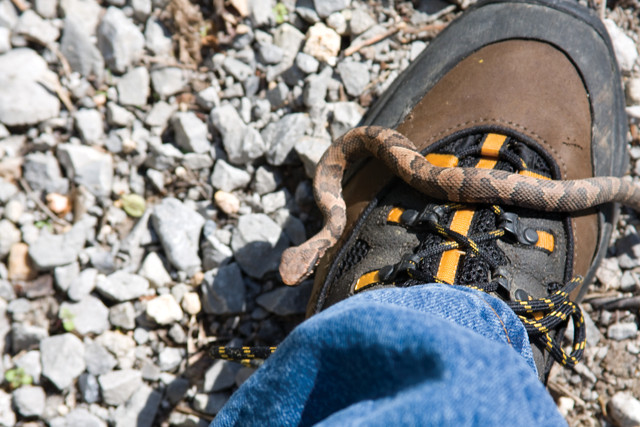 Another of the Shawnee National Forest's attractions is the natural bridge near Pomona. A winding 2.4-kilometer-long gravel road from town dead ends at a short hiking trail that leads to the bridge itself. The small creek has worn away the sandstone to create this 27-meter-long bridge. Although an ample two-meters wide, the bridge can still make for precarious walking when covered with wet leaves in the fall or snow and ice in the winter, but otherwise provides an excellent photo opportunity.
Nearby, the National Natural Landmark of La Rue-Pine Hills rises up to 256 meters above sea level and gives way to striking views of the Mississippi River floodplain. The area is noted for its extreme biodiversity — nearly 1,200 species of plants and animals are found here, including many species considered rare in Illinois, such as the native shortleaf pine, bald eagles and bobcats. Perhaps most famously, a biannual snake migration takes place in La Rue-Pine Hills. Each spring, hundreds of snakes of 35 species, including the harmless eastern garter and the more venomous copperhead snakes, move from the upper limestone bluffs down to their feeding grounds in the swamps for the summer, reversing their route in the fall. The roads in the area are closed to motorized traffic during those times to protect the snakes, especially sensitive species.
Looping back to the east, stop by another National Natural Landmark, Illinois's Little Grand Canyon. The canyon, like its larger cousin in Arizona, was born of water. Glacial meltwaters and a small creek that flows into the Big Muddy River and then into the Mississippi carved the nearly 100-meter-deep canyon through sandstone. The canyon can be accessed by a challenging 5.8-kilometer-long trail. The canyon floor is essentially a swamp, biologically rich with sycamores and poplars growing among the water and rocks.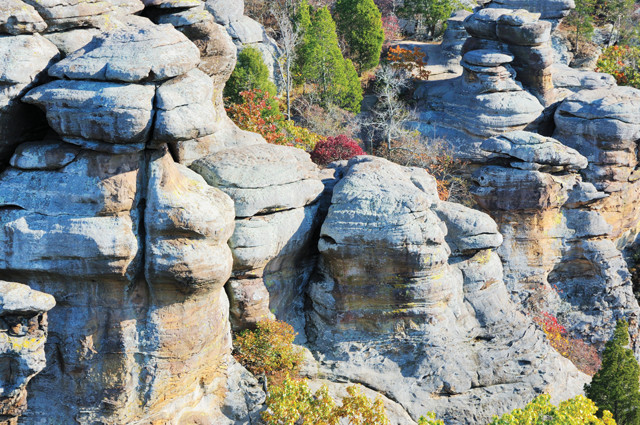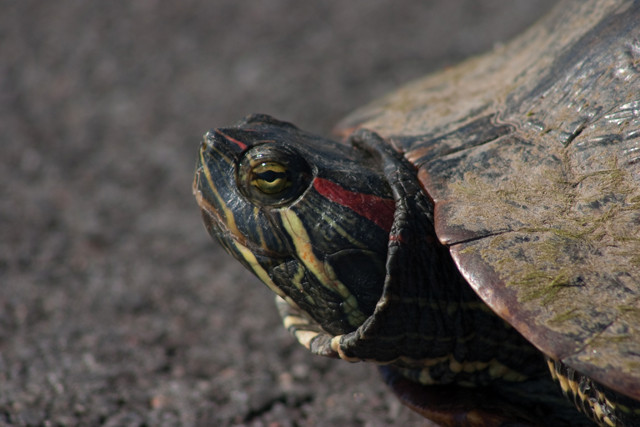 And on the far eastern side of the forest, the Garden of the Gods recreation and wilderness area is not to be missed. Those familiar with the "other" Garden of the Gods in Colorado can picture the scene, minus the orange-red stone: Water, geological unrest and wind have shaped 300-million-year-old sandstone towers into dramatic forms of layered rock, such as Camel Rock, Anvil Rock and Mushroom Rock, some of which bear an uncanny resemblance to their namesakes.
After all this exploring, what is a hiker to do to unwind at the trail's end? The Midwest is not generally known for its wine, but a trip to southern Illinois and the Shawnee is hardly complete without visiting a vineyard. The area has enough hills to hint at Tuscany, though the wines have a character all their own. The sandstone- and limestone-based soil in the region is well-drained, and the climate, though chillier in winter than the Mediterranean, boasts a lengthy growing season. Elevated hills welcome summer breezes that keep the risk of fungal infection to grape plants low. Among the grape specialties of the area are Chambourcins, which produce a dry red wine, and Seyvals, which produce a light-bodied, semi-dry white wine. Whether by bicycle or by car, visitors to the official 50-kilometer-long Shawnee Hills Wine Trail may be tempted by any of its 12 wineries. Many of these serve gourmet meals, offer free tastings, provide live entertainment, and in some cases even rent out rooms to travelers who want their getaway to last a bit longer.
Only 130 kilometers from east to west and 30 kilometers from north to south, the Shawnee hills astound visitors with sights they never expected to see in Illinois. Corn and soybean fields lie not far away, but as a budget-friendly escape from the plains, Little Egypt offers visitors treasures of which Cleopatra never dreamed.