Travels in Geology: Climbing Mount Shasta
by Helen Huntley Thursday, January 5, 2012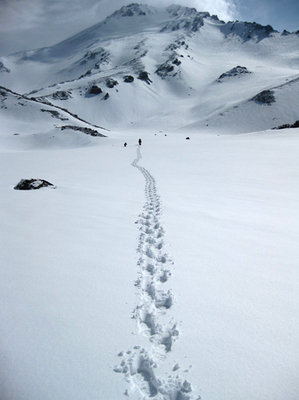 As we neared the top of the West Face of Mount Shasta, my calf muscles felt like they were pulling apart, stretching to the breaking point. My crampons merely dinted the shimmering snow, leaving dainty bird-like tracks. Roped behind our guides, our group of three climbers switchbacked slowly up the 35-degree-angle slopes. Approaching nearly 4,000 meters in elevation, my lungs grasped for air.
Mount Shasta in Northern California (not far from Lassen Volcano) owes its breathtaking steepness to the fact that it is a stratovolcano — a cluster of four stratocones, to be precise. At 4,317 meters, the mountain is the tallest stratovolcano in the Cascades and the mountain range's second-tallest mountain (Washington's Mount Rainier is the highest at 4,392 meters). Volcanic activity occurred in the region as early as about 600,000 years ago. Present-day Mount Shasta sits on the site of a predecessor volcano that collapsed sometime between 360,000 and 180,000 years ago, creating a debris avalanche. Based on the 45-cubic-kilometer debris deposit, the ancestral Mount Shasta is estimated to be about the same height as the modern, says Bill Hirt, a geologist at College of the Siskiyous in Weed, Calif. The oldest cone erupted about 200,000 years ago southeast of the present-day summit in an area known as Sargents Ridge. Between 200,000 and 100,000 years ago, the vent shut down, and then two periods of glaciation carved the ridge into its present jagged profile.\
The second-oldest cone is Misery Hill, which erupted between 50,000 and 30,000 years ago just south of the present-day summit. Misery Hill's final eruption about 9,600 years ago produced the dacitic and andesitic pumice cliffs known as the Red Banks, named for their reddish-orange color. Shastina — three kilometers west of Mount Shasta's summit — was the third cone to erupt, about 9,500 years ago. At 3,758 meters in elevation, Shastina would be the third-highest volcano in the Cascade Range if it were an independent summit. As Shastina became less active about 9,000 years ago, Mount Shasta's youngest cone, the Hotlum cone north of Misery Hill, began erupting. The dacite dome that rose to fill the crater forms the present-day summit. Sometime between 4,000 and 200 years ago, sulfur vents produced steam eruptions that eventually blew out the central part of the summit dome. The swelling and breaking of the dome created the craggy pinnacles that are now the high point of the summit.
Climbing Mount Shasta requires preparation. "A lot of people underestimate Shasta," says Jennifer Carr, co-owner of Shasta Mountain Guides. "It's a huge mountain. It's definitely an accomplishment to climb it. For anyone in very good physical condition, it's within reach." If you climb with a professional guide service, your guides will teach you how to climb in snow and ice. They will also provide the necessary equipment, such as an ice axe and crampons, metal spikes that attach to boots to provide traction. Guides will also obtain the $20 per person climbing permit that the U.S. Forest Service requires for any climb above about 3,000 meters.
The best months to climb the mountain are May through August. We chose to begin our climb on a Friday in July 2010, hiking through the less traveled, and challenging West Face route. As we set out from the Bunny Flat at the end of Everitt Memorial Highway, at an elevation of 2,118 meters, I thought back 10 years ago to my first attempt to reach the summit of Mount Shasta. My trip up the popular Avalanche Gulch Route was cut short due to bad weather, despite only being 150 meters from the top. A move away from California and graduate school delayed my return until now.
Our goal for the first day was to reach base camp in Hidden Valley at 2,865 meters, from which we would start our ascent early on Saturday morning. After almost two hours of climbing we took a break at Horse Camp — named after the early climbers who left their horses here before continuing their ascent — at 2,401 meters and enjoyed cold, naturally rock-filtered spring water piped down from 2,743 meters. The Sierra Club Foundation tests the water annually for contamination and maintains a hut at Horse Camp staffed by a caretaker during the summer. The caretaker can answer questions about climbing conditions, the local environment and where best to camp. The hut offers shelter in emergencies. Campsites and a composting toilet are also available here.\
From Horse Camp, we climbed north through forest and over snow for about two hours to reach Hidden Valley, a glacial moraine tucked in between the foot of the West Face — the southwestern side of the Misery Hill cone — and Shastina. My eyes peered up at the intimidating face — the summit was beyond view.
Once we set up our tents and made camp, our guide Nick Mullan of Shasta Mountain Guides led snow school to teach us our mountaineering skills: self-arrest with the ice axe (stopping an uncontrolled slide down a snow slope), plunge stepping (pushing the heel forcefully into the snow when descending a slope) and glissading (controlled sliding down a snow slope while sitting or standing). We were in our tents by 9 p.m., so we would be ready to begin our ascent well before dawn.
At 1 a.m. on Saturday, I awoke to a headlamp outside my tent, and guide Dane Brinkley gently urging us to get up. I nudged my tent mate and we began putting on layers of clothing. After oatmeal and hot drinks, we began our climb at 2:30 a.m., headlamps spotlighting our way. We started out on soft snow, but within our first hour, we were putting on crampons to give us traction on firm snow. For the first two-and-a-half hours we climbed, I could see only Nick's and my boot steps. We paused hourly for short water and food breaks to stay hydrated and fueled. About 5 a.m., the vast volcano began to emerge as night receded. As we climbed, the snow became even firmer, and I jabbed my boots and crampons into it. Right foot, left foot, ice axe — I repeated the rhythm like a robot.
When we reached the top of the West Face, elevation 4,038 meters, at 10 a.m., we had spectacular views of Shastina's snowy crater and the rocky summit of Mount Shasta. We stood at the edge of Whitney Glacier — California's largest glacier — which extends north and down to more than 2,700 meters.
Although many of the world's mountain glaciers are receding, Mount Shasta's glaciers have actually grown in recent years. This growth appears to be the result of increased winter precipitation due to a warming of the Pacific Ocean, according a 2007 report by Ian Howat, now a glaciologist at Ohio Sate University, and colleagues in the journal Climate Dynamics. (For example, the mountain received 140 percent of its normal snowfall in the winter of 2009-2010.) However, this growth may not continue: The researchers also ran a regional climate model and found that as warming continues, temperature will eventually have a stronger influence over the glaciers' volume; Mount Shasta's glaciers should begin to retreat by the end of the 21st century.
After a long break to eat, drink and rest our legs, my climbing party contoured east and trudged up Misery Hill to approach the peak. I wanted to sprint when I saw the summit pinnacles, but the altitude made my legs feel like they were dragging an anchor. Looking west of the summit, we could see sulfur fumaroles, although we were fortunate not to get a whiff of their aroma. At 12:30 p.m., we stood on top of Mount Shasta, exchanging high fives. I finally completed what I had set out to do 10 years ago.
At 1 p.m., we started back to base camp, glissading down stretches of the West Face. The afternoon sun had softened the snow enough that we did not gather too much speed and lose control. By 4:40 p.m., we were back in base camp. After dinner, we ambled toward our tents, packed for Sunday's return to flat land and fell asleep.
Before we left our base camp at Hidden Valley Sunday morning, our guides pointed out faint little dots inching up the West Face. We stared at them for a minute before realizing they were climbers. I flashed back to Saturday morning and glimpsed again at the majesty of Mount Shasta.