Travels in Geology: Climbing Mount Kilimanjaro: From parasitic cones to equatorial glaciers
by Zahra Hirji Tuesday, September 27, 2016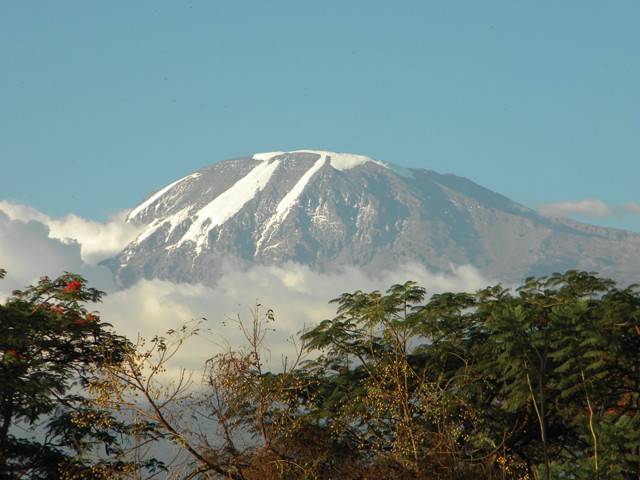 Zahra Hirji
Against the backdrop of a clear blue sky, Mount Kilimanjaro stands still and tall, posed above Tanzania as if modeling for a photograph. The volcano has every right to be proud: It is the tallest mountain in Africa at about 5,892 meters above sea level and is one of the largest stratovolcanoes in the world. It also possesses five distinct ecological zones, from tropical forest to alpine desert. Adding to its uniqueness, Mount Kilimanjaro is the tallest mountain peak that climbers can reach without technical means, attracting thousands of climbers every year, ranging from elite mountaineers to schoolchildren to celebrities. Being a geologist always in search of a good hike, I decided to take on the challenge last fall.
The birth of Kilimanjaro
Born from fire, Kilimanjaro as it stands today is an aggregation of three volcanoes: Shira, Mawenzi and Kibo. Originally thought to be a mere million years old, a 2008 study in the Journal of Volcanology and Geothermal Research dated Kilimanjaro's origins back to 2.5 million years ago.
Located on the western flank of Kilimanjaro, the Shira Plateau is all that remains of the extinct Shira, the original volcano. About a million years ago, an eruption to the east of Shira formed the Mawenzi volcano. Also currently extinct, this second volcano has weathered better than Shira. Even after thousands of years of fierce erosion, Mawenzi has retained much of its conical structure and height, securing its standing as Africa's third-tallest peak behind its slightly younger sibling Kibo (the main peak of Kilimanjaro) and the neighboring Mount Kenya. At about the same time Mawenzi formed, multiple eruptions built up Kibo to a maximum height of approximately 5,900 meters.
Kibo is anything but extinct, with magma only 400 meters below the summit crater. Yet when this dormant volcano last erupted is unknown. In recent centuries, however, Kibo's glaciers have taken the lead in shaping the mountain. The movement of the glaciers has carved concentric rings around the central crater rim, and glacial runoff has shaped the lower mountain valleys. But these glaciers may not be shaping Kibo for much longer. According to a study published last November in Proceedings of the National Academy of Sciences, 85 percent of Kibo's ice cover has disappeared since 1912.
The adventure of a lifetime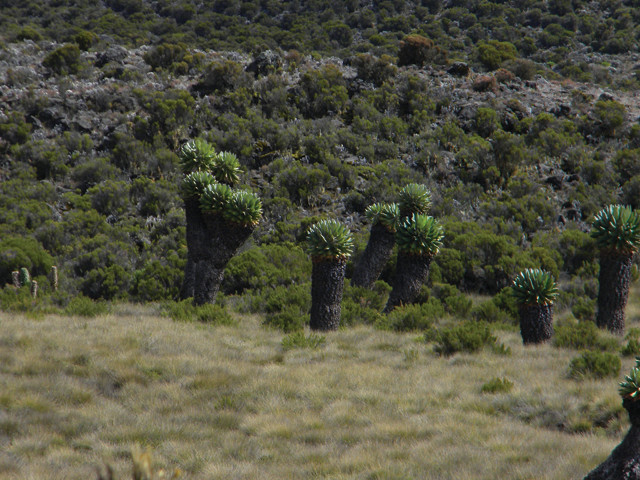 My boyfriend and I spent last fall in Tanzania volunteering with Qoheleth Foundation, a nongovernmental, rural community development organization in Moshi, a small city located near the base of Kilimanjaro. From Moshi, Kilimanjaro takes up a quarter of the skyline. The mountain's presence is felt even more in town, where tour agencies dot every corner and every restaurant or souvenir shop has photographs and paintings of the beloved mountain.
Itching to see Kilimanjaro's beautiful igneous outcrops and vanishing glaciers for ourselves, we booked a climb for mid-November with a tour agency associated with a hotel down the street from our house. We chose to climb the popular Marangu route — nicknamed "the Coca-Cola route" for all its tourist traffic — because it is the shortest, and thus the cheapest, of the six trails up the mountain. Starting on the eastern side of the mountain, the Marangu route passes Mawenzi before ascending the peak of Kibo. It is also the only non-camping route; it is equipped with A-frame huts lined with solar panels for electricity. On a tight budget — the climb, including our guides, food and shelter, cost $1,215 per person — we brought most of our own climbing gear.
The other routes to Kilimanjaro's summit take between seven and 10 days to climb, giving hikers more time to adjust to the high altitude. Climbers who summit too quickly can get altitude sickness, the effects of which range from dull headaches and nausea to severe brain damage. Though Marangu can be climbed in five days, we erred on the side of caution by adding an extra acclimatization day to our itinerary and by taking Diamox, a medicine that facilitates acclimatization.
Day 1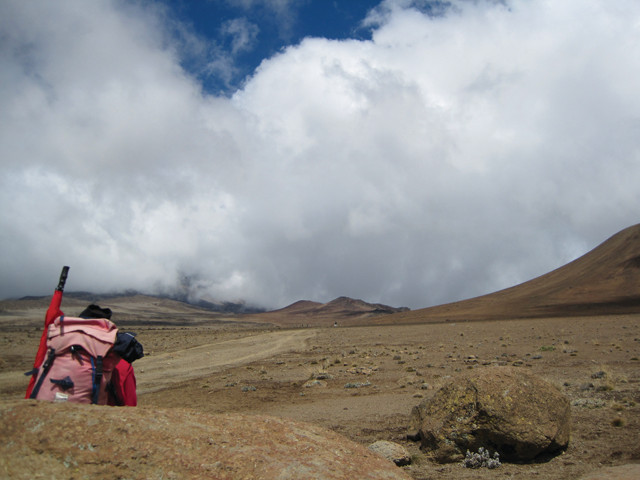 At 9 a.m., my boyfriend and I — along with two guides, one cook and four porters (all recruited from the farming communities living on the lower slopes of the mountain), and a truck full of gear — departed Moshi for Kilimanjaro National Park's Marangu gate entrance. The winding drive to the park entrance offered breathtaking views of the verdant landscape, where coffee crops grow in the nutritious volcanic soils.
We officially started our climb at an elevation of 1,860 meters at 11 a.m. No longer in farm country, we trudged through dense mountain forest. We often encountered porters carrying large loads of equipment and haggard climbers coming down the mountain.
We reached the Mandara huts at an elevation of 2,700 meters in the mid-afternoon just as it started to rain. After an hour of rest, we had hot tea and a large dinner of leek soup (a dish with beef, tomatoes and carrots mashed together), cabbage and fried potatoes side dishes and two small sweet bananas for dessert. Then we turned in early, about 7:30 p.m. — a routine we followed the entire trip.
For hikers who reach the Mandara huts early in the afternoon, there is the option of taking an additional short hike to Maundi crater, an intact parasitic cone. Parasitic cones are collections of volcanic material produced by the eruption of lava through fractures and breaches from larger, older volcanic vents. There are dozens spread out across the mountain, relicts of Kibo's eruptive heyday, but this is the most prominent example on the Marangu trail.
Day 2
Under blue skies, we left at 8:30 a.m. for a nearly 12-kilometer hike. Thirty minutes past the Mandara huts, we transitioned into open-aired heather and moorlands. As elevation increased, the trees began to shrink and thin out. Wildflowers, bizarre trees and spiky bushes, including the Lobelia deckenii, an other-worldly-looking flowering plant, gradually dominated the mountainous slope.
We arrived at our next stop, the Horombo huts located about 3,700 meters above sea level, at 2 p.m. Hungry and tired, we spent the remainder of the day relaxing in the main dining hall and chatting with other climbers. In the early evening, the clouds faded briefly, revealing a marvelous view of the brother peaks, Kibo and Mawenzi.
Day 3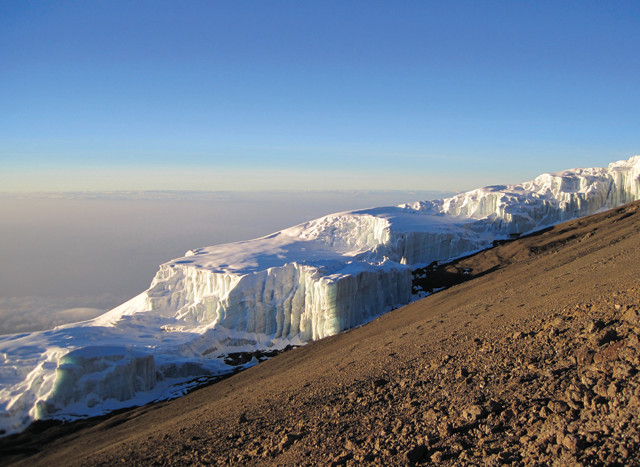 We spent the day acclimatizing at Horombo camp. To keep our legs loose and gently introduce our lungs to higher altitude, we went on a short hike. Our destination was Zebra Rock, a dark lava outcrop with white streaks of varying width formed from the leaching of overlying white calcium carbonate rocks. At an elevation of approximately 4,000 meters, the massive striped wall strongly contrasts against the gray rocky landscape that characterizes Mawenzi's front yard.
Day 4
Decked out in winter gear, we abandoned the moorlands and heather for the alpine desert, where we made our way across the seemingly endless "saddle" to Kibo's base camp. Formed thousands of years ago from one of Kibo's many eruptions, the saddle is the gradual slope between Mawenzi and Kibo. Truly an alien landscape filled with nothing but dust and rock, the saddle reminded me of the panoramic images photographed by the Martian rovers Spirit and Opportunity.
Often this leg of the climb is when climbers start to feel the haranguing symptoms of altitude sickness: losing one's appetite, feeling nauseous and dizzy. We were spared any serious sickness for most of the climb; however, we were a little light-headed by the time we reached Kibo hut at an elevation of 4,750 meters.
Kibo base camp is a solitary cement barrack. We claimed a couple of bunks in a large room with four other groups. Bonding over what was to come, we ate our pasta dinners and went to bed by 5:30 p.m.
Day 5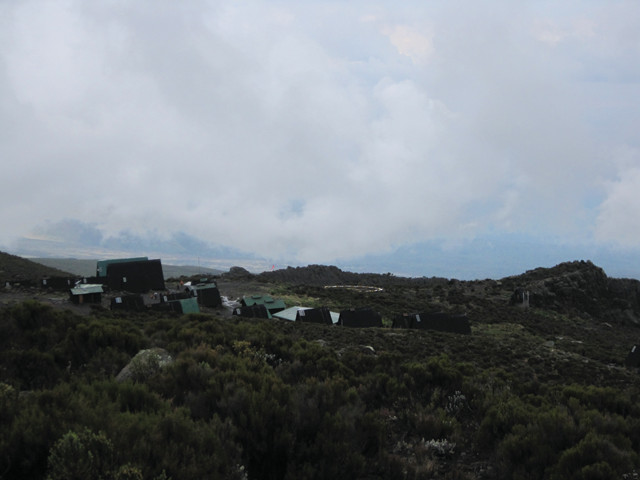 Awakened at 10:45 p.m., I was confused, cold and exhausted. I layered up, storing candy, water and my camera close to my body to prevent them from freezing. At 11:30 p.m., my group headed out with our headlamps to climb the remaining 1,195 meters to the summit. We started the summit climb at such an ungodly hour to ensure we could return to the Horombo camp later that day. Because a majority of summit climbers experience altitude sickness to some degree and the only cure is to decrease elevation, climbers usually descend all the way to the Horombo huts after summiting.
Comprising ash and loose rock known as scree, the steep ascent up Kibo's slope is agonizingly slow and tiring. Deep into the night, we walked in a single file line at a snail's pace, reaching our first landmark, the Hans Meyer Caves, at about 2:00 a.m. In the small alcove, we caught our breath and prepared for the most brutal part of the climb: zigzagging up narrow, steep switchbacks.
Hours later, the path transitioned into a wall of big boulders. Ditching our hiking sticks, we scrambled over the rocks using our hands and knees. At about 5:30 a.m., we stumbled over the crater rim into Gilman's Point, at an elevation of 5,681 meters, in time for sunrise.
Before getting too cold, we set out on the final leg up and around the crater rim. Exhausted, achy and out of breath, I was overwhelmed by the crater rim's beauty. To the left were giant glistening glacial columns. To the right were the innards of the central crater, an ash pit reeking of sulfuric acid (though I was too congested to smell it).
At 7:20 a.m., we staggered up to Uhuru Peak, the roof of Africa. The raw beauty of the glacial volcanic environment stunned the small group of summiters. For such a dynamic mountain with receding glaciers, fumaroles burping out sulfuric acid and magma brewing beneath the surface, it appeared still as I took a dozen photos from the top.
Getting there and back
Though I was exhausted and sore for days after the hike, it was well worth the journey. In addition to seeing stunning geology and meeting other hikers from around the world, I became friends with my Tanzanian hiking crew, who helped push me up and down the mountain. I recommend getting to know your climbing crew because Tanzanians are unbelievably welcoming, and most people speak English.
If you are interested in taking a longer trip in Tanzania, there are many exciting things to do in addition to hiking Kilimanjaro, from seeing human fossil pits firsthand in Olduvai Gorge to going on a safari in the Serengeti to relaxing on the beaches of Zanzibar. And if you are a real hiking zealot, Mount Meru located near the northern Tanzanian city of Arusha is just around the corner. Tanzania has something to offer any adventuresome tourist.