The Thirsty Dragon and the Wealthy Bear
by Lindsey Bartlett and Michael E. Webber Thursday, January 5, 2012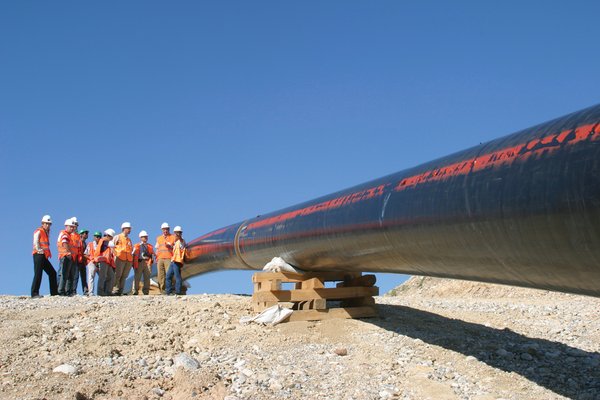 How China, Russia and High Oil Prices Influence Global Dynamics
The world is changing. Gone are the days of Middle Eastern sheikhs controlling the world's oil and our purse strings. Russia and China are changing the rules of the game.
Last month, we explored how China's rising influence is changing global political and energy dynamics. This month, we explore Russia's dominance in energy markets and its corresponding aggressive posture, which threatens global energy supplies.
Russia boasts the world's largest natural gas reserves and the eighth-largest oil reserves. Russia is the world's top exporter of natural gas and is second only to Saudi Arabia in oil exports. Oil and gas generate almost two-thirds of Russian export revenues each year. Russia is also the world's third-largest energy consumer. As oil prices and energy revenues continue to rise and comprise an even higher proportion of the country's coffers, energy will become even more critical to the Russian economy.
In addition to fueling Russia's economic growth, Russian oil and gas production has significantly boosted global supply. Russian supplies account for nearly half of the increase in the world's oil supply between 1998 and 2004 and nearly a third of the European Union's gas — and that portion is rising rapidly.
Tight oil and gas markets have shifted producer-consumer relationships in favor of producer countries like Russia. This change has elevated Russia's influence in energy geopolitics and emboldened the Kremlin to consolidate power, expropriate energy assets, weaken democratic liberties and threaten regional neighbors — Georgia is the latest casualty. This newfound aggression compromises energy supply reliability, undermines energy markets and runs counter to U.S. foreign relations.
Russia's tightening control
Prime Minister Vladimir Putin's plans to gain control of Russia's rich natural resources were laid out more than a decade ago: While at the St. Petersburg State Mining Institute in the mid-1990s, Putin authored a dissertation that described a strategy by which the state could secure economic development and international standing through control of strategic oil and natural gas resources. The paper also discussed the government's role in positioning Russian energy companies to compete globally with international oil and gas companies. As if following that roadmap, Putin's administration consolidated the nation's energy industry and confiscated privately held energy assets and investments.
When Putin became president of Russia in 2000, private firms controlled more than 70 percent of Russian oil production. Many Russian firms worked closely with U.S. oil companies. Some U.S. companies even purchased or invested in Russian companies such as Lukoil. The turn of the century appeared to hail a new era of Russian-American energy cooperation.
In the years leading up to 2003, it seemed like the friendly new relations with Russia were paying off for the United States, and the United States seemed poised to break free from its primary dependence on Persian Gulf oil imports. That same year, private Russian oil companies Lukoil, Sibneft, Yukos and TNK proposed construction of a new oil pipeline from West Siberia to the deepwater port of Murmansk on the Barents Sea. The proposed pipeline, with a projected capacity of about 586 million barrels of crude oil per year, would have greatly benefitted the United States due to its close proximity to U.S. markets.
But in 2003, that all began to change. Oil prices rose to new heights. China surpassed Japan to become the world's second-largest oil consumer. And the United States invaded Iraq. Meanwhile, in Russia, Mikhail Khodorkovsky, billionaire head of Yukos and champion of closer ties with the West, was arrested on tax evasion and fraud charges. Russian state oil company Rosneft subsequently took over Yukos.
Russia then continued its attempt to "create a national champion in oil that could compete on a global scale," according to Oleg Maximov, an analyst with Troika Dialogue, a Moscow-based investment firm. In 2005, the Russian government gained a controlling stake in Gazprom, effectively co-opting the world's largest gas company as an extension of the state. By December 2006, the government forced Shell and its partners to sell a controlling stake in the $20 billion Sakhalin-II gas project — the largest foreign investment project in Russia — to state-controlled Gazprom. In 2007, the Russian government charged Mikhail Gutseriyev, the head of Russneft, once Russia's seventh-largest oil company, with illegal business activity. Gutseriyev claimed the move was a thinly veiled attempt to take over his company, just as had happened to Yukos. By August 2007, Gutseriyev was forced to resign and flee the country. Russia says Gutseriyev's company owes the government hundreds of millions in back taxes, but Russia has yet to take over the company. Throughout 2007, the Kremlin appropriated six Russian oil companies, including Bashneft, Russia's 10th-largest oil producer.
Today the government controls 44 percent of Russian oil production, and analysts fear it will target other Russian energy firms. These changes mark a course of Russian nationalization of energy assets not seen since the cold war era. As such, they have diminished prospects of a U.S.–Russia energy partnership.
Rising gas concerns
Russia is the largest energy supplier to the European Union, supplying some countries with 100 percent of their gas. Since Russia gained control of Gazprom, the gas giant has grown its monopoly of European downstream assets, such as pipelines, to the detriment of much-needed upstream and infrastructure development. Through Gazprom, Russia has continued its aggressive course of resource consolidation and purchases of European downstream assets, notably pipeline transport routes. By investing in these assets instead of infrastructure upgrades at oil- and gas-producing fields, these policies have restrained energy production growth. At this point, it's difficult to differentiate Gazprom's business plans from actions that further the state's political goals: Is control over pipelines more important to Gazprom than having an adequate supply, or is that control more important to the government?
This control of energy wealth and pipeline infrastructure has allowed Russia to employ energy as a tool to achieve political ends. As shown in Russia's recent invasion of Georgia, EU countries are increasingly reluctant to confront an aggressive Russia because they depend so heavily on Russian energy. "This is the moment of truth for Europe, for the West and for the world … International aggression should not stand and there should be consequences for what Russia is doing," Ariel Cohen of the Heritage Foundation (a think tank in Washington, D.C.) said in a CNN interview in August. Thus Russia's military assault on Georgia not only raises questions about empire building, but it also embodies a situation complicated by oil and gas. Russia's energy dominance provides Russia the leverage it needs to evade consequences, and it strengthens Russian control of energy routes by signaling that Russian pipelines are safer than the pipelines of its neighbors. This dominance further challenges the ability of Europe to maintain and build alternate supply routes.
Then there is the issue of natural gas pricing. Russia has been accused of using gas prices to accomplish political goals, especially within former Soviet states like Ukraine. However, in a market economy, Russia has the prerogative to raise prices to whatever it can get in the marketplace. Furthermore, it doesn't seem that Russia has unfairly singled out any countries in raising prices.
Interestingly, as Russia raises its natural gas prices, gas sales to domestic and near-abroad customers may become as profitable as, or even more profitable than, energy exports to the European Union. As China meets its energy requirements through deals with regional producers, Russia's security of demand and leverage increases, which further complicates the delicate regional balance between Europe and its energy suppliers to the east.
Gazprom perceives itself as a worldwide energy leader and an important counterpoint to traditional global energy players. In a 2007 speech, Gazprom executive Alexey Miller offered a thinly veiled challenge to the current energy market structures: The company, he said, "has probably a keener sense than our colleagues and partners of the discord between the existing 'rules of the game' in the energy sector and present-day challenges facing the global economy."
In another case of Russia's attempt to modify markets, Gazprom began speaking with Algerian state-owned gas company Sonatrach about establishing a gas cartel. "This would be extremely dangerous for Europe," Claudia Kemfert, an energy expert at the German Institute for Economic Research, told the International Herald Tribune in an article published Jan. 24, 2007. "Europe must quickly react by diversifying its energy resources. Apart from making more use of renewable energy, the Europeans should focus more on buying liquefied natural gas from other countries," she said. Analysts describe Russia's attempts to form a gas cartel as a way for Russia to further increase its leverage in response to Germany's pressure to sign the Energy Charter Treaty. The treaty would have opened up European energy markets and minimized the hold of Russia's gas monopolies on gas markets. Putin responded: "We will not split Gazprom, and the European Commission should have no illusions about that. In the area of natural gas, they will deal with the state."
The United States is not immune to the trend either. Some observers think Russia seeks to use its new energy control to subvert competitive energy markets by marginalizing — even taking over — Western energy companies with the help of partners like China. This is not implausible considering Chinese National Offshore Oil Corporation's competitive bid for U.S. oil company Unocal in 2005. However, this perspective assumes that the West's major oil companies are integral to preserving global oil markets without acknowledging that the profits from high energy prices are enjoyed by private and national companies alike. All producers have an interest in participating in a functioning competitive global energy market. However, it is difficult to distinguish between the economic and political goals of Russian firms and other national energy companies.
There is no doubt that energy-rich countries like Russia and cash-rich countries like China could afford to pursue such a strategy. China ranks number one and Russia number three in the world in foreign exchange reserve holdings, and both countries maintain sovereign wealth funds, financed through excess foreign exchange reserve holdings, that some observers assert could be used as political weapons.
How far an influence
Today, Russia produces about 9.8 million barrels of oil per day and 23.1 trillion cubic feet of natural gas per year. The International Energy Agency forecasts that by 2030, Russia will produce 11.2 million barrels of oil per day and an estimated 29.1 trillion cubic feet of natural gas per year. Russian supplies of oil and gas certainly contribute to supply diversity and can offer a "security blanket" for the United States in the event of a Saudi supply disruption.
Yet despite robust production, many experts contend that Russian supply cannot be a substitute for Middle East oil for the United States and Europe, largely because Russia does not offer the spare capacity potential of Saudi Arabia or export capacity. And perhaps more importantly, Russia has not invested enough in pipelines and upstream exploration and production development to meet an instantly higher demand. Instead of upstream investments, the country has chosen to put energy sector profits into its federal budget. So when the world calls on Russia to act as a swing producer in the event of a supply disruption, Russia might not be able to respond swiftly enough. Moreover, Russia's political control of the energy sector constricts market forces, which ultimately reduces Russian production, and thus overall global supply. And the Kremlin's policy of pushing out foreign operators — and their expertise — has only worsened fears about future production capacity of Russian fields.
Ironically for the United States, one way to challenge Russia's use of gas supplies as political leverage would entail working with alternate supply routes and sources in the Middle East — namely Iran — as Turkey has done. As Turkish energy analyst Necdet Pamir told The Economist in August 2007, "The paradox for America is that Iran is the only country other than Iraq that can truly undermine Russia's (energy) supremacy."
That's not an avenue that the United States will likely pursue anytime soon.
Turning the corner
We may have entered a new world dominated by energy geopolitics. The persistence of tight oil markets and volatile oil prices has become both cause and effect of a changing terrain, fueling new political relationships and fracturing old models of diplomacy. Continued reliance on open markets and private sector energy management has left the West vulnerable to the actions and interests of petrostates like Russia, which view markets as an optional means for political gain.
Furthermore, Russia is finding its place in the 21st century global alignment through the projection of raw power. For now, that raw power is energy. Free, fair and open trade can no longer be presumed. Energy geopolitics is the first and primary flashpoint in the resulting competition for security and influence. The United States and Europe must recognize a new hierarchy, even if only temporarily, in which free and open markets are in rough competition with nationalistic goals that are more fit for power in the current environment.
Regardless of permanent high energy prices, the current geopolitical landscape should motivate the United States and Europe to implement significant energy policy reform, including aggressive efficiency and conservation measures at home and extensive outreach to work with energy-empowered countries like Russia. A bold energy strategy in which the United States and Europe can wield their own energy weapon — conservation — will bolster energy security, slow the rate of energy price increases, enhance long-range economic outlooks and improve international relationships. The resulting security would position the United States and Europe to work more confidently with important and influential supplier countries like Russia and other large consumers like China to ensure global energy security.