Spotlight on UCORE projects
by DL Friday, March 15, 2013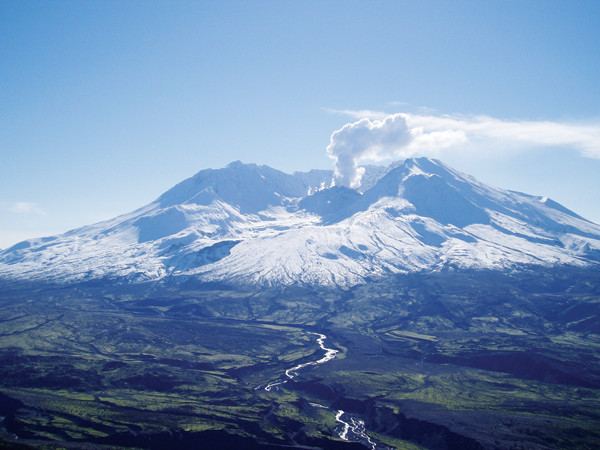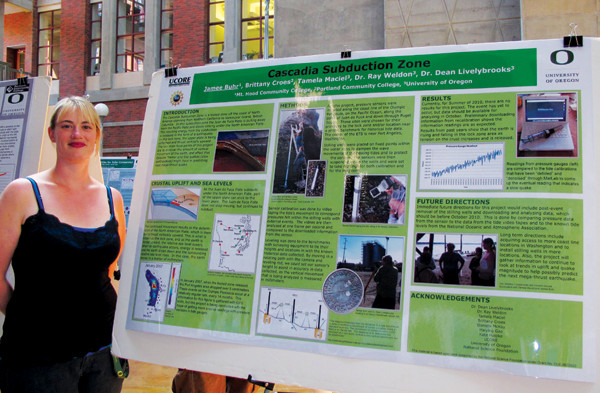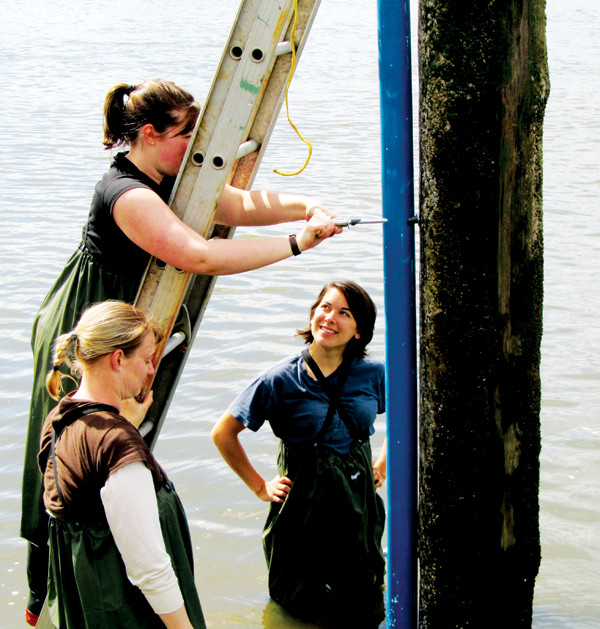 The National Science Foundation-funded Undergraduate Catalytic Outreach and Research Experience (UCORE) program ran from 2007 to 2012 and involved 132 students from six different community colleges in Oregon. During the five years of the UCORE program, groups of three to six community college students from each campus spent 10 weeks in the summer on the University of Oregon campus, working on projects alongside graduate students and faculty in chemistry, geological sciences and physics research groups. Listed below are some of the projects in which the students were involved.
Geomorphology of the Oregon Coast Range
UCORE participants Beckah Pickard and Tim Stimpson, undergraduates at the Rock Creek campus of Portland Community College (PCC) and Umpqua Community College (UCC) near Roseburg, Ore., respectively, spent the summer of 2010 working in University of Oregon geomorphologist Josh Roering's research group, helping graduate student Jill Marshall characterize the geomorphology of the Oregon Coast Range, which overlies the Cascadia Subduction Zone.
Beckah and Tim dug holes and trenches where they measured the depth to bedrock, characterized soil-forming processes as biotic or abiotic, and measured the diameter of tree stumps in study areas. The students' research contributed to an improved understanding of how vegetation and ecosystem dynamics contribute to erosion and landforms, which, in turn, affect forest fire trends, marine sedimentation and fish genetics, among other things.
Arsenic Contamination of water Wells
University of Oregon biogeochemist Qusheng Jin is interested in how bacteria found in groundwater convert insoluble, relatively benign sulfur and arsenic found in Cascadian volcanic rocks into more hazardous mobile forms that contaminate well water. He is also interested in producing generalized models of how microbial diversity impacts biogeochemistry in specific environments. Undergraduates Victor Benavides Montes and Jesse Klinger — of the Sylvania and Rock Creek campuses of PCC, respectively — assisted in the summer of 2010 with software tools such as the Geochemist's Workbench.
Under Jin's guidance, Victor and Jesse developed mathematical models for how organisms and nutrients would evolve in a hypothetical test cube, testing how microbial diversity, particularly among sulfate-reducing bacteria, impacts ecosystem function and environmental alteration.
"I thought the science [that university scientists] worked on was way too far-fetched for any of it to be put into laymen's terms or for me to understand," Victor says. "But after working with Qusheng Jin and seeing all my other UCORE fellows' labs, I noticed that these ideas can be very attainable. We are all curious people looking for fundamental and pretty simple answers."
The summer before Victor and Jesse's project, PCC-Sylvania student Matthew Gibson spent his UCORE summer helping Jin collect water samples in wells in Lane and Douglas counties in Oregon, testing for arsenic contamination and relating it to how bacteria in aquifers process arsenic from fixed to more mobile (and thus hazardous) chemical forms.
"My UCORE experience gave me some insight into the world of groundwater hydrology, which I wouldn't have otherwise received," Matthew says. He plans to pursue certification as a registered geologist after finishing his bachelor's in geology with a GIS and computer science concentration at Portland State University (PSU) this year. Victor's career trajectory was also strongly influenced by participation in UCORE, he says. "I truly believe without the UCORE credentials, this domino effect — an REU [a National Science Foundation Research Experience for Undergraduates program], research in a PSU lab, and impending completion of a bachelor's — would've never happened."
Dome Building on Mount St. Helens
Following the catastrophic eruption of Mount St. Helens in 1980, the volcano's dome began building again in 2004, occasionally erupting small volumes of dacite that built substantial, rocky spines in the crater. Scientists are interested in how dome-building eruptions might relate to episodic "drumbeat" earthquakes detected below the mountain.
In 2009, UCORE participant Naomi Meacham, then a student at UCC, worked with University of Oregon geophysicist Alan Rempel's research team to help analyze stereographic digital images documenting dome growth within the crater. Digital elevation models were developed and analyzed to quantify dome growth, characterize associated faulting and compare fault slip with seismic records of drumbeat earthquakes.
Episodic Tremor and Slip in Cascadia
University of Oregon researchers Ray Weldon, David Schmidt and I (Dean Livelybrooks) study "slow earthquakes," known as episodic tremor and slip, in Cascadia. In particular, we're interested in how these earthquakes transfer stress seaward to a zone that's locked on the Cascadia Fault, and how that stress, in turn, results in surface deformation on the coast and at the "epicenters" of episodic tremor and slip.
Over two UCORE field seasons, community college students, including Stacy Smith (2008, PCC-Sylvania, now a graduate of PSU with a degree in geology), Codi Quimby (2009, Mt. Hood Community College, now double-majoring in geology and anthropology at PSU), Jamee Buhr (2010, formerly at Mt. Hood Community College, now a geology major at PSU) and Brittany (Croes) Symes (2010, PCC-Sylvania) helped install and run a network of tide gauges along coastal rivers, the Puget Sound and the Olympic Peninsula in Washington. Careful processing of the resulting data revealed small amounts of uplift associated with active coastal deformation, as well as episodic tremor and slip events farther inland.
Installing tide gauges can be challenging. Jamee and Brittany recall wading into deep, cold water at 6 a.m. on a lonely beach along the Strait of Juan de Fuca to see if they could install a gauge on an abandoned piling once used to tie up timber barges. Cold water pouring in over their chest waders forced them to retreat back to the beach. Another time, after a particularly difficult installation, Jamee ended up swimming in the ocean, holding an unprotected video camera above her head to record and calibrate water level on a gauge.
"I so enjoyed and was amazed by my opportunity to participate in the UCORE research program that I couldn't stop talking about it," Jamee says. "I always carry my great UCORE experience with me and wow my fellow classmates at Portland State with the knowledge and advantages I gained through participating in the program."
It is stories like these that the students carried back to their community college peers to demonstrate the fun and excitement of scientific research.