Southeastern caves shuttered to slow the spread of bat-killing disease
by Mary Caperton Morton Thursday, June 5, 2014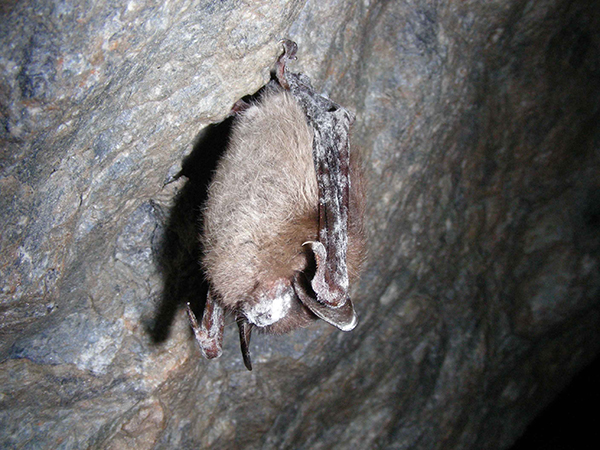 Since White Nose Syndrome was first identified in dead bats recovered from a cave in New York state in 2006, the mysterious fungal disease has wiped out more than 5 million bats in the eastern U.S., and efforts to halt its southern and western spread have become increasingly desperate.
Now the U.S. Forest Service has moved to close all caves and underground mines on national forest lands in the 13 states in its southern division: Arkansas, Florida, Georgia, Kentucky, Louisiana, Mississippi, North Carolina, Oklahoma, South Carolina, Tennessee, Texas and Virginia. For at least the next five years, caves on forest service land will be closed to visitors, although written permission can be granted to researchers seeking to collect data for cave mapping, bat monitoring, wildlife inventories or other projects.
The fungus that causes White Nose Syndrome, Pseudogymnoascus destructans, is thought to be primarily transported from cave to cave by bats, but studies have shown that it could also be spread through contaminated boots and other caving equipment. The long-distance leaps of the disease out of New York state into other caves in the Mid-Atlantic and farther afield are far beyond the normal dispersal patterns for most bat species, suggesting that another vector is playing a role in spreading the disease, possibly people. Until now, state and regional cave closures have occurred sporadically throughout the U.S., and visitors to open caves have been asked to decontaminate equipment and avoid wearing clothing that may have been worn in other caves.
The five-year closure, effective June 2, is intended to allow time for the development of potentially promising bio-control techniques for mitigating the spread and impact of P. destructans, as well as lab and field trials seeking to better understand the disease.