Smokier U.S. West as climate changes
by Kate S. Zalzal Tuesday, November 15, 2016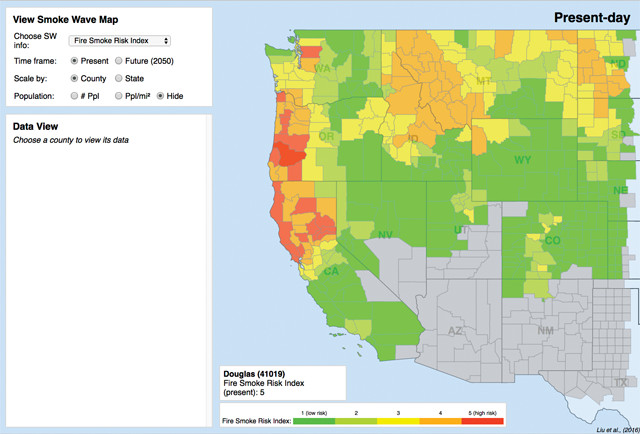 Extended wildfire seasons and larger and more frequent burns will likely be the consequence of the hotter and drier conditions expected to result from climate change. New research shows that this expected surge in wildfires also poses a growing threat to human health.
"We tend to think of wildfires in terms of direct exposure: Will my house burn?" says Tania Schoennagel, an ecologist at the University of Colorado Boulder who studies the impacts of wildfires but was not involved in the new research. But smoke from wildfires contains fine airborne particulate matter, which can cause potentially serious health effects, even for those who live far from the fire.
Of particular concern are fine inhalable particles with diameters less than 2.5 micrometers, called PM2.5, which are about one-third the thickness of a human hair and are known to cause acute and chronic health problems, including respiratory and heart conditions.
In the new study, scientists have, for the first time, estimated the levels of PM2.5 directly attributable to wildfires for 561 fire-prone western U.S. counties. Using a model that takes into account climate, fire prediction and atmospheric chemical transport, they looked at previous fire seasons (2004–2009) and made projections for future seasons (2046–2051) based on climate forecasts from moderate-growth emissions scenarios (as projected by the Intergovernmental Panel on Climate Change).
"We estimated PM2.5 specifically from wildfire smoke," says Jia Coco Liu, a graduate student at the Yale School of Forestry and Environmental Studies and lead author of the study published in Climatic Change. Wildfires contribute less than a quarter of the total PM2.5 atmospheric emissions in the U.S. — the remainder comes from construction, industry, power plants and automobiles. But the researchers found that on days on which emissions exceeded regulatory standards, wildfires contributed nearly 65 percent of PM2.5, making them a significant factor in pushing levels out of compliance and into dangerous concentrations.
With these data, Liu and her team created an interactive map showing the counties most likely to suffer from high wildfire pollution events and elevated PM2.5. "We also created a new concept — smoke waves — to quantify the characteristic of air pollution episodes caused by wildfire smoke," Liu says. They define a smoke wave as at least two consecutive days with high levels of wildfire-specific PM2.5. "Under climate change, [smoke waves] are likely to be more frequent and last longer," she says.
The map contains a Fire Smoke Risk Index (FSRI) — a measure that combines wildfire frequency, intensity and length — for each county of the study. Under future warming, the researchers estimate that more than 82 million individuals will experience a substantial increase in the frequency and intensity of smoke waves, with Northern California, Western Oregon and the Great Plains expected to suffer the highest exposure to wildfire smoke.
This work makes it clear that ongoing climate change is a threat, says Loretta Mickley, an atmospheric chemist at Harvard and a co-author of the paper. "It also points to the risks of development in fire-prone areas at the wildland-urban interface," she says.
As smoke waves often come from fires burning afar, "public health approaches to help protect those people at highest risk from wildfire smoke would help vulnerable communities adapt to more wildfire," Schoennagel says, "which unfortunately is on our collective horizon in the West."