On-site inspections
by Timothy Oleson Tuesday, April 7, 2015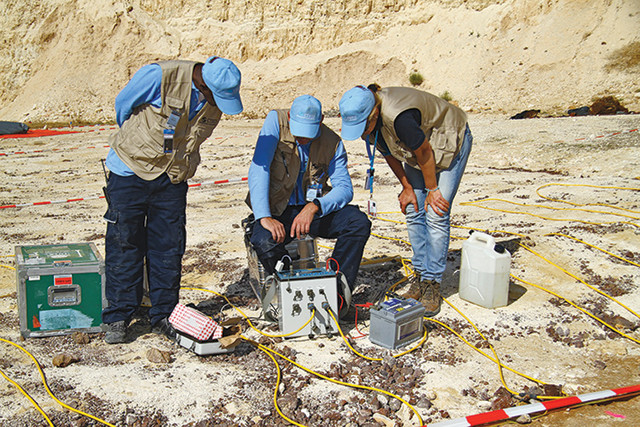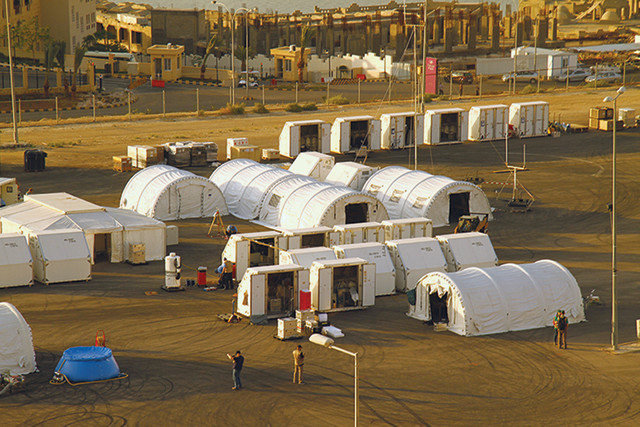 In the event that the CTBT enters into force, a third element of the CTBTO's verification regime — in addition to the IMS and IDC — would come into play: on-site inspections (OSI). Given potential evidence of a nuclear test, member states can call for an inspection of the suspected area as a final verification measure.
Although OSIs can neither be requested nor undertaken currently, the CTBTO has been conducting training and field exercises for more than a decade to develop protocols to ensure the OSI regime's validity. The largest of these to date — an integrated field exercise dubbed "IFE14" — was held near the Dead Sea in Jordan over a five-week period last November and December.
IFE14 involved more than 200 people, including dozens of inspectors as well as evaluation teams and other observers, along with 150 tons of portable laboratories and equipment. The inspectors searched a 1,000-square-kilometer area using visual and airborne observations, spectroscopic methods, environmental sampling, magnetic and gravity field mapping, seismic and radionuclide monitoring, and other treaty-approved methods to locate the site of the mock nuclear detonation.
To best mimic what investigators would see in an actual OSI, planners went to great lengths to make the scenario — several years in the making — realistic and scientifically credible, says Gordon MacLeod, IFE project manager and OSI division chief of policy, planning and operations. You start by asking: "What would an actual nuclear test look like coming across the IMS?" he says, and then work backward from that to set up conditions on the ground.
IFE14 showed that the CTBTO has "brought our on-site inspection capabilities to the same high level" as the verification regime's other two components, CTBTO executive secretary Lassina Zerbo said in a statement following the exercise. In addition to demonstrating the OSI regime's viability, MacLeod says, the main goal of these exercises is to learn "what needs to be fixed [and] what doesn't need to be fixed," and to apply those lessons going forward.