Sierra Nevada snowpack lowest in 500 years
by Mary Caperton Morton Wednesday, December 23, 2015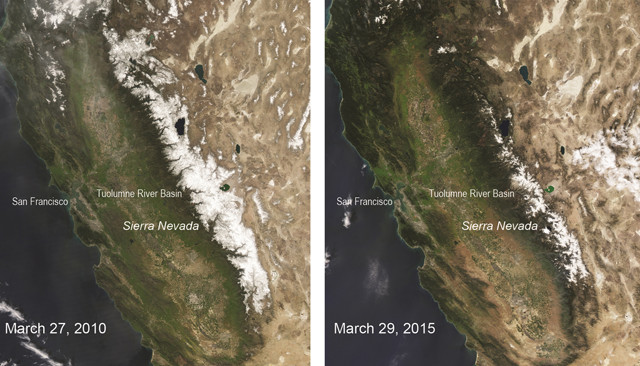 With several ski resorts closing early last winter in California's Sierra Nevada Mountains due to lack of snow, many people suspected the snowpack for the year was on the low side. This suspicion has been confirmed: Snow levels for the winter of 2014–2015 registered as the lowest in the last 500 years.
Researchers led by Soumaya Belmecheri, of the University of Arizona's Laboratory of Tree-Ring Research in Tucson, drew upon previously published tree-ring records dating back to 1405 that included measurements for 1,505 blue oaks in California's Central Valley. They also relied on annual snowpack measurements that have been compiled since the 1930s, as well as on previously published winter temperature reconstructions dating back to 1500. The team reported in Nature Climate Change that the decrease in snow in 2015 was due to a combination of record high temperatures and the drought that began in California in 2012.
About 80 percent of California's precipitation comes in the winter in the form of snow, and the snowpack is typically measured in early April when it is at its peak volume. The diminished snowpack is a problem for more than just skiers. "This has implications not only for urban water use, but also for wildfires," Belmecheri said in a statement.
Most years, snowmelt from the Sierras in the summer months is the main replenisher of streams, reservoirs and aquifers. "Snow is a natural storage system," said study co-author Valerie Trouet, also at the University of Arizona. "In a summer-dry climate such as California, it's important that you can store water and access it … when there's no precipitation."