Searching for evidence of ancient subduction
by Timothy Oleson Monday, June 23, 2014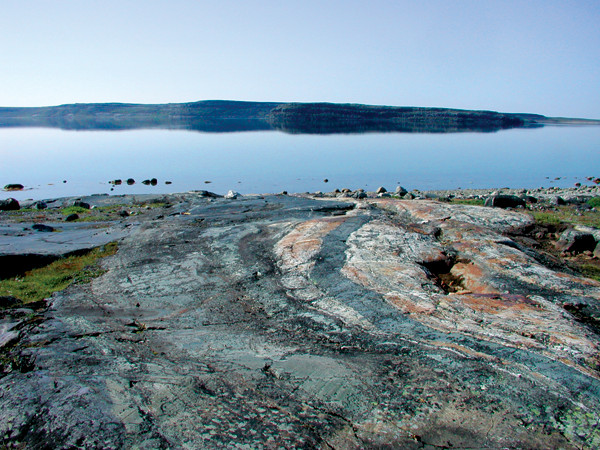 Scientists typically search for structural or geophysical indications that offer telltale signals of the locations of past subduction zones. Such visible evidence might include old fault planes preserved in rock or subsurface images (afforded by seismic data) of former plates now swallowed by the mantle. Without such evidence, however, scientists must depend only on isotopic ratios, trace element concentrations and other geochemical signals in very old rocks for clues about where and when the process operated. But such signals aren't necessarily unique to subduction zone settings, and they can be blurred or obscured over geological time, thus complicating their interpretation.
Rather than relying on one or a few such geochemical signals, the new approach suggests that scientists would be better off searching Earth's oldest rocks for the right "geochemical stratigraphy" — a sequence of rock layers or units, each with its own distinct chemical signatures, that matches the sequence formed in modern subduction zones.
In modern subduction zones, extensive volcanic activity accompanies subduction; volcanoes in the Andes Mountains, overlying where the oceanic Nazca Plate dips under the South American Plate, are an example. As a subduction zone initiates and begins to mature, the chemistry of the lavas — which solidify and progressively pile up in a part of the subduction zone known as the forearc — evolves.
Recently, Simon Turner and Tracy Rushmer, both at Macquarie University in Australia and lead authors of the new study published in Geology, and colleagues (including Mark Reagan of the University of Iowa) were looking into the geochemistry of a sequence of ancient, roughly 4-billion-year-old rocks found in northern Quebec, Canada, called the Nuvvuagittuq supracrustal belt. Not long before, a team led by Reagan dove deep into the trench made by the relatively young Izu-Bonin-Mariana (IBM) subduction zone in the western Pacific and pieced together one of the clearest pictures to date of compositional changes in the forearc lavas there (produced between 52 million and 44 million years ago) — identifying three distinct layers.
When Turner, Rushmer, Reagan and Jean-François Moyen, of Jean Monnet University in France, compared the data from Nuvvuagittuq with those from the IBM trench, they found it "striking how closely both the stratigraphy and geochemistry" from the sites matched up, they wrote. The similarity led the researchers to conclude that the Nuvvuagittuq rocks are forearc remnants of a very early subduction zone.
"It was just putting the two together … and saying, 'well, these [datasets look] really familiar, really similar,'" Turner says. Some of the earliest rock in the Nuvvuagittuq sequence, for instance, was enriched in titanium and had a particularly "flat" pattern of rare earth element concentrations, like the oldest lavas in the IBM forearc sequence, which are thought to have erupted as the crust was first fracturing and the IBM subduction zone was beginning to form. Likewise, two additional layers from Nuvvuagittuq were found to be comparable to the intermediate and upper layers found in the IBM forearc.
The study has raised eyebrows among geoscientists interested in when subduction started, in large part because it suggests the process could have been up and running as early as 4.4 billion years ago, the oldest age to which the Nuvvuagittuq rocks have been dated in previous studies. This is just 150 million years or so after Earth formed and places an earlier date on subduction initiation than previously thought.
The researchers acknowledge this age is controversial, as other efforts have dated Nuvvuagittuq rocks — and the possible onset of subduction — to about 3.8 billion years, while some researchers have suggested that modern subduction only began in the last 3 billion years. Turner and Rushmer note, however, that the main idea of the current study is not to debate these ages as much as it is to introduce the notion of geochemical stratigraphy as a more robust test than using individual geochemical signatures for identifying ancient subduction-related processes, which in turn will further our understanding of the age of the process. "It's the first time I've seen this [methodology] used in this kind of environment," Rushmer says, "and it is a really powerful argument."
Studying "the whole stratigraphy" of ancient rock belts in this way is a good strategy for identifying defunct subduction zones, wrote Julian Pearce of Cardiff University in Wales in a commentary on the study also appearing in Geology, adding that the researchers "have highlighted one of the best locations to test the hypothesis of subduction on early Earth." But, Pearce wrote, the apparent similarities between the Nuvvuagittuq and IBM rocks are not clear cut and many questions remain, including: To what extent have the older rocks been altered or contaminated over time, and "can geochemical fingerprinting based on recent lavas be applied to an Early Archean world, different, for example, in mantle temperatures and crustal rheologies?"
Steve Mojzsis, a geologist at the University of Colorado at Boulder, agrees that the two sets of rocks aren't a perfect match, but says the study's results agree overall with mounting evidence from other locations and studies of detrital zircons for "conditions possibly associated with plate tectonics" occurring in the Early Archean nearly 4 billion years ago.
"I can understand people want to be cautious about this, because if it's true it's a pretty big observation," Turner says. "Everyone thinks there needs to be more work [done] … and that's fair," he says. Nailing down the answer to when subduction started "would be a nice thing to do."
"It's amazing that only 10 or 15 years ago," Mojzsis says, if someone had tried to publish a study saying there were subduction-like processes going on so early in Earth's history, "it would have been considered preposterous." Now, "the story has completely changed" thanks to the "nose-to-the-grindstone kind of geochemistry being applied" to ancient rocks in this and other studies.