Sea-level rise could cut off wastewater service to millions in U.S.
by Hannah Hagemann Thursday, June 21, 2018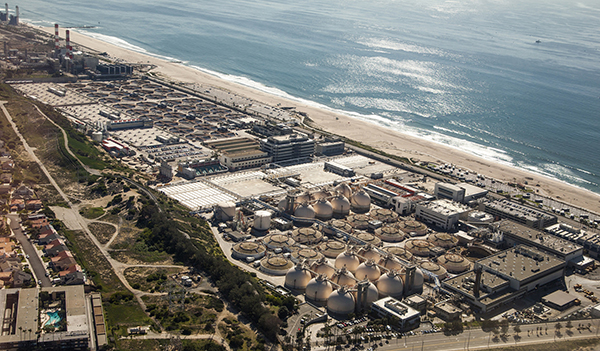 Scientists report in a recent study that with just 30 centimeters of sea-level rise, roughly 4 million people in the U.S. could lose access to municipal wastewater services — services that allow three-quarters of America to run the tap and flush the toilet. And with even higher seas, the number goes up. The study, published in the journal Earth's Future, is the first to analyze the resilience of the nation's wastewater treatment plants to sea-level rise.
Treatment plants are ubiquitous along coasts for two main reasons: first, wastewater flows downhill to coastal plants, eliminating the need for costly pumping systems, and second, once treated, the water can be readily discharged into the ocean. But, low-lying coastal real estate comes at a price — the plants are especially vulnerable to flooding, and projected increases in intense storms over the next century will only make the critical infrastructure more susceptible. Previous studies have analyzed how coastal infrastructure could hold up to marine flooding, but the new study is the first to shed light on the effects that elevated coastal groundwater tables — increased by rising sea levels and more intense storm events — could have on treatment plants, and to estimate how many people would lose access to wastewater services.
Scientists utilized GIS to investigate the impacts of NOAA sea-level rise projections between 30 and 180 centimeters (1 to 6 feet) on treatment plants across the country. U.S. Geological Survey regional sea-level rise projections were also used to assess local vulnerability in California. By overlaying the various projections of sea-level rise atop the locations of wastewater plants, the team pinpointed which plants are most vulnerable. The researchers then estimated how many people were dependent on those plants and could lose wastewater services by looking at a U.S. Environmental Protection Agency wastewater discharge database.
The researchers found that California is the most vulnerable state in minimal sea-level rise scenarios, followed by New York, New Jersey and Virginia: More than half a million residents in each of these states could lose access to wastewater services with 30 centimeters of sea-level rise, while a 60-centimeter rise would mean a combined 5.4 million people in these four states might not be able to flush the toilet. Elsewhere, like Florida, Maryland and Massachusetts, the numbers of people potentially exposed to a loss of service increase dramatically for larger rises in sea level. "If you can't flush your toilet or you don't have access to wastewater services, that makes your home uninhabitable," says Michelle Hummel, a doctoral candidate at the University of California, Berkeley, and the lead researcher on the study. "It's an impact people aren't really thinking about."
But many people may be forced to think about it soon. The team found that, across the country, more than 10 million Americans could lose access to wastewater service with 90 centimeters of sea-level rise, five-fold more than the 2 million whose homes would flood as a direct effect of rising seas. With a 180-centimeter rise, more than 31 million households might lose service, compared to the 6 million households inundated directly by coastal flooding.
Coastal wastewater treatment plant managers can combat sea-level rise to an extent by armoring, moving or elevating plants, Hummel points out. Another alternative is implementing "green engineering" techniques. The Oro Loma plant just south of Oakland in San Lorenzo, Calif., for example, created an artificial wetland to filter and store wastewater, as well as to provide habitat for wetland species. Often, though, fixes are costly and complex. Building sea walls and levees can have lasting effects on the surrounding coast, and don't protect against groundwater flooding, Hummel says. And in some areas, like around San Francisco Bay, where more than 80 percent of California's high-flood risk plants are located, the real estate to move treatment plants uphill isn't readily available.
The individuality of different wastewater treatment plants means there's no one-size-fits-all solution for addressing future flood vulnerability, Hummel says. For plant managers, it's important to ask when their specific plant will become vulnerable, and to then develop an adaptation strategy based on "the actual sewer system, pumping plants and other critical components of the system," she says.
Matthew Heberger, an engineer with the San Francisco Estuary Institute and Aquatic Center who was not involved in the new study, agrees with Hummel. "Local governments and local utility managers need to do site-specific investigations of their plant's vulnerability," Heberger says, adding that future climate conditions need to be considered when planning and designing new plants. "When building any type of infrastructure, you need to think, if it has a planned lifetime of 50 years, what are the conditions it's going to experience in those 50 years?"
In 2009, Heberger co-authored a report for the California Climate Change Center that evaluated the resilience of coastal infrastructure in California under different sea-level rise scenarios. "One of the recommendations of our paper," he notes, "was that we need follow-up studies that zoom in" on particular areas of concern, like wastewater plants. "I was glad to see a study like this [new one]," he says, which does just that.