Scores dead, injured following Indonesian earthquake
by Megan Sever Thursday, January 5, 2012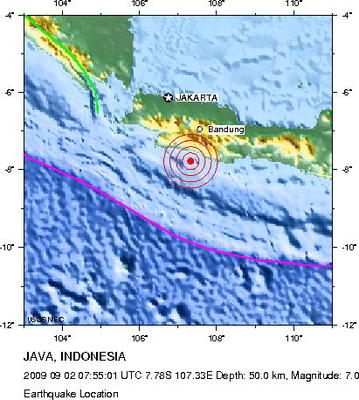 A powerful magnitude-7.0 earthquake struck a few kilometers off the coast of West Java, Indonesia, at 2:55 p.m. local time on Wednesday, according to the U.S. Geological Survey. NOAA's Pacific Tsunami Warning Center issued a tsunami warning for the immediate region, but canceled it within an hour when no tsunami was detected.
The quake collapsed buildings and houses throughout West Java, killing at least 30 people with dozens more people missing, possibly buried under rubble, according to reports from the Associated Press. Hundreds of homes and buildings throughout the densely populated villages and cities of West Java collapsed, including many buildings in Tasikmalaya, a city of 271,000 people about 115 kilometers northeast of the epicenter. Hundreds of people have been reported injured.
The quake also set off a landslide in Jeblong on Java's southern coast that buried dozens of homes, according to the Guardian. In Indonesia's capital, Jakarta, 195 kilometers away from the quake's epicenter, panic ensued when high-rise buildings started to sway and people rushed outside. Dozens of people have been hospitalized, AP reports. And a stampede in a mall in Cirebon resulted in several hospitalizations.
The temblor struck about 50 kilometers beneath the ocean's surface, according to USGS. Indonesia is one of the most tectonically active regions in the world, as the country sits at the junction of four tectonic plates on the Pacific "Ring of Fire." Although the earthquake occurred near the junction of the Australian and Sunda plates, the orientation of the fault that produced the earthquake suggests it occurred within the Australian Plate (which is subducting beneath the Sunda Plate), rather than on that interface.
This is the largest earthquake to shake the Indian Ocean region since Aug.11, when a magnitude-7.6 temblor rocked the Andaman Islands in the Bay of Bengal.