Science as a family affair
by Harvey Leifert Friday, August 3, 2018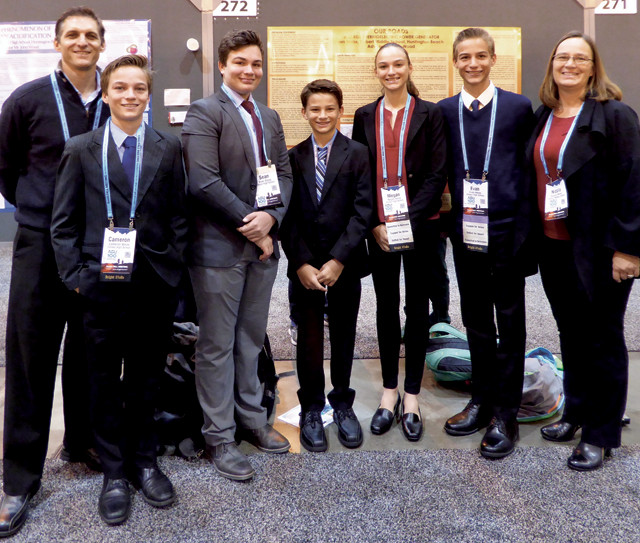 Ian Weiss had already taken off his shoes and socks when he realized he'd left his lacrosse stick in the car one day in May 2015. He went to retrieve it, stepping barefoot onto the asphalt street outside his family's Southern California home. "While opening the trunk I had to do the hot-feet dance on the pavement," he recalls. It was a pivotal moment in more ways than one for Ian, then a sixth-grade student at Samuel E. Talbert Middle School in Huntington Beach, Calif.
"That gave me the idea that heat is energy," he says, and the miles and miles of roads in Southern California means "a lot of heat, [which] equals a lot of energy." Ian did not simply file the insight away; instead, he began researching the urban heat-island effect and related phenomena, encouraged and assisted by his science teacher, John Wood, and his parents, Chad and Nicola Weiss, neither of whom are scientists.
Ian's investigation was not completely theoretical. After Wood put him in touch with some engineers for information and advice, Ian constructed a device to simulate a section of asphalt roadway, with subsurface pipes carrying solar-heated water to a homemade thermoelectric generator. Placed outside at noon each day, the "roadway" generated a small electric potential of about 5 volts, when the air temperature reached 27 degrees Celsius — enough to recharge a smartphone. Ian was 11 at the time.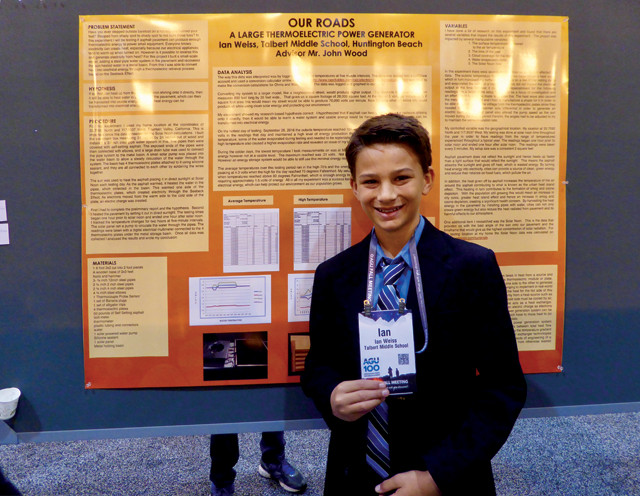 Last December, as I was looking for ideas for unusual stories among the 13,000 posters on display at the American Geophysical Union's (AGU) fall meeting in New Orleans, a voice called to me, "Would you like to hear about my research?" It was Ian speaking up.
His poster was titled, "Our Roads: A Large Thermoelectric Power Generator." Following his "hot-feet" incident, he explained, he investigated the idea that solar heat absorbed by asphalt roadways could be captured and converted to electricity. As he put it: "So much energy is being put into our streets and wasted and not being used at all."
The project — and Ian's presentation of it — was impressive. And the surprises continued: I learned that, although he was just 13 years old, this was not his first AGU meeting. He'd previously presented his work at the 2016 conference, and this time showed an updated model roadway and new data. He has presented his work at state and county fairs as well. I also learned that he conducted his experiments not at school, but in the home laboratory his parents had created in their backyard, originally for his older siblings. And those siblings — all four of them — were at AGU as well, each presenting his or her own poster.
Sean, the oldest at 16, and 15-year-old triplets Megan, Cameron and Evan, were all happy to describe their projects. I asked them and their parents: How did this one-family science fair come about?
Chad said his kids were inspired in sixth grade by their science teacher, John Wood. As each of the younger children entered middle school, "they all seemed to have that same spark," he said. "We tried to foster it by giving them space and opportunities to continue [exploring] at home — by building a backyard science lab and things like that, so they could have places to experiment and keep learning."
Air, Land and Sea
Sean's 2017 AGU poster was titled, "The Phenomenon of Ocean Acidification." His interest in the topic began during a family vacation in Belize, he told me, where he saw firsthand the damage done to coral reefs by increasingly acidic seawater. Sean, who attends Edison High School in Huntington Beach, decided to investigate the effects of ocean acidification closer to home. In consultation with Wood, he built a 45-centimeter-long, underwater remotely operated vehicle (ROV). Over the next year, he collected weekly samples of ocean water up to 30 meters out from a local pier.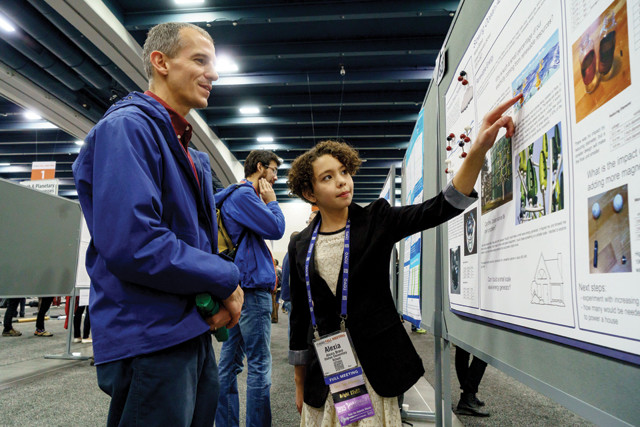 "The ROV sampled both near the surface and at the bottom, providing data about the water's pH that he compared with air temperature observations collected by NOAA from a site several kilometers offshore of San Pedro. After studying the data, Sean found that increased acidity — in the form of carbonic acid — in the water offshore of Huntington Beach resulted after stretches of warmer temperatures, while decreased acidity was associated with cooler temperatures.
While Sean studied the sea, Evan investigated the land. His poster, "Let's Break It Down: A Study of Organic Decomposition," reported on his investigation of how soil temperature affected decay of organic matter buried in three places around his home. He hypothesized that cooler temperatures would maintain higher soil moisture contents and thus increase the rate of decomposition in the clay soil, understanding that other factors, such as soil pH and precipitation, also played a role. After 15 days, during which he monitored soil temperature and moisture, he found that the organic matter in the cooler areas did undergo more decomposition, "but the greatest rate of decomposition was not at the coldest site." He says he'd like to repeat the experiment over a longer period and at more sites to collect additional data.
Meanwhile, Megan investigated the rate at which some common house plants convert carbon dioxide into oxygen. She compared pothos, fern, aloe and panda plants, hypothesizing that the pothos plants' many thick leaves would win out. The experiment involved planting specimens in separate sealed environments and using a carbon dioxide meter to determine how much of the gas was converted to oxygen in a given amount of time. Pothos, she reported in a poster titled "Breathe Plant, Breathe," was indeed the most efficient.
Cameron's poster, titled "H₂O SOS: Help Heal the Ocean," was inspired by a program he attended in Newport Beach, Calif., about threats to the ocean such as marine debris, stormwater runoff, invasive species, overfishing and acidification. On his poster, he noted the effects of each threat on the ocean and provided suggestions for mitigating its impact.
The Power of Mentoring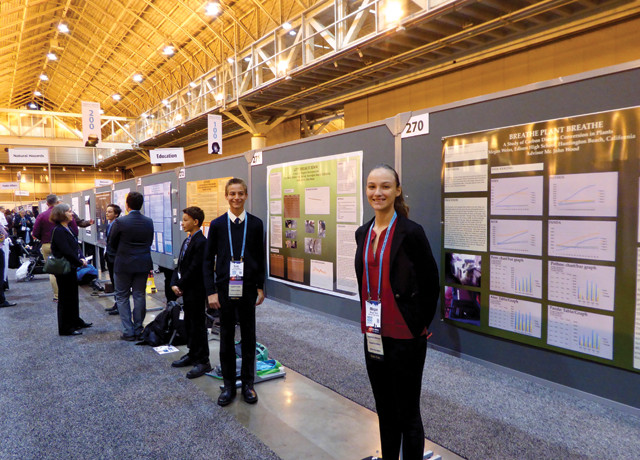 "Wood has clearly been central in the creative inspiration of all five Weiss youth. He was credited as advisor on four of the posters the kids presented last December. And in 2015 and 2016, he attended AGU's fall meeting to support his pupils.
Wood, who has been a middle-school science teacher for 29 years, created and coordinates Talbert's science fairs and teaches elective STEAM (Science, Technology, Engineering, Arts and Mathematics) classes for seventh and eighth graders. He has maintained an active interest in all five Weiss children, from the time they entered his sixth-grade classroom on, even as the four older kids have moved on to high school.
"It is quite amazing to see how the students grow more mature and develop their projects from sixth through eighth grade," Wood says. Sean, for example, showed "such a huge change. When I first met him as a sixth grader, he was full of imagination and curiosity, but he lacked the depth of understanding on how to go about designing an experiment." But by eighth grade, he'd developed this knowledge and had begun "to focus on his own interests and find areas to study that he related to," Wood says.
Wood credits support from other science teachers and the Weiss parents for Sean's blossoming. By the time he left Talbert, Sean had presented a credible research project at both the International Teacher-Scientist Partnership (ITSP) Conference and at AGU. His was also judged one of the top 300 projects nationwide at the Broadcom MASTERS National Competition, as was Ian's road-power project.
Broadcom MASTERS (Math, Applied Science, Technology and Engineering for Rising Stars) is a national competition among middle school students. Its goal is to encourage and inspire students to participate in science fairs, take science courses in high school and, eventually, pursue STEM (Science, Technology, Engineering and Mathematics)-related careers.
In part to encourage Talbert students to enter the Broadcom competition, in 2016, Wood started a chapter of GLOBE (Global Learning and Observations to Benefit the Environment) at the school. Now an international program, GLOBE was created by the U.S. government in 1995 and is sponsored by NASA, with participation from several other agencies. The program has further encouraged the Weiss family: Cameron's interest in ocean health emerged from a project he participated in through Talbert's GLOBE chapter, and Ian is currently the club president.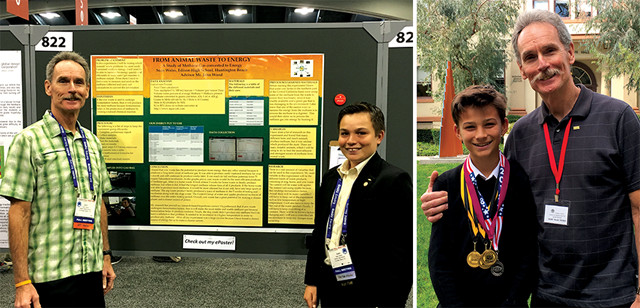 ", which is administered by the White House Council on Environmental Quality and the U.S. Environmental Protection Agency (EPA). In an interview with EPA in August 2017 upon receiving the award, he said that "we try to make [the students] aware of the issues in our community, as well as beyond our community, and then get them into action to help the community find solutions and then project those solutions out into the larger world. We emphasize every day the fact that kids can get out and make a difference."
Bright Stars
With all five kids pursuing scientific interests, not just in school but at home too, science occupies much of the family's time. But how did their abiding interest lead to the entire family participating in AGU's fall meeting, the world's largest meeting of earth and space scientists?
AGU, it turns out, sponsors a program called <aducation.agu.org/diversity-programs/brget="_blank">Bright STaRS (Bright Students Training as Research Scientists), which provides chances for middle and high school students to present research and participate in the organization's annual fall meeting, at no charge. Opportunities like this are few and far between for pre-college students, says Janet Warburton, who manages educational projects for the Arctic Research Consortium of the United States and was the lead convener of the 2017 Bright STaRS session in which the Weisses participated. The session "is a great opportunity for students to share their research and meet with world-class researchers face to face," she says. "The scientists that take the time to interact with the students seem to be very pleased with the experience. It's a win-win situation."
Pranoti Asher, AGU's manager of higher education, agrees. "I spend my entire Thursday morning [at the fall meeting] walking the poster hall, watching the students put up their posters and practice their elevator speeches with their parent or teacher or coordinator," Asher says. "When a scientist walks down the hall and stops at a youth's poster, one can see the sheer delight in the eyes and face of the youth. The youth go from being nervous to gaining confidence as the morning progresses."
Sixty-two posters were included in the 2017 Bright STaRS session, among the roughly 13,000 research posters total at AGU. "The abstracts were scrutinized by the co-conveners in the same way as one would for any session," Asher says, meaning each was vetted to ensure it fit within earth and space science. "No special criteria were used for judging the posters."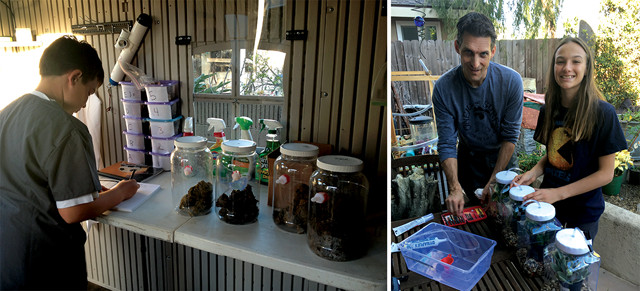 "With regard to the Weiss family, both Asher and Warburton say they know of no other family of five siblings that has presented posters at a single AGU meeting. In fact, "I don't believe we have had an entire family engaged in this manner in the Bright STaRS session," Asher adds. They both credit Wood, as well as Chad and Nicola Weiss, for stoking the kids' interest and motivating them to share their work.
Nicola and Chad provide essential support to the ambitions and achievements of their kids, Wood emphasizes. The backyard lab testifies to their commitment to nourishing the scientific curiosity of their children, despite neither of them having a professional scientific background.
Nicola says she recognizes that the opportunities afforded her children are not as easily available to others. Having spent several years developing project-based STEAM/STEM learning programs at her children's schools — to help kids move beyond textbook learning and become problem solvers and innovators, she says — she realized it was necessary to help other schools and districts do the same, so more children could have the same opportunities. "I work closely with those who want help in creating these programs at other schools, as a volunteer," she says, adding that "STEM will be in all our kids' futures. Every job will have STEM aspects, and we need to give our students the opportunities to learn the tools, and [gain] the capabilities to know how to problem-solve, innovate and think outside the box." Book smarts are not enough, she says. We must raise students "with the abilities to implement their knowledge in real-world situations."
On to the Future
What lies ahead for the Weiss kids specifically? Sean, who will begin his final year of high school this fall, says he is still studying ocean acidification, but he has other interests in STEM. He adds that he "started developing a social media app for the local children's hospital and started looking into developing a heart valve for children." It would be developed from stem-cell technology, he says, "so that the valve would grow with them and not require surgery after surgery."
Evan, Cameron and Megan will begin their junior year at Edison this fall; each is already looking ahead to college and career. Evan says that presenting posters at multiple AGU meetings has given him the ability "to communicate and share research that I have done" and to understand "opinions or findings on topics that are similar to mine." Currently, he says he is deciding between two career paths: engineering or sports broadcasting.
Cameron says participating in AGU meetings has helped him develop "presentation skills that I didn't learn from presenting in a classroom. It taught me how to present to formal audiences and helped [raise] my confidence in what I do." Looking forward, he says he'd perhaps like to study architecture or graphic design and that he'd like to attend college in Southern California.
Megan presented at AGU for the second time in 2017. "This year was better than the last," she says, "because I have more experience with presenting and I know the general type of questions that I will be asked." As for college, she says she'd like to stay in California as well, and "as my project pertains to the health of people, that may be where my career plans are headed."
Ian, who recently finished eighth grade at Talbert, is already a veteran of several professional science meetings. Although he will start high school in the fall, he is looking beyond his secondary education to eventual engineering and business degrees. He says he wants to be an engineer, to "keep coming up with solutions to real-world problems." Why the business degree as well? "I need to know how to run my own company one of these days," he says.
The 2018 AGU fall meeting is taking place in December in Washington, D.C., and it will again feature a Bright STaRS session. If you attend the conference, stop by to meet the motivated youth presenting their research in the poster hall, and learn about their work. Among them, you might even meet a member — or five — of the Weiss family.