Science and soccer: They're both child's play
by Carolyn Gramling Thursday, January 5, 2012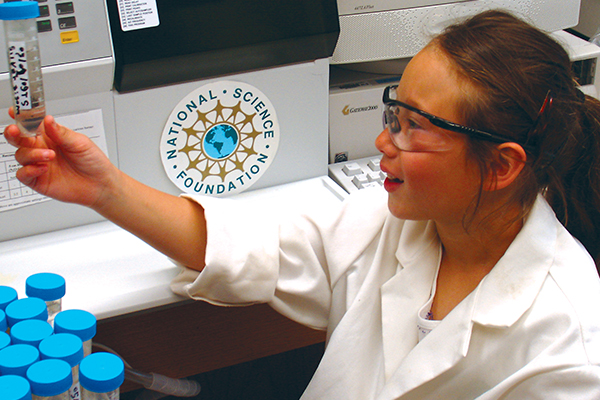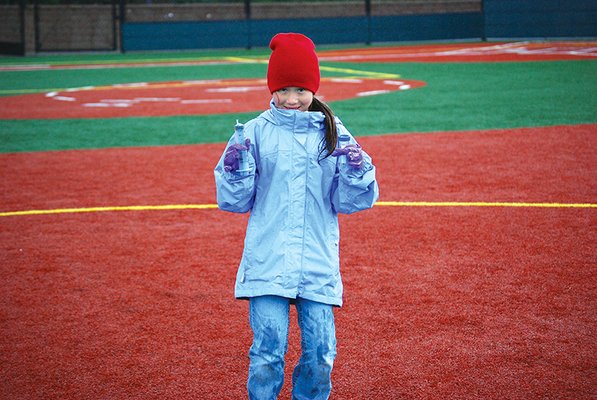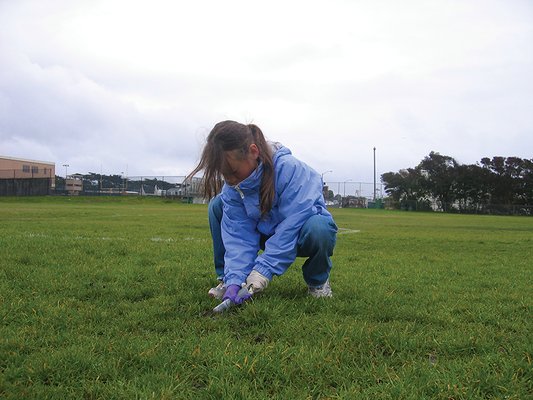 It's late in the afternoon, and by now, 9-year-old Claire Dworsky has already answered questions like mine many times over. But, when I approach the crowd of people standing by her poster at the American Geophysical Union's (AGU) annual meeting in San Francisco, Calif., she jumps up from her chair and politely gives me her full attention. I ask her to explain her project, and she launches into her explanation, never turning to look at the poster behind her for backup, or at the adults nearby who are watching her with pride. Dressed in a red soccer uniform and fidgeting just a bit — it has been a long day — she outlines why she chose this project, which examines the water quality of artificial turf and natural grass soccer fields.
"I'm a soccer player," Claire says. "When I played on a turf field, I saw runoff water that was murky."
She wanted to know what was in that water, a question that won her first prize in the Kids' Science Challenge. It also, ultimately, brought her to the AGU meeting last December.
As a seasoned soccer player — she's been playing since she was three — Claire is familiar with the different feel of grass and turf fields. Grass fields, she notes, get you muddy; turf fields get you rubber crumbs in your socks and shoes. Which one is ultimately better for both people and the environment is unclear — grass requires pesticides and nutrients, while turf is made of synthetic materials. But it's a question of increasing concern to soccer players and environmentalists alike, because more and more cities are replacing their natural grass fields with more durable turf.
"It's a big debate in San Mateo," a city in the San Francisco Bay Area, Claire says. She adds proudly, "I'm going to help them debate."
In 2008, Claire posed her question to the first annual Kids' Science Challenge, a nationwide contest for third to sixth graders, in which students propose an original research question, problem or experiment within one of several predetermined categories. The first year, the categories were flavor science, skateboard engineering, the search for life in outer space, and water quality, the category in which Claire won. A scientist with experience in each of the disciplines chose a winning question — and the student then had the opportunity to work on the proposed project with that scientist.
Claire's entry was selected as a winner by University of California at Santa Cruz (UCSC) aquatic chemist Adina Paytan. "I read her entry and it sounded like it stemmed from genuine curiosity and the ability to make observations," Paytan says. "It sounded and felt really original. She had noticed that the water [on turf and grass] had different colors, and was wondering what the implications were." Paytan worked with Claire for six months to design, set up and conduct a series of water quality experiments in different types of soccer fields. "I wanted to have her do something she could do herself."
The first set of experiments focused on what was in the water. Paytan showed Claire how to take water samples, label them properly and then bring them back to Paytan's lab at UCSC for analysis. Analyzing more than 100 samples from five grass and five turf fields collected over a year, they found high levels of heavy metals in the runoff from turf, including zinc, copper, cadmium and cobalt, likely holdovers from shredded tires used to make the fields. The grass field runoff, meanwhile, showed high levels of ammonium and phosphate "to make it grow and get the bugs out," Claire says. In both cases, the chemicals in the runoff sometimes, although not always, exceeded recommended levels set by the Environmental Protection Agency.
Claire's curiosity didn't end there, Paytan says. "The initial question she had was about the water quality, but then she got very interested and started asking more questions: How would that impact marine life? How do we test that?"
So they tried other tests. In one, they put tiny Daphnia shrimp inside two grass and two turf runoff samples. The shrimp in both turf samples died within 36 hours of exposure — some, Claire notes, had visibly ingested tiny bits of rubber that had been in the runoff — while the shrimp in the grass runoff samples survived at least 36 hours. Claire and Paytan also tried growing carrots in different water samples to test plants' tolerance. The skinniest and smallest carrots grew in the turf water, Claire says, while grass field runoff grew medium-sized carrots. Carrots grown in tap water grew best of all.
By mid-2009, Paytan says, she thought Claire's project was good enough that it could be presented at the AGU meeting at the end of the year. She suggested the idea to Claire, who agreed, and registered her for the meeting, where she proceeded to wow scientists and journalists alike.
I ask the tough question: So which is better, grass or turf? Claire fields it like a pro. Neither is necessarily better, she says. "They're both OK, but you can't put them near the ocean. It hurts the environment. Unless [the water is] cleaned."
OK, I say. What about science or soccer — which one does she prefer? Claire has probably heard this one before too. But she gives the polite — and smart — answer, in a room full of scientists.
"Oh," she says, "science is better."