Satellites see unknown sources of sulfur dioxide
by Elizabeth Goldbaum Tuesday, September 13, 2016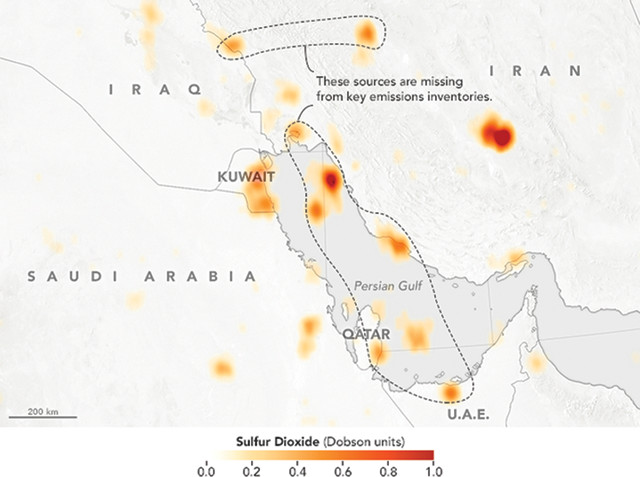 New satellite data reveal that much more sulfur dioxide is reaching the atmosphere than previously thought, heightening concerns over the pollutant's impacts on ecosystem health. In a new study published in Nature Geoscience, Canadian and U.S. researchers led by Chris McLinden, of Environment and Climate Change Canada, located substantial, and previously unknown, global sources of the gas.
Sulfur dioxide, which is emitted from natural sources like volcanoes and anthropogenic sources like fossil fuel burning, undergoes oxidation after entering the atmosphere and is converted into tiny particles of sulfuric acid and other aerosols. These contaminants affect global climate by altering the amount of sunlight that reaches Earth's surface, and can contribute to the formation of acid rain, which can impact soils, forests and freshwater systems.
Based on analyses of data from the Ozone Monitoring Instrument aboard NASA's Aura satellite, which tracks sulfur dioxide levels in the atmosphere, as well as wind speed and direction data from the European Center for Medium-Range Weather Forecasts, the researchers reported that 7 million to 14 million metric tons of sulfur dioxide each year may be unaccounted for in current global estimates. The sulfur dioxide output from the Middle East, especially, was underestimated, as well as outputs from locations in Asia, Africa, Europe and the Americas; the sites identified frequently corresponded with the locations of power plants. The estimated range of emissions from the missing sources amounts to about 6 to 12 percent of the total produced by humans.