Satellites - not just Santa - see holiday lights
by Terri Cook Thursday, December 18, 2014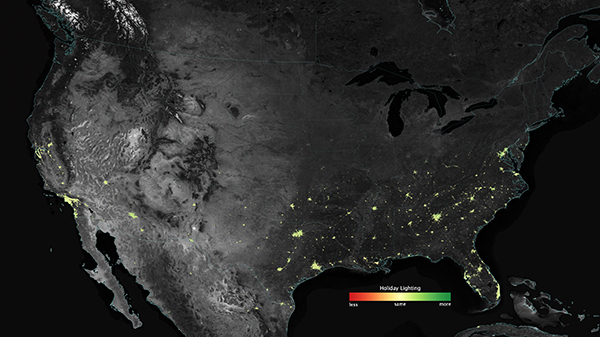 San Francisco — This year, when Santa makes his rounds, he won't need Rudolph to light his way. In many U.S. cities, the intensity of nighttime lighting increases 20 to 50 percent during the holidays compared to the rest of the year, according to data presented Tuesday by NASA researchers at the annual meeting of the American Geophysical Union (AGU) in San Francisco.
The findings are based on two years' worth of data, collected in 2012 and 2013 from 70 American cities, by the Visible Infrared Imaging Radiometer Suite (VIIRS), an instrument aboard the polar-orbiting satellite Suomi NPP, which is jointly operated by NASA and NOAA.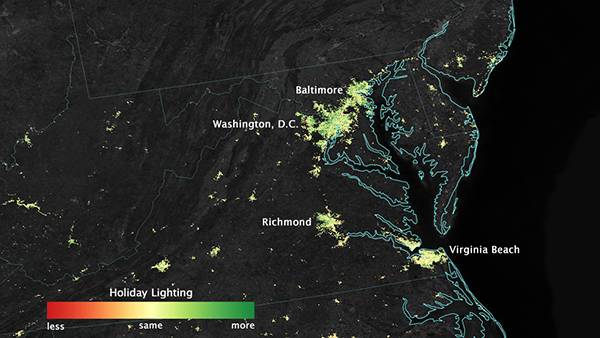 By reprocessing these data using a new algorithm, scientists at NASA's Goddard Space Flight Center in Greenbelt, Md., filtered out moonlight and corrected for the effects of terrain and airborne particles, among other variables, to quantify the output of city lights on a daily basis. They then created maps of the difference in light intensity between the holiday period — from Thanksgiving through early January — and the rest of the year, looking for patterns related to human activity. The research will ultimately enable scientists to search for patterns in urban energy use, a major component of greenhouse gas emissions, the scientists reported at the AGU meeting.
In most of the cities studied, including Houston and Dallas, Texas, there was a greater increase in luminosity in suburban areas and nearby small towns compared to densely populated urban centers, reported researchers Miguel Román, a research physical scientist at NASA Goddard, and Eleanor Stokes, a graduate fellow at NASA and graduate student at Yale University's School of Forestry and Environmental Studies. In the suburbs, which typically have more single-family homes and larger yards available for decorating, they found that light output increased 30 to 50 percent, whereas city centers brightened just 20 to 30 percent. Because reflection from snow is so bright that it contaminates the signal, the researchers could only analyze cities without snow on the ground. Thus, they focused on California, from Los Angeles to San Francisco, as well as cities south of roughly St. Louis, Mo., to Washington, D.C.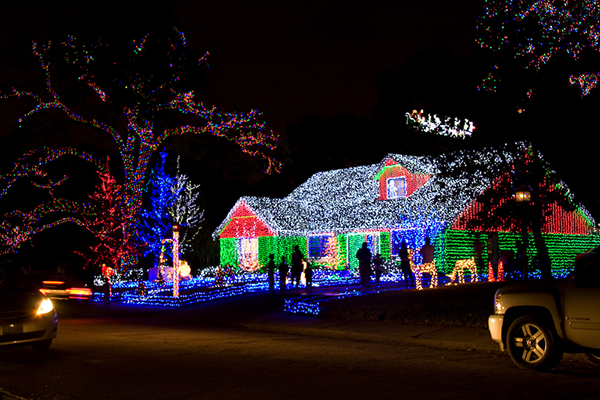 The stunning detail of the comparative light-intensity maps offers insights into many of America's southern cities. Atlanta, for example, displays a distinctive "doughnut hole" pattern, with holiday lighting illuminating the suburbs surrounding the city center. Meanwhile, Phoenix, Ariz., shows increased lighting that is more scattered throughout the metro area, indicating that there are many residential areas even within the urban corridor.
With the VIIRS data it's even possible to observe changes in lighting down to the neighborhood scale. Outside Washington, D.C., neighborhoods in Fairfax, Va. — home to numerous new housing developments favoring large, single-family homes — are clearly visible on the maps.
As more than 70 percent of carbon dioxide emissions come from cities, Román noted, using tools like VIIRS to quantify regional, national and global patterns in energy demand can help researchers understand the forces that drive peoples' choices regarding energy use.
With the Intergovernmental Panel on Climate Change noting in its Fifth Assessment Report that improved efficiency of end-use devices will be an important mechanism for reducing greenhouse gas emissions, policymakers will need these types of data to understand the forces behind the use of energy, Stokes said.
Unfortunately, VIIRS cannot detect LED lights, which are seeing increased use, including in decorative holiday lighting. The instrument's sensors do not pick up light wavelengths given off by LEDs, meaning "greener" holiday lights do not appear in images produced from VIIRS data, according to Román. So, if your household is using LED decorations this Christmas Eve, you might still want to leave the front porch light on.