Santa Ana winds get a fiery boost from the stratosphere
by Mary Caperton Morton Thursday, October 15, 2015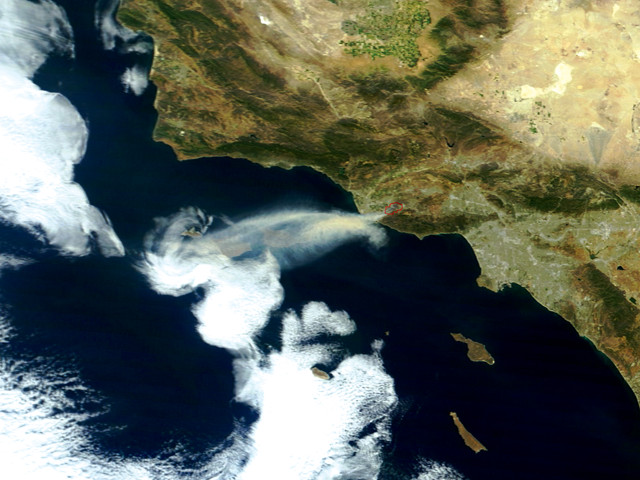 Southern California's Santa Ana winds have long been implicated in the region's dangerous and destructive wildfires. Now, a new study in Geophysical Research Letters points the finger at an accomplice: a phenomenon called stratospheric intrusions, which are natural atmospheric events that bring warm, dry air from the upper atmosphere down to the surface. These intrusions may exacerbate fires, as well as the region's infamously bad air pollution.
Researchers led by Andrew Langford of NOAA's Earth System Research Laboratory in Boulder, Colo., used a NOAA forecast model to study the May 2013 Springs Fire that burned more than 100 square kilometers northwest of Los Angeles. By incorporating satellite observations of ozone, wind data and other atmospheric information, the researchers found that on the morning of the Springs Fire, a tongue of extremely dry stratospheric air containing high levels of ozone descended down to the surface in Southern California, extending as far south as Baja California. Ground-based monitoring stations near the fire also recorded signs of the intrusion right before the fire broke out, including a large drop in relative humidity and a rise in ozone.
High ozone levels were detected by 24 monitoring sites across Southern California and Nevada. The spikes were unusual for the region at that time of year, suggesting that the stratospheric intrusions were a contributing factor.
"Stratospheric intrusions are double trouble for Southern California," Langford said in a statement. "We knew that the intrusions can add to surface ozone pollution. Now we know that they also can contribute to the fire danger. … The good news is that with models and observations, we can get an early warning from the atmosphere in some cases."